'The Gentrification Game' Puts Boston's Stark Changes In Sharp Relief
Inside a former Citizens Bank in Dorchester, two makeshift communities — fashioned out of cardboard boxes — are separated by a road paved with interlocking colorful foam pads. Players are invited to navigate scenarios with the goal of moving past the community with liquor stores and check cashers to the revitalized side with the clean, cookie-cutter facade — and an actual bank. The toughest part: The rules can change at any time.
Gentrification has been on Tory Bullock's mind for a while. So, the young, outspoken artist decided to tackle the subject with this life-sized game. During "The Gentrification Game," which is set to upbeat music, participants journey through ever-changing, often unfair rules. In it, Bullock hopes people can "find humor in a humorless situation."
The game aspires to give players a taste of the difficulties that vulnerable populations face, and the helplessness they feel when neighborhoods transition due to an influx of economic development.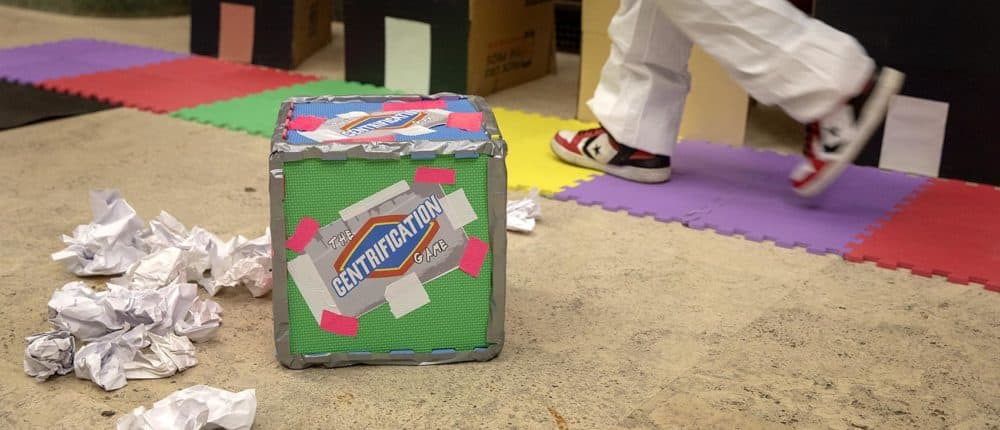 When you roll the gigantic die, you move forward or backward, depending on the color you get. The coveted red block salutes hip-hop's fitting Wu-Tang Clan song with the label "C.R.E.A.M." ("Cash Rules Everything Around Me"). It's the only winning answer, it seems, to the gentrification dilemma. Those fortuitous enough to land on it have a place to sit, the ability to choose what happens to another player and the opportunity to move forward. Depending on where you land, you might have to decide what's a "Fact or Nah?," receive challenges (like searching through a pile of crumpled paper for one sheet with the word "Help" on it) or restart the game when a neighbor or bystander calls the police on you for looking suspicious or playing music loudly.
The mission of the project is to spark discussion around the city's current housing crisis. As Boston's burgeoning population demands additional affordable options, lower-income residents struggle most with high rents and displacement. In August 2018, the median rent, according to a Zillow survey, for a one-bedroom apartment in Boston was $2,366 — an exorbitant price for many. Mayor Marty Walsh's housing plan calls for the preservation and construction of affordable apartments and home ownership opportunities to relieve renters and would-be owners. By 2030, the city aims to bring the total number of income-restricted units from 54,000 to 70,000.
Veronica Wells, a MassArt film graduate, and Jourdan Christopher, a street photographer and storyteller, showed up last week to play "The Gentrification Game." Wells works three jobs to pay rent in her Mission Hill apartment, while Christopher pays over $700 to rent a room in Dorchester.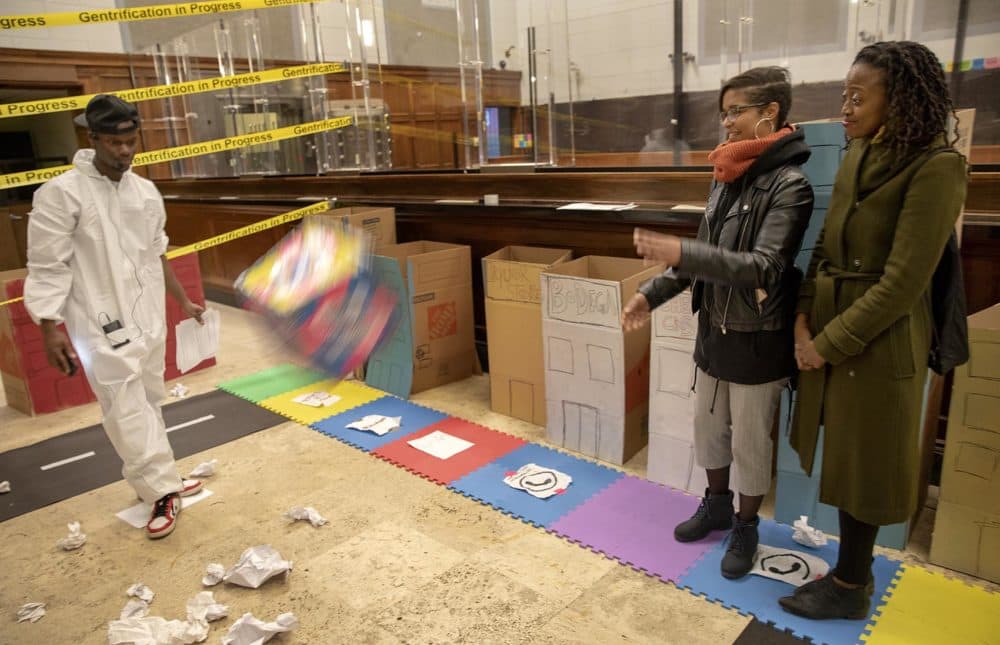 At the game, 30-year-old Wells starts her journey — she moves forward a few spots, but then a "there-goes-the-neighborhood" snag sends her backward.
"[I] felt like it was rigged. Like, I couldn't ... like there's nothing that I could do, even if I'm moving forward, he made sure that I couldn't go any further," she explained after the game. "Tory, in a way, represented this bigger system in place that doesn't allow me, because of my money, because of my lack of resources, to get to the other side."
Christopher said the game and its changing rules are a "metaphor for America."
Developed with funding from Design Studio for Social Intervention (DS4SI), Bullock's "Gentrification Game" is part of Destination Upham's pop-up community art series. The Boston Arts Academy graduate, of viral snow-day video fame, released a video about luxury condos dotting the city's skyline. It received a lot of attention and spurred him to further explore the topic. One day, a concept crystallized as he was driving through Dorchester. He saw a white woman snapping photos of buildings with her phone's camera.
"At the time, Pokémon Go was just coming out, and in my mind, it looked like she was like Pokémon-go-ing gentrification through the hood and picking which buildings she wanted to kind of take over," Bullock shared in an earlier interview. Through the game's conception, Bullock grappled with a serious issue honestly, "with fun and razzle dazzle attached to it."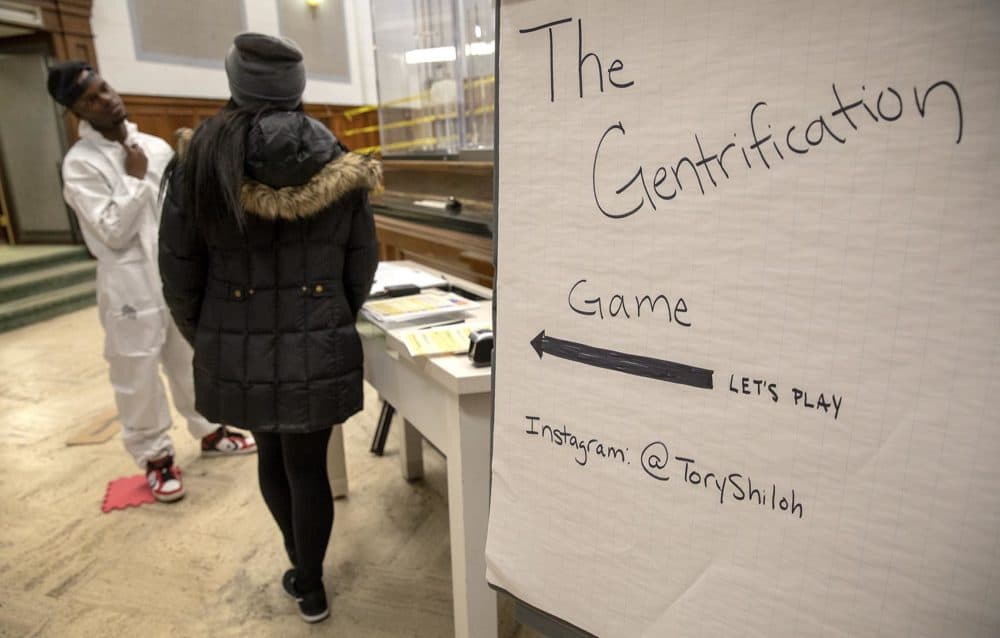 Bullock's voyage from actor to artist-activist started when he realized the connection audiences formed during a performance would unravel after the show. He wanted to spark connections that lasted. Since then, his obsession to "create authentic community" pushed him to showcase his art outside of theater's walls.
When game-players finished their turns, they were prompted to write or draw whatever came to their minds when they heard the word gentrification. One person wrote "peace and prosperity," and another "the destruction of culture created by the original residents." These opposing views partly fuel the gentrification conflict. But, can development happen without disruption of some kind?
Lori Lobenstine, principal program design lead at DS4SI, has thought about it often.
"The [DS4SI] studio was on Washington Street near Dudley for almost a decade and our landlord sold the building for condos," she said. The studio has moved, for now, into 572 Columbia Rd. Neither Lobenstine nor Bullock know the answer to overcoming gentrification's challenges, but one thing is clear to Lobenstine: "We're going to keep fighting, right?"
---
Tory Bullock's "Gentrification Game" continues on Thursday, Nov. 1 and Friday, Nov. 2 from 4 to 7 p.m. at 572 Columbia Rd. in Dorchester. Admission is free.