'Bohemian Rhapsody' Glosses Over Freddie Mercury's Life
"Bohemian Rhapsody," the story of Freddie Mercury and the band he fronted, Queen, is not exactly the white-washed biopic we feared. Nor is it the stupefying mess of clichés and paint-by-number emotion as some early reviews have had it. There are great songs and there is some emotional resonance.
The film, written by Anthony McCarten and Peter Morgan, directed by Bryan Singer, has been in the works for nearly a decade. Rami Malek (of "Mr. Robot" fame) eventually landed the Mercury role and he immerses himself admirably, posing and preening, aching and raging. But the two-hour-plus movie is a fair distance from the warts-and-all story we hoped might be told when Sacha Baron Cohen was penned in to play Mercury eight years ago.
Mercury — born Farrokh Bulsara in Zanzibar in 1946 — was a lot of things. He was cocky and needy, demanding and demeaning. He also had the talent to support his raging ego: He was a highly inventive songwriter and superb singer with a four-octave range. Malek captures all of that in this film and it's something of a spirited, bravura performance, in both how he looks — he's fitted with prosthetic front teeth — moves and sounds. (Indie Wire's David Ehrlich reports Mercury's real vocals were used but were soured "ever so slightly — with Malek's best attempt at mimicking.")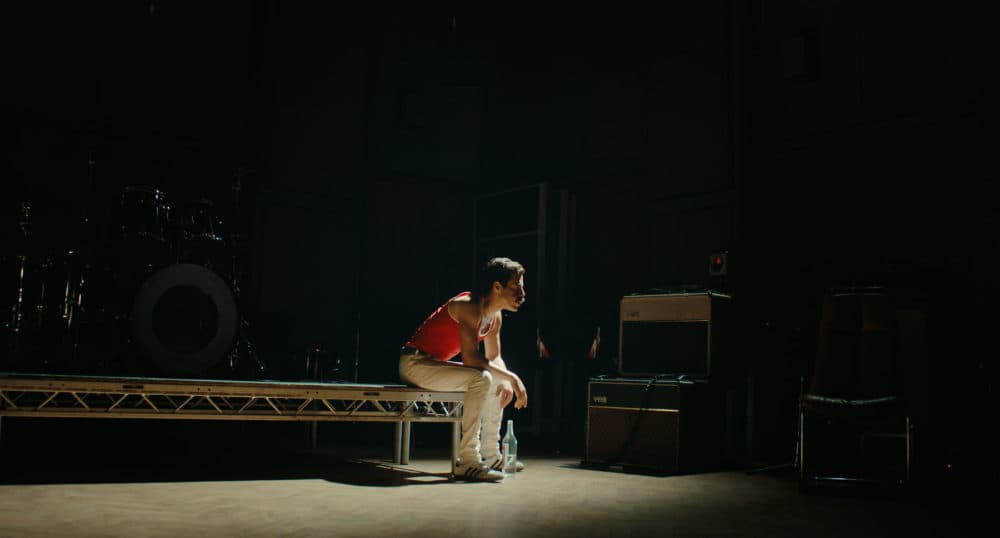 But when mega-success came calling, Mercury's id exploded and there was debauched, Led Zeppelin-esque rock star indulgence. As Cohen told Howard Stern in 2016, "The guy was wild. There are stories of little people walking around parties with plates of cocaine on their heads!"
One difference in the movie from the usual swaggering rock star story is Mercury's sexuality. Before the midway point of the movie, Mercury tells his common law wife Mary Austin (Lucy Boynton) that he's bisexual. She replied, "No Freddie, you're gay." His main lover is his personal manager Paul Prenter (Allen Leech) and his frequent partners from then on seem to be all men.
But that Freddie Mercury is glimpsed in a near-edgeless PG-13 fashion — he grabs a man's bum here and leaves cocaine dust lying on a table there. That hedonistic part of Mercury's lifestyle is mostly just talked about — and not even that much — on a TV in the background.
Keep in mind, two of the three surviving members of Queen, guitarist Brian May (played by Gwilym Lee), drummer Roger Taylor (Ben Hardy) and manager Jim "Miami" Beach (Tom Hollander) are co-producers. There's a legacy to think about as well as the ongoing touring money-maker, Queen + Adam Lambert (with Lambert filling in for Mercury as Paul Rodgers did from 2004 to 2009).
"Bohemian Rhapsody" begins with Queen taking the stage at Wembley Arena for the 1985 Live Aid show and then quickly cuts back to the band's formation, when May and Taylor are in a London club band called Smile. They are approached by a brazen Mercury, who introduces himself and says he'll become their new singer. OK, then. He renames them Queen.
The film pretty much follows a linear trajectory from that point. We see Mercury in conflict with his Parsi-Indian family — they relocated to London when the young Bulsara was a kid — deciding to chuck his surname in favor of Mercury. We see the band hock their van and put up some cash to record their debut album, desperate to get seen and heard and fearful of having to fall back on their studies. (They all met when they were college students in London.)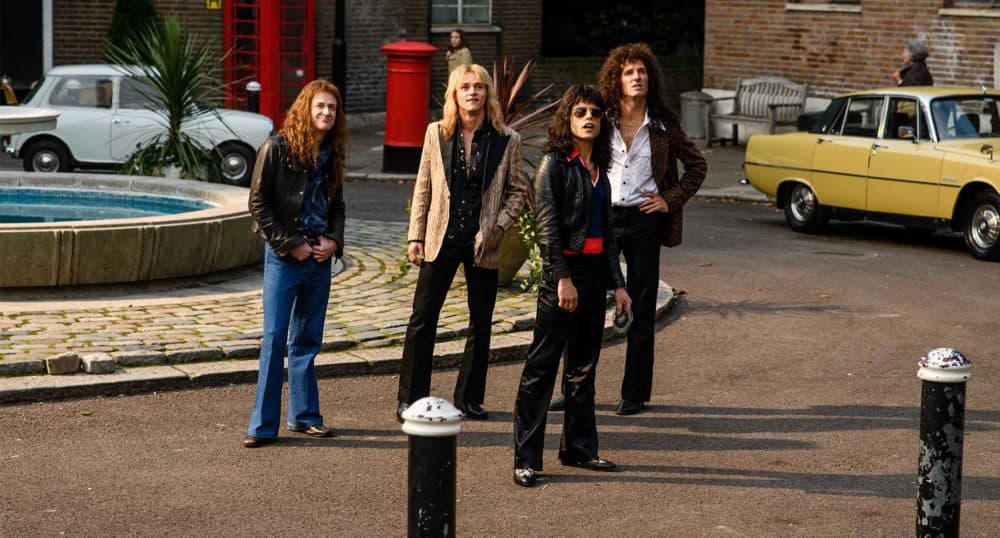 While the band members are mostly accepting of Mercury's sexuality, Taylor calls him "Gay-O" at one point and May, considering the retooled mustachioed-tight-jeans-and-T-shirt look Mercury started sporting in 1980, says, "You're supposed be in a rock band, not the Village People!"
There is a lot of melodrama and there are some groaners. "I love a man in a uniform," says Mercury to a cute waiter as his house party winds down. "So do I," says the waiter, of Mercury, who's dressed in quasi-military garb. It seems studio spats are the impetus for the immediate creation of a great new song. The band members objection to Mercury's desire to go "disco" falls away when bassist John Deacon (Joseph Mazzello) comes up with the massive hook-line to "Another One Bites the Dust." And there's a too-pat reconciliation Mercury has with his parents that happens the morning the band plays Live Aid. Really?!
This is where the movie seems manipulative and misguided. Niggling details are off, like how Queen's first U.S. tour in 1974 is portrayed as a glorious glide across "MIDWEST USA" — as it reads on screen — with it nowhere noted they were the opening act for Mott the Hoople. (It is also not noted that Brian May's hepatitis cut the tour short.) On stage, they're seen playing "Fat Bottomed Girls," a song they didn't perform and record until 1978. There's no depiction of their seminal collaboration with David Bowie in 1981 on "Under Pressure" — only a snippet is played during a tense stand-off Mercury has with a manager.
Do those details — jumbled or omitted by the writers and the director — matter? Somewhat. They'll drive a Queen obsessive crazy even if they'll roll by a casual fan.
By for the mega-fans, a high point comes as the six-minute, ever-mysterious, never explained, multi-part "Bohemian Rhapsody" song evolves and is greeted by the band's record company. Roy Foster, a bearded and sun-glassed executive played by an unrecognizable, nay-saying Mike Myers, insists radio will never play it, which results in a rock star tantrum and a broken window.
As the song becomes a huge hit, and we see it played by Queen, various lines from scathing reviews flash up on the screen. Queen had the last laugh on that one. The song gained eternal cachet via "Wayne's World." (Myers, of course, played the "Bohemian Rhapsody"-loving, headbanging Wayne Campbell in that movie.) I can't think of any rock fan alive who doesn't recognize this song from its opening piano notes and who doesn't gleefully anticipate the mad rush when May's sizzling guitar licks kick in and the tempo accelerates. And who doesn't think that, as all the frenzy in the song winds down, maybe Mercury's core message is contained in the last lines: "Nothing really matters, anyone can see/ Nothing really matters/ Nothing really matters to me/ Any way the wind blows."
The rough spot for Mercury comes when he, finally, after previously and angrily rejecting the notion, signs a solo deal and leaves the band in the lurch. When the idea to play Live Aid finally enters Mercury's orbit, the contrite, self-flagellating singer arranges to meet with the band. They resolve their differences in a flash — in the film, the desire for reunion is partially fueled by Mercury's AIDS diagnosis but in real life reports have Mercury learning his diagnosis a few years later.
"Bohemian Rhapsody" ends with triumph, their short set at London's Live Aid show. It's where we see a buried-the-hatchets band shine in all its grandeur and pomp one last time, going out with "We Are the Champions."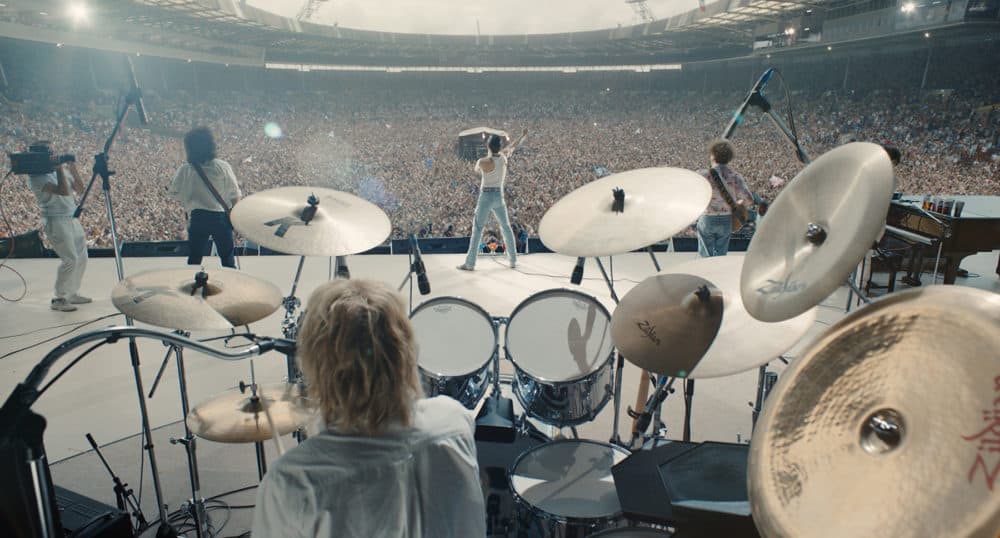 It concludes before the deluge of media reports about Mercury's ill health. We all know he died in 1991 at the age of 45 from AIDS-related pneumonia and adamantly denied he had the disease until the very end.
That was a conscious decision, May told me during that 1992 interview.
"I think he did the right thing," May said. "Freddie was a unique person, a genuinely free spirit who said, 'Look, I'm not going to be the person I was brought up to be. I'm going to be somebody else.' And he became the god Mercury, or whatever. He said to us, 'I'm fighting this thing, it's my problem and I have the right to fight it privately if I want.' "
None of that perspective is in the movie. Perhaps it would have been too sad a coda, but Queen continued to record right up to the end — at Mercury's insistence — and released four albums post-Live Aid. Closing the film with the band in full (regained) glory somehow shortchanges the real arc of Mercury and Queen's story.