Mass. U.S. Reps. Are Big Beneficiaries Of Big Pharma, Data Shows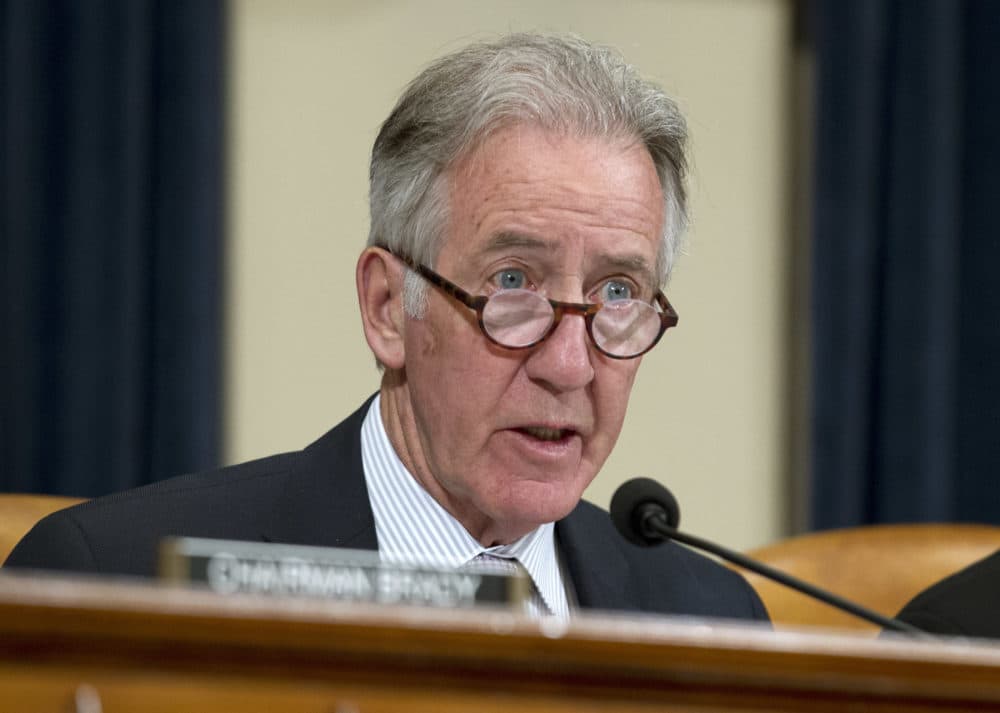 This article is more than 2 years old.
Members of Congress from Massachusetts are getting some big money from Big Pharma.
The state's House delegation ranks among the nation's leaders in donations received from pharmaceutical companies over the last two years, according to data from Kaiser Health News.
The Kaiser database tracks donations from drug companies, such as Pfizer, and pharmaceutical political action committees (PACs) during two-year periods. The numbers do not include individual donations from executives or members of such companies.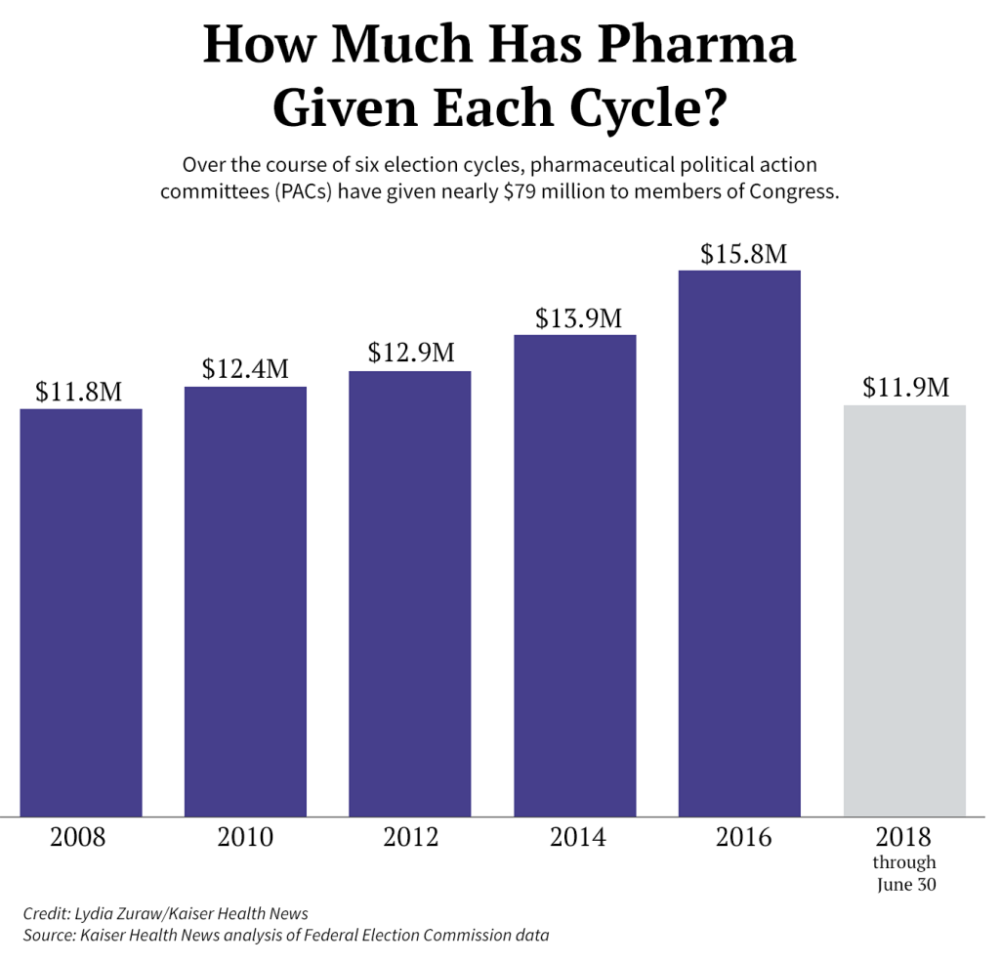 As of June 30, pharma PACs had contributed nearly $12 million to Congress. The Massachusetts U.S. House delegation has been one of their largest beneficiaries.
Massachusetts' U.S. representatives have received a combined $357,200 from pharmaceutical PACs during the last two years. This figure ranks seventh out of 50 states. The California House delegation leads the country, with a combined drug company war chest of $1.34 million. (Keep in mind, of course, that Massachusetts has nine representatives, compared with California's 54, which makes the disparity in their overall totals unsurprising.)
On a per-representative basis, however, the Massachusetts delegation comes in fourth among states, with each member of the House receiving an average of $39,689 from pharma PACs. Oregon tops the list, with its five members of Congress getting an average of $73,060 from drug company PACs.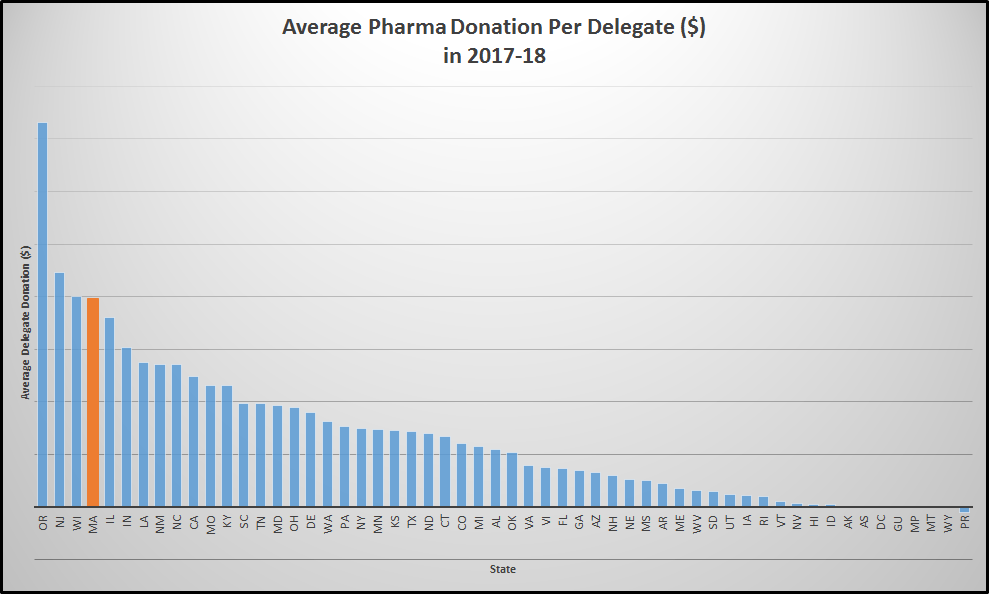 Among Massachusetts members of the House, U.S. Rep. Richard Neal is by far the largest recipient of pharmaceutical donations. His $129,500 received in the 2017-'18 cycle accounts for about 36 percent of the state's total donation amount.
For perspective, the state's second-biggest pharmaceutical beneficiary, Rep. Joe Kennedy III, brought in $63,500, less than half of Neal's total.
Neal's political sphere of influence may explain why the drug industry has taken such a keen interest in him. He's currently the ranking Democrat on the Ways and Means Committee and would likely become chair if the Democrats win the House in the midterm elections. This puts him in a position of influence over legislation affecting health care issues such as Medicare and taxes on prescription drugs.
As such, Neal has come under fire over his acceptance of donations from health care and pharma companies. During his re-election campaign this year, he defended his acceptance of corporate PAC money when his Democratic primary challenger, Springfield attorney Tahirah Amatul-Wadud, called for him to stop taking such donations. He also denied that these donations influence his political agenda.
His office did not respond to multiple requests for comment on this story.
Neal and the Massachusetts House delegation's donations from the pharmaceutical industry could clash with the position of key Democrats.
Current Minority Leader Nancy Pelosi, who could return as speaker if Democrats regain control of the House, and several other top Democrats have made lowering prescription drug costs a top priority should they reclaim the majority. In particular, Texas Democratic Rep. Lloyd Doggett, who has not taken money from pharma PACs since 2011-2012, according to KHN's database, could chair the Ways and Means Health Subcommittee under Neal. Doggett recently introduced legislation to allow the government to negotiate drug prices and potentially create competition for pharma companies if they don't agree to bring prices down.
Not surprisingly, local drug companies have donated to members of the Massachusetts delegation.
Rockland-based biopharmaceutical company EMD Sereno Inc. was the top drug company contributor for three Massachusetts representatives: Seth Moulton, Bill Keating and Niki Tsongas. Keating and Tsongas each received over $30,000 from EMD Sereno.
EMD Serono also gave substantially to Neal over the last year and a half, donating a total of $35,000 to his campaign. Also among his top pharma PAC donors was Merck and Co. ($61,500), which has offices in Boston.
The state's U.S. senators have taken in far less money than their fellow members of the delegation. Sens. Ed Markey and Elizabeth Warren combined for $49,000 in total pharmaceutical PAC contributions in 2017-'18, which ranks them 28th out of the 50 states.
Warren has received no money from drug company PACs from 2014-2018. She is one of several U.S. senators, including Sens. Kirsten Gillibrand (D-N.Y.), Cory Booker (D-N.J.) and Kamala Harris (D-Calif.), to announce that they will no longer accept money from PACs representing for-profit companies. Warren's last contribution from a pharmaceutical PAC came during the 2013-'14 cycle for a total of $8,500.
Warren's office also did not respond to requests for comment.
Even without Warren, the Massachusetts congressional delegation as a whole still ranks among the top 10 states in both total contribution ($406,200 from all members; 10th overall) and average donation per member ($36,927 per delegate; sixth overall) this two-year period.
A change to the delegation's makeup may change things going forward. Ayanna Pressley is set to take the place of longtime Rep. Michael Capuano. Pressley rejected corporate donations throughout her campaign and has indicated that she will continue to do so during her presumptive term as a U.S. representative.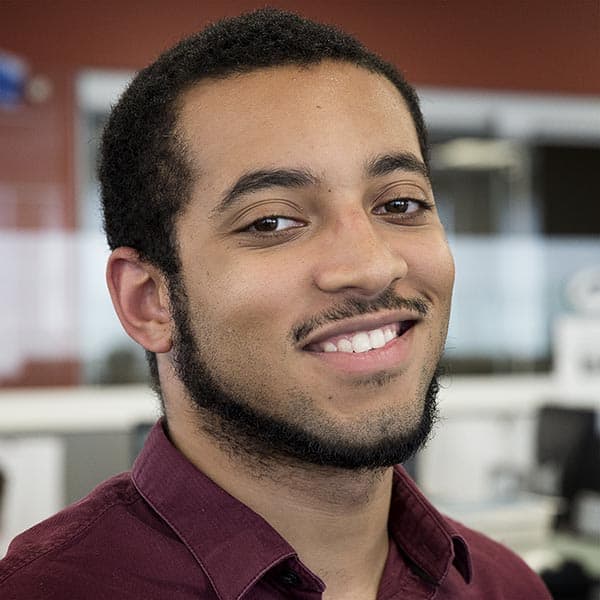 Khari Thompson Field Producer, Morning Edition
Khari Thompson is the field producer for WBUR's Morning Edition.