Alexandria Smith's First Solo Boston Show Navigates The Duality Of Existence
This article is more than 4 years old.
There are two sides to every story. There are two sides of the same coin. And in Jungian psychology, there are two sides to every personality — the perfectly likable persona we present to the world, and then our darker shadow side, the stickier, murkier part that we try to keep under wraps.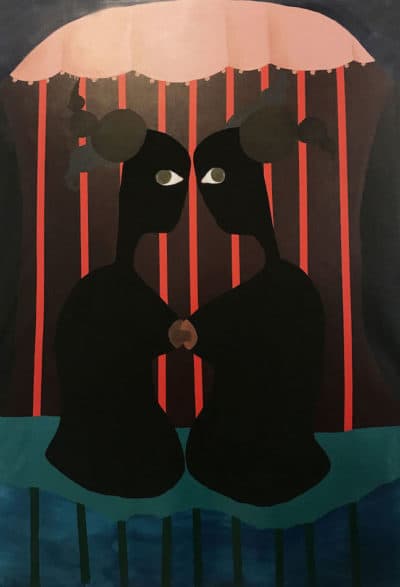 Alexandria Smith burrows into the depths of duality in whatever form we might choose to find it in "A Litany for Survival," her first solo show in Boston, on view at Boston University's Stone Gallery from Nov. 8 through Jan. 27. In a few large canvases, Smith presents dual female forms that are elegant while retaining a graphic, pop art edge. The figures are mostly mirror images of each other. The mirroring effect sometimes suggests twins, sometimes a single form. In a rich palette of black, blues, purples and grays, the paintings are spare in comparison with some of Smith's previous work, figurative yet abstract, with an allegorical feel that suggests situations and feelings plumbed up deep from the subconscious.
For this latest body of work, Smith says she was inspired by novels such as Toni Morrison's "The Bluest Eye," Helen Oyeyemi's "Icarus Girl" and Akwaeke Emezi's "Freshwater," all recounting the lives of young black girls forced to negotiate issues of race, class, culture and identity.
"I, myself, am a Gemini," says Smith. "I think a lot about two identities and what that means in terms of how you present yourself in different scenarios to different people. And so, I guess my own personal experience was a huge inspiration subconsciously, without me even realizing it, for this new body of work."
African-Americans are well-acquainted with the idea of duality, living in a larger culture which has historically regarded them as the "other." They move between cultures, languages and meaning on a daily, sometimes hourly, basis. African-American women get the added complexity of sex and gender thrown into the mix. Smith, herself African-American, leads us to the pond of the unconscious and invites us to peer into the reflecting pool of black womanhood. Here, there is the duality of the pigtails of girlhood and the breasts of womanhood, the contrast of man-made bricks and the resplendent, hopeful flora of the natural world. There are two worlds here. Are they at odds?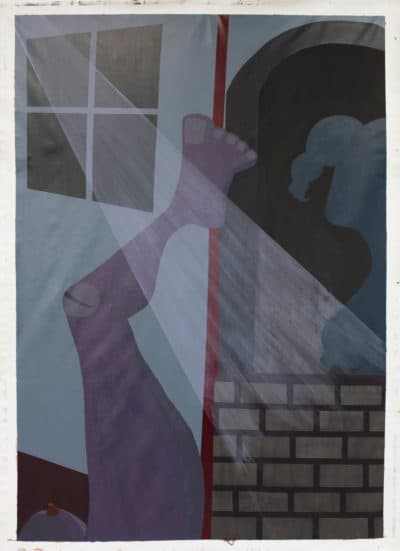 This theme of two divergent but co-existing worlds is not really a departure for Smith, who lives both in the contrasting worlds of Brooklyn, New York, and that of Wellesley, Massachusetts, where she is an assistant professor of art at Wellesley College. Rather, it is a continuation of a favorite subject. For much of her career, she has drawn, painted and put together collages of young black girls in situations that can seem funny or disturbing, or both, depending on your point of view. Female body parts — legs, hands, pigtails — are always part of the picture, as well as a subversive feel that is enhanced by her cartoon aesthetic. (Smith got her BFA in illustration from Syracuse University before going on to get a master's in art education from New York University and later an MFA in painting and drawing from Parsons in New York.) Her girls can be found doing naughty and nice things as they negotiate the complicated landscape of identity, sexuality and gender.
In "Litany for Survival," Smith has switched things up a bit. Her palette is darker and she's painting on large canvases — a departure from her smaller work on panels.
Her piece "The Incognegroes" reflects other shifts in the work. A tightly composed view of walking women that she says was influenced by Marcel Duchamp's "Nude Descending A Staircase," the women in these paintings are no longer girls. The composition recalls all the restraint and sophistication of a Jacob Lawrence collage. There are stripes in this painting, as there are in most of the work in the show, and even painted on the walls of the gallery. The meaning of the stripes relies on the viewer's interpretation. Are they just a formal compositional device? A symbol of restriction? Perhaps an allusion to how prisons have been used to enforce longstanding racial inequalities?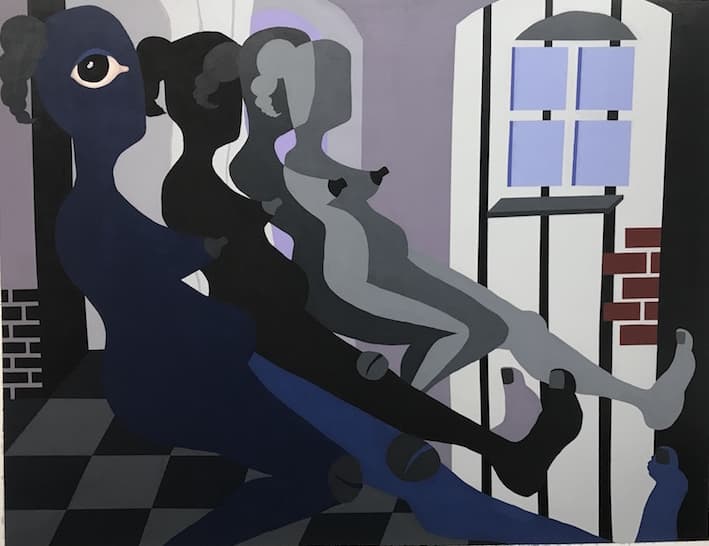 Smith isn't saying. She enjoys hearing what others bring to her work. But she will say this: "The idea of visibility and invisibility was something that I think I was going for. How can these figures both be present and invisible at the same time? How can these figures both be independent but also together, and sort of joined, and be a part of their environment literally?
That partially explains the title "incognegroes" — a tongue-in-cheek slang term sometimes used to refer to those of African descent who don't acknowledge their African heritage and sometimes used to refer to a black person who prefers to remain in the background.
Smith says she feels her figures have "grown up" with time.
"I see an age shift in these characters… so as my work is evolving I feel like the figures are also evolving and growing up and getting older. I think identity as an undercurrent is always present in the work, just because of my own interests."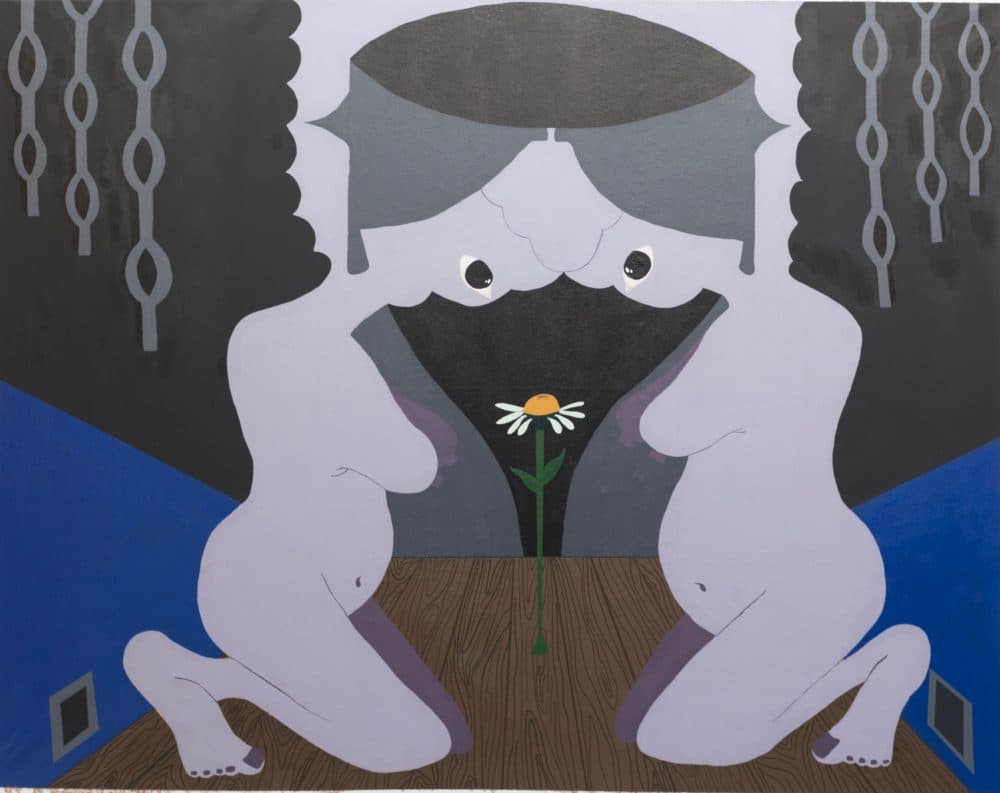 Smith was born in the Bronx, grew up in Westchester before moving to Brooklyn. After grad school, she became an art teacher for more than a decade in New York where she taught a range of ages.
"My focus on childhood started as a result of teaching and my love of children and wanting to be an educator," she says. "I've worked with all different ages and that seeped into the work because I've noticed how unique personalities are at such a young age, and how identities are present at a very young age. Young people know themselves and have a sense of themselves from as early as 4 years old. So that's always been fascinating to me."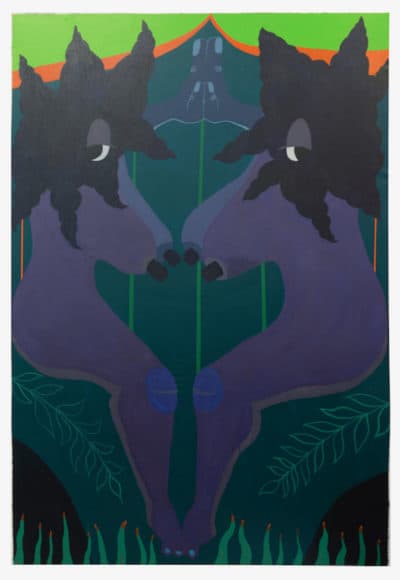 Informing these paintings is not only Smith's interest in childhood development, but her interest in the West African Yoruba religion and Renaissance art. Last summer, Smith spent time in Italy where she had an opportunity to immerse herself in the mirroring and symmetry typical of Renaissance paintings. A life-long athlete, Smith says an important feature of these large canvases was simply painting them, and getting her whole body involved. While the paintings may seem deceptively simple, leading some to categorize Smith as an "identity" artist, Smith gets tired of hearing that term.
"There are so many more complexities to the work that I'm making," she says. "Talking about it through the identity lens is negating all these other aspects of my work. Thinking about formalism and collage and other artists that you know people wouldn't normally think that I am influenced by and in conversation with … I just don't want it to always be categorized as identity work because it isn't. That's one just one of the many layers, one of the many categories that I feel like my work exists in, but it isn't the main one, it's not only the one I'm thinking about or the first thing when I'm making."
"Litany for Survival" draws its title from the Audre Lorde poem of the same name, reminding us that the body, and the spaces and time that it occupies, is always politicized. Smith's paintings were created in a particularly political moment but the work itself speaks to something much deeper than that, open, of course, to your interpretation.
---
"A Litany for Survival" is on view Nov. 8 through Jan. 27, 2019 at Boston University's Stone Gallery. The opening reception is Saturday, Nov. 10, from 5 to 7 p.m. There will be a panel discussion on "black female subjectivity" on Thursday, Nov. 15, at 6 p.m.