Through Puppetry, Artist Tarish 'Jeghetto' Pipkins Interrogates Racism And Brings Joy
"Boy, you can make anything outta anything."
Those were the words of the mother of visual artist Tarish "Jeghetto" Pipkins when he first began experimenting with puppets. Pipkins — who, from a young age, had shown remarkable artistic talent — interpreted them as both an acknowledgement of his natural gift as well as a wisdom about what is possible.
Pipkin's stage name "Jeghetto" is a spin on the name of that most famous of puppeteers Geppetto, Pinnochio's maker. It's a brilliantly apt term for Pipkins and what he calls his "artivism."
"To me, I'm confronting and knocking down stereotypes, and embracing that I am from the ghetto, I am from the inner city, but I've chosen this path, this unique path of puppetry, and I just want everyone to vicariously live through me, through this crazy art experience that I love so much."
Seventeen years after he began experimenting with the artform, Pipkins has established himself as a masterful self-taught interdisciplinary artist whose work with puppetry is uniquely buoyed by a hip-hop ethos and a culture of teaching and education. His puppets have been featured in a Missy Elliot video, in an Alexa Super Bowl ad, at the Brooklyn Academy of Music, and at Blackspace, a North Carolina-based Afrofuturism arts collective.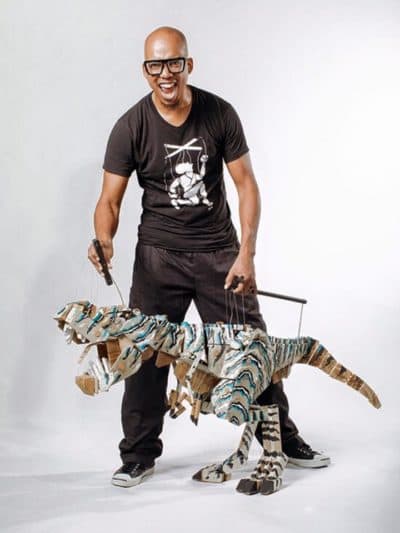 He'll be in Boston this week for an artist residency supported by the BU Arts Initiative and Brookline's Puppet Showplace Theater. There, Pipkins will present his adult-themed piece "Just Another Lynching: An American Horror Story" on Nov. 8 and 9.
Set in the 1920s, "Just Another Lynching" tackles the Jim Crow-era culture of racism through large-scale puppets, music, and projections. The piece is framed as a white man's eulogy to his lost childhood friend.
The performance also reveals Pipkins' artistic range. His work is both sobering and joyful, introspective and playful.
On the phone, the Pittsburgh native laughs easily, most especially at hardships, both personal and societal; His zest for his work and life are palpable. "Working on puppets is not really work to me. I have to pull myself away from it. And the reaction I get from people, period — that's why I do it." His voice softens: "Then there's those moments where magic happens, where you actually fool yourself into thinking that a puppet is real just for that split second. That's why I do it — the magic of it."
It's easy to see why children gravitate toward him. A job at a summer puppet camp for kids with special needs led to a private school job offer, despite the fact that Pipkins had no teaching training. "You can teach with the art," he says, and tells the story of puppet-as-surrogate-teacher: "I actually built a puppet to teach the curriculum to the kids, and it was a hit." Children who struggled with autism-related issues around social cues and facial recognition "took to the puppet immediately."
One might be reminded of another Pittsburgh native who used art and puppets to teach — Fred Rogers, of "Mister Rogers Neighborhood." Right before Pipkins turned his artistic focus to puppetry, he had the chance to meet and talk with Rogers just a few months before he died. Pipkins calls the experience "mind-blowing . . . We talked about art and his show and life," and one has to wonder if a sort of "passing of the baton" took place between the two men.
"Tarish is exactly the kind of artist/educator that we want to present," says Ty Furman, BU Art Initiative's managing director. "I am so excited for the [Boston] community . . . to experience his boundless inventiveness and positive approach to life and building community through puppetry and art."
Roxana Myhrum, artistic director of Puppet Showplace Theater, shares Furman's enthusiasm. As part of the Brookline theater's 45th season, sub-branded as "Puppets for the People," the Brookline puppet-hub will present Pipkin's "Just Another Lynching: An American Horror Story."
"It's a very powerful thing for puppetry to bring into the world of conversations about race," Myhrum says. "[The show deals] with this emotion of sadness and regret and grief, from a perspective that's authored by an African-American performer and performed by an ensemble that's primarily puppeteers of color."
"Racism — I call it a shape-shifter because it changes with the times," Pipkins says. "We're not getting kidnapped in the middle of the night and being beaten and lynched but we are getting pulled over and gunned down in cold blood over a traffic violation. It's mentally exhausting being black in this country and I wanted that to translate in [the lead puppet's] face, especially when you hear his story." The puppet in question has black, deep set-eyes that seem uncannily alive, and to have seen too much.
In addition to the performances, the residency will have Pipkins participating in a panel discussion on Afrofuturism, hosting a discussion on using puppetry in special education, leading workshops in both puppet making and artistic entrepreneurship, and hosting a puppet slam.
"I see the only solution to make change on this planet is through art." Pipkins says. "I see art as the only way to make social change, 'cause you obviously can't make social change through law and legislation."
Pipkins says the discussion after the performance is as deep and necessary as the production. He aims to provide a space where people are comfortable enough to speak about issues of race without being singled-out or engaging in a debate. He views puppetry as having a unique ability to create that space. "Puppetry opens that door."