Maura Healey Is Re-Elected Mass. Attorney General
This article is more than 4 years old.
Maura Healey, a Democrat and a nemesis of President Trump, has won re-election in Massachusetts.
The nation's first openly gay attorney general defeated Republican challenger Jay McMahon on Tuesday for a second four-year term. She was first elected in 2014.
Healey has filed dozens of lawsuits challenging Trump's policies, particularly his efforts to restrict immigration and his attempts to bar transgender people from openly serving in the military.
McMahon is an attorney from Cape Cod and had clashed with Healey on the transgender issue and gun rights.
Since Trump's election, Healey has helped lead Democratic, blue-state attorneys general who have employed their states' legal clout as a weapon against the president's conservative agenda.
Secretary Of State Galvin Wins 7th Term
Democratic Secretary of State William Galvin, the longest serving statewide elected official in Massachusetts, has won a seventh four-year term by brushing back a challenge from Republican Anthony Amore.
The two split on several issues, including whether Massachusetts should adopt same-day voter registration. Galvin said he supports the change. Amore opposed the proposal, saying he wasn't convinced it could be done securely.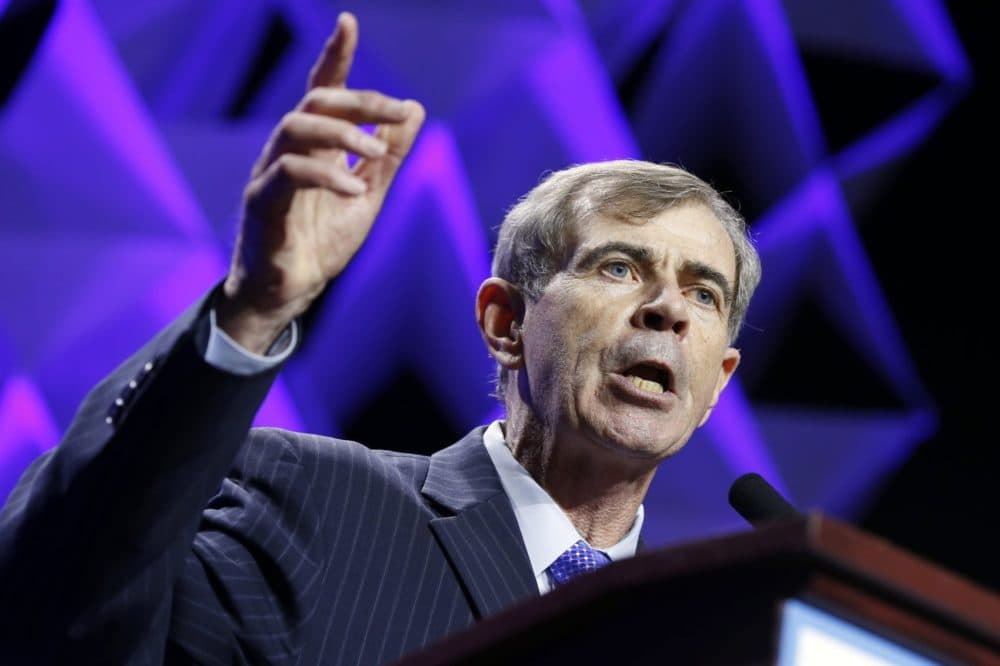 Galvin argued Amore was following what he called a national Republican playbook of making it harder for people to vote, something Amore denied.
The contest was bitter at times, with Amore calling Galvin "a liar" and Galvin calling Amore "a faker" during one debate.
Galvin was first elected to the post in 1994.
Goldberg Defeats GOP State Rep. Orrall In Treasurer Race
Democrat Deb Goldberg has won a second four-year term as state treasurer in Massachusetts, defeating Republican state Rep. Keiko Orrall in Tuesday's voting. The treasurer oversees the state lottery and state pension fund, among other responsibilities.
Orrall is a former Republican National Committeewoman from Lakeville and was the first Asian-American woman to run for statewide office in Massachusetts. She criticized the incumbent's handling of the treasurer's unclaimed property division, saying Goldberg hadn't done enough to reunite residents with forgotten bank accounts and other abandoned assets.
Goldberg responded that Massachusetts was returning more unclaimed property than any other state.
Jamie Guerin of the Green-Rainbow party was also on the ballot.
Bump Re-Elected State Auditor
Democrat Suzanne Bump will return for a third term as state auditor after defeating Republican Helen Brady and two other candidates. Bump says her office has worked hard to root out government waste and inefficiency.
She has also been criticized at times, such as in September when Republican Gov. Charlie Baker challenged her office's conclusion that the Registry of Motor Vehicles had issued more than 1,900 drivers' licenses under the names of dead people.
Brady is the business manager for the Boston Pops and has worked for the Boston Symphony Orchestra for 30 years. She said during the campaign that the auditor can do much more to identify wasteful spending.
Libertarian Daniel Fishman and Edward Stamas of the Green-Rainbow party were also on Tuesday's ballot.
This article was originally published on November 06, 2018.