Rep. Neal, Poised To Chair Ways And Means, Will Prioritize Health Care And Trump's Tax Returns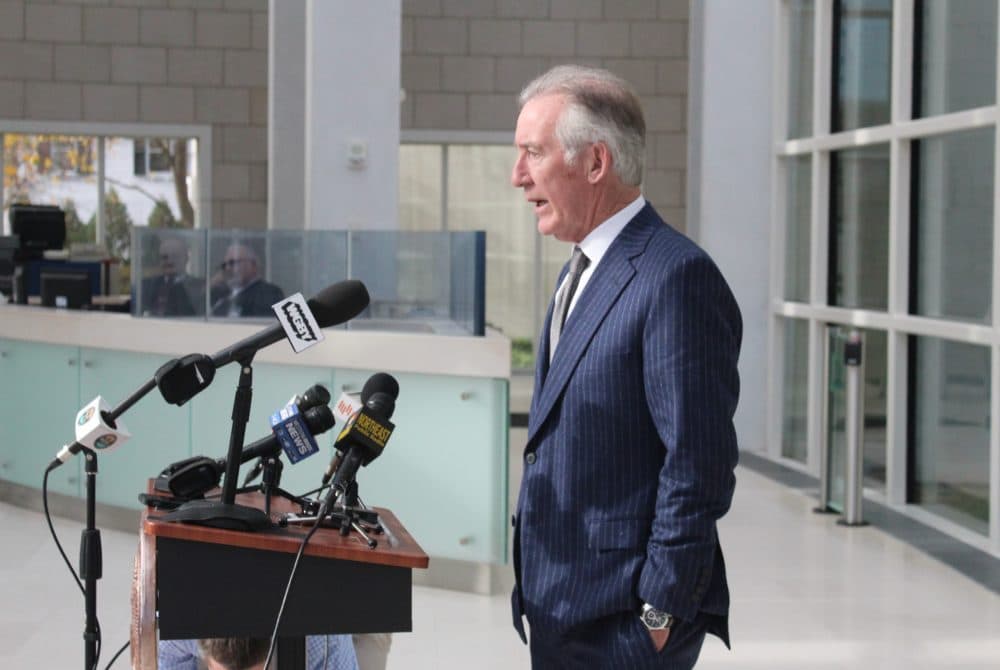 This article is more than 4 years old.
With Democrats now poised to seize control of the U.S. House from Republicans, Congressman Richard Neal of Springfield is ready to take on a more powerful role.
The 69-year-old said Wednesday that his plans include protecting Social Security and the Affordable Care Act, and requesting President Trump's tax returns.
"I will be unyielding in my defense of Social Security, Medicare and Medicaid," Neal, who could be elevated in the next Congress to chair the House Ways and Means Committee, said Wednesday in a press conference in his home city.
Despite a Republican majority in the Senate, Neal believes there is room for cooperation on some issues, including infrastructure, prescription drug costs and resetting the trade agenda.
"Before you know it, a renegotiated NAFTA will be in front of the Ways and Means Committee," said Neal, who has represented Massachusetts' 1st Congressional District for 30 years.
As Neal spoke Wednesday, President Trump and House Minority Leader Nancy Pelosi, who is poised to return as House speaker, held their own press conferences. Both discussed the potential for bipartisan cooperation and continuing partisan divisions.
Trump described the possibility of a "beautiful bipartisan type of situation" and Pelosi observed "an opportunity to work together," although major political and policy differences continue to loom as obstacles in Washington.
Health Care
According to Neal, health care was the most important issue of election night, and will be a top priority in the Ways and Means Committee.
"I think that [fair treatment for those with] preexisting condition[s], capping out-of-pocket expenses and keeping 26-year-olds on their parents' health insurance still makes a good deal of sense," Neal said. "We intend to enshrine the principle of preexisting condition as a guarantee of our national network through the Affordable Care Act."
Since the early days of his campaign, Trump has promised his administration would repeal the Affordable Care Act. Republicans in Congress failed to do so in 2017, but Senate Majority Leader Mitch McConnell said earlier this week another attempt could be on the horizon.
"They need to stop the assault on the Affordable Care Act," Neal said about legislators on the other side of the aisle.
Retirement Savings And Tax Returns
Neal said retirement is another area of concern. "I also think that there's an opportunity and an obligation here to strengthen retirement savings," he said.
Neal also confirmed he plans to seek out Trump's tax returns.
"I think it's a reminder that this has to be done so that legally it meets the law," he said, adding that Ways and Means has the power to request the returns.
"I hope that the president would do this on his own, largely because every president since Gerald R. Ford has voluntarily done this," he said.
Issues With 'Room To Negotiate'
Trump campaigned on a $1.5 trillion infrastructure program, Neal said. Infrastructure is an area where he thinks Democrats and Republicans can find common ground, saying, "I hope that there will be room to negotiate with the administration a major infrastructure bill."
Neal also believes both parties can work together to cap prescription drug prices. In June, legislators introduced the bicameral Capping Prescription Costs Act of 2018, which puts a limit on monthly out-of-pocket drug costs.
Resetting trade agreements is the third issue, Neal said, on which both sides of the aisle can collaborate. In late September, the country decided with Mexico and Canada to update the North Atlantic Free Trade Agreement.
"I think that we should embrace the negotiations of making trade work for all members of the American family," Neal said.
When asked about candidates for Speaker of the House, the position third in line to the president, Neal said Minority Leader Nancy Pelosi has faced no opposition as of yet. At her own press conference Wednesday, Pelosi described herself as "the best person for how we go forward" in the House.
Neal noted he's sat on the Ways and Means Committee for 26 years and is ready to take on the responsibilities of chairman.
"When I walk into the Ways and Means Committee as I have all of these years, I always remind myself James Madison served on this committee, the author of our Constitution," he said. "Eight American presidents have served on the Ways and Means Committee, and I think that demonstrates the historic responsibility that the committee has."
State House News Service's Michael Norton contributed reporting.