Dozens Of Mass. Towns Voted For Both Baker And Warren
The midterms offered still more evidence of a national electorate highly polarized along partisan lines, but Massachusetts witnessed a significant red-blue overlap among its two marquee statewide races.
With Gov. Charlie Baker and U.S. Sen. Elizabeth Warren racking up big re-election wins on Tuesday, it stands to reason that there would be plenty of places that voted for both the Republican and the Democrat.
And a glimpse at our town-by-town results map provides visual confirmation of the dozens of such ticket-splitting municipalities.
The map for Baker, who beat Democrat Jay Gonzalez by 34 percentage points, is awash with red, while the map for Warren, who topped Republican Geoff Diehl by 24 percentage points, is mostly blue, apart from pockets of red -- particularly in central Massachusetts and on the South Coast. (Warren's map looks very much like Hillary Clinton's 2016 Massachusetts map.)
Here's the Baker map, and then the Warren map: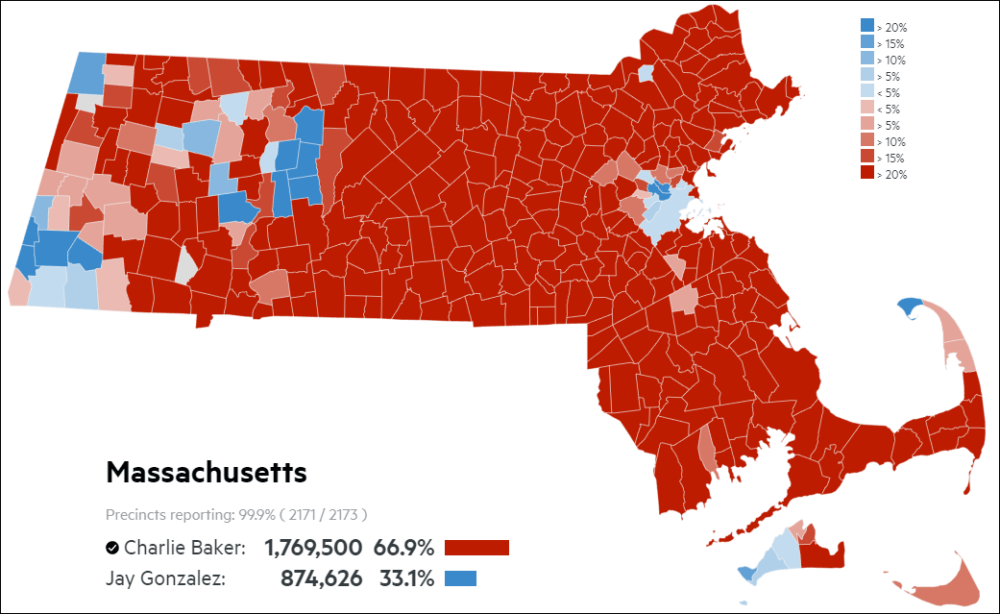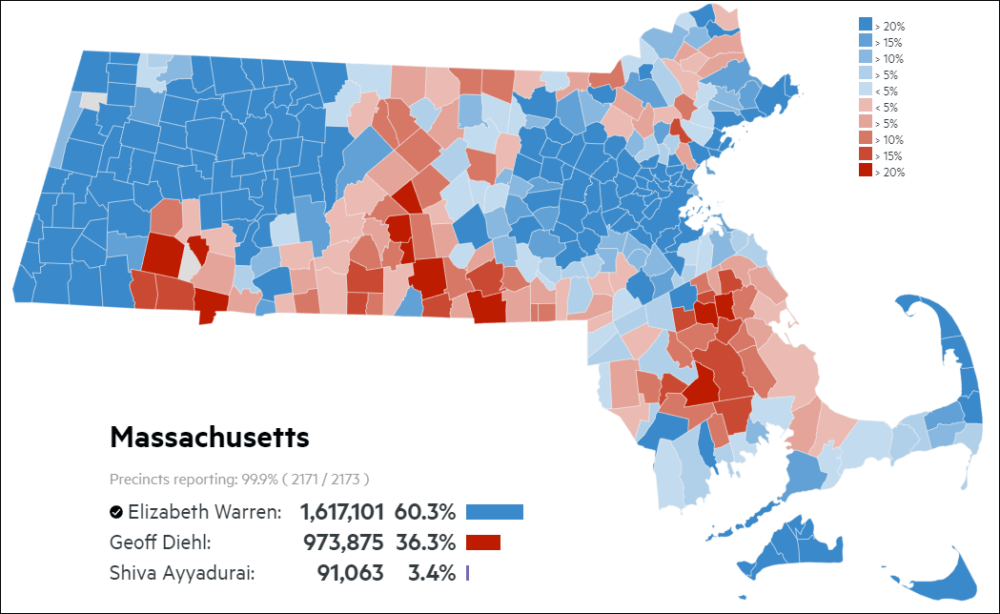 Ticket-splitting communities include many Cape Ann and Outer Cape Cod towns, as well as Greater Boston suburbs, like Wellesley, where Baker won 69 percent of the vote and Warren won 64 percent, per the unofficial Associated Press results.
And while Baker barely lost Boston, giving the capital to both Democrats, the state's second-largest city, Worcester, voted overwhelmingly for both Baker and Warren.
The governor lost just 30 communities statewide, including the aforementioned Boston and the other deep-blue cities of Cambridge, Somerville and Northampton. Warren, who won by a smaller margin, lost at least three times as many cities and towns.
With Baker and Warren holding big leads throughout months of public opinion polling, significant ticket-splitting was expected this election.
WBUR's September poll found 3 in 10 likely voters said they'd back both the Republican and the Democrat in the state's two top races.
The three statewide ballot questions were also blowout contests, with only a few cities and towns on the losing side of each of the initiatives. Just five communities voted in favor of nurse-to-patient staffing ratios; zero municipalities voted against creating a commission to seek the repeal of Citizens United; and just five communities voted for repealing a transgender accommodations law.