Commentary: Mentors Can Help Students Rise Above Challenges, See A Future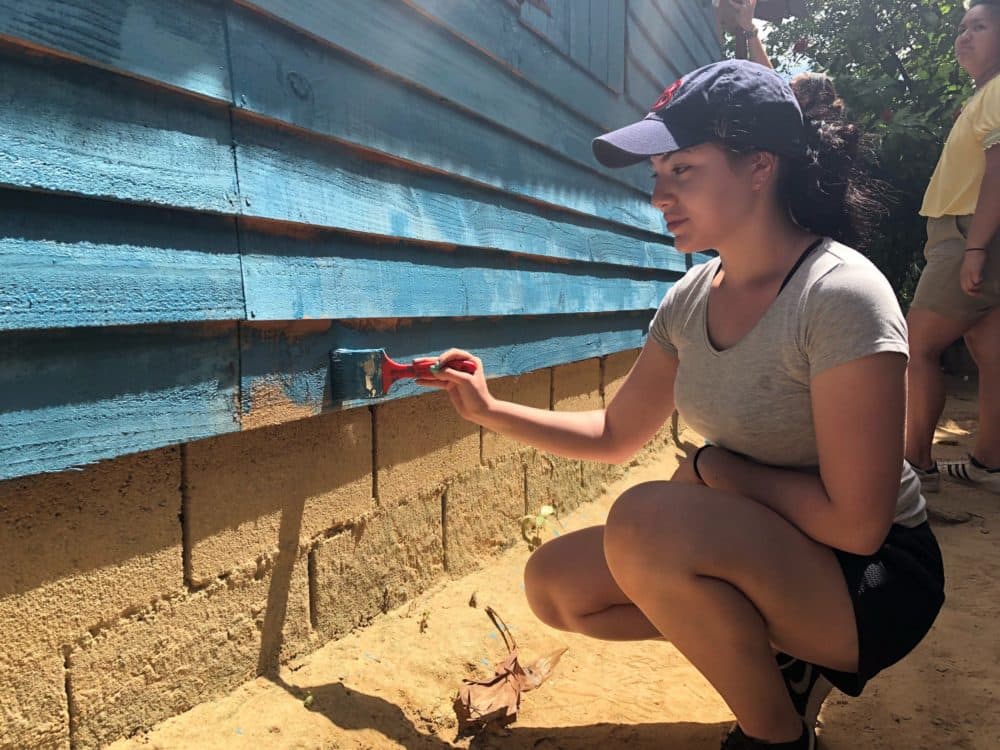 This article is more than 3 years old.
At the age of 10, my parents and sister were deported. I had been living in Utica, N.Y. all my life until that point. As a child, I didn't know what an immigrant was or that my parents didn't belong in this country. Although my father had a green card, he was arrested after he was pulled over by the police. Our lawyer then made an error in immigration court and I started hearing words like "deportation," "El Salvador" and "moving." All of us — including my younger brother, who is also a U.S. citizen — moved to El Salvador. I would be there for three years.
Living in El Salvador changed my life. From watching TV and playing on my Nintendo DS in America, I went to milking cows and feeding chickens. Although El Salvador is a beautiful country with an amazing future, the education system isn't as organized as it is in the United States. The teachers I had were supportive and understood what students were going through, but there was no time for teaching when every day there was another reminder of danger and death.
I started noticing the depression that ran through my family and realized that my parents were not going to return to the United States anytime soon. That is when I spoke up. I wanted to return to the United States to focus on my education — even if I had to do so alone. My parents wanted me to be successful in life, so they agreed. In order to buy my plane ticket back to the U.S., my parents had to sell one of our family's cows, a significant portion of our income. I would live with my aunt in Chelsea, Mass. until they could return to America.
When I returned to the U.S., I felt welcomed and happy at first. But being a teenager and living with people who were not my parents was hard. I felt no confidence when it came to talking about what I, as a young woman, needed. I felt empty and lonely.
I was also way behind in my studies. I didn't know what a narrative was or what a square root was. I just didn't believe I was going to pass the 8th grade. I struggled, especially with English class, after only speaking Spanish for three years.
One day, my English teacher came over to me and told me that I should believe and have confidence in myself. His words made me realize that I could succeed if I changed the way I thought about myself. After that, everything changed. I wasn't afraid to be the kid who didn't know and didn't understand. My fears were getting in the way of my learning until I stopped them.
Starting freshman year at Chelsea High School was a challenge. My mom had recently arrived from El Salvador with my younger brother. I was 14 years old and working at a restaurant to financially support them.
Even though I felt tired and exhausted every morning, I still managed to get myself to school. I didn't have anyone to motivate me at the time except for myself. That year, I lived in a small room with my brother and mother because we didn't have another option. It was challenging and I never thought my life would get any better.
My fears were getting in the way of my learning until I stopped them.

Maria Figueroa
My sophomore English teacher handed me a flier one day about a program called Summer Search — an organization that helps low-income students to prepare for and aspire to college, get involved in community service and become civic leaders. I was surprised when my English teacher told me that she and three other teachers from my school had recommended me for the program. I listened to seniors who'd participated in Summer Search. They seemed eager to talk about their experiences, so I filled out an application on the spot, but did not really expect much to change.
I got into Summer Search and was paired with a mentor, Jonny. He has become a confidant who is a consistent source of encouragement. I can talk to him about anything, whether it's issues at home or my schoolwork — anything. He is always there for me and understands the importance of my feeling recognized and acknowledged for my achievements. He helped me navigate my junior year, whether it was SAT deadlines or preparing for my college search. He pushed me to see that I can do more and that I can do better. Best of all, because of his support, I have become more comfortable just being me.
This past summer, I had the opportunity to travel to the Dominican Republic to perform community service at a health clinic. With a scholarship from Summer Search, I went with 28 other students from all over the country and two international students. I was also only one of two students from Summer Search Boston on this trip, and I had never met the other students before. I was nervous. I told myself that the two weeks would go by quickly; I would just mind my own business and do what had to be done.

I soon became friends with a larger group of girls on the trip who welcomed me, even though they all knew each other from home. These girls had money and, like everyone on the trip, talked about college and career. I felt like I couldn't relate. My mother works three jobs — cleaning a bank during the day, working at a chocolate factory at night and working the weekends as an apartment cleaner — all without a day off. College didn't feel like an option for us financially.
Even though we were different, we all had a drive to help the people of the Dominican Republic — those who lived in poverty and had limited, if any, healthcare. The group worked together: painting entire houses, digging holes for water, building cement floors in one day.
At the health clinic, we would check in patients, handle their vitals before their appointments and distribute vitamins. Some of the children — and even some of the mothers — had never had their temperatures taken, had never seen a thermometer before.
My trip to the Dominican Republic gave me an awareness of how many opportunities actually exist for me in the world. I now feel like I am prepared to meet new people and pursue unfamiliar and challenging experiences. I came away feeling more hopeful about and ready for college.
I am a senior now. My mentor and high school guidance counselor are helping me research different colleges and apply for financial aid.
Someday I will lay in bed and say I went to college because I believed in myself and strongly believed that I could change the path of my family. Someday my niece will say "I want to go to college like Tía."
And now I see myself heading back to El Salvador to lend a helping hand.
Maria Figueroa is a senior at Chelsea High School.