'WET: A DACAmented Journey' Makes You Feel Every High And Low Of One Man's Efforts To Gain Citizenship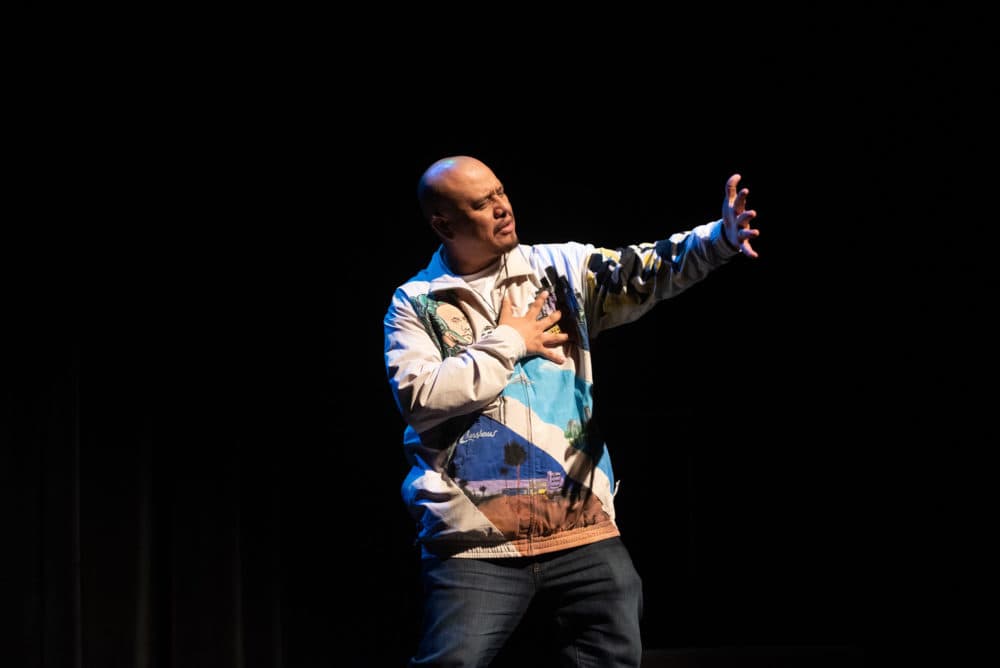 This article is more than 3 years old.
Editor's Note: This review contains racist slurs that are quoted from the play. We've kept the offensive language because it's an essential portion of the production and to excise it would be to blunt the play's power.
---
A lifetime Angeleno and a DACA recipient, Alex Alpharaoh describes himself as a "political football." But he is in no way deflated.
Alpharaoh's solo show "WET: A DACAmented Journey," though rife with trepidation and frustration, is positively ebullient. Jointly presented here by ArtsEmerson, Cara Mía Theatre and Ignite/Arts Dallas in the Jackie Liebergott Black Box of the Emerson Paramount Center (through Nov. 25), the theater piece combines autobiography, political mission and hip-hop-inflected spoken word to put the audience in Alpharaoh's shoes — and you feel every springy step and chafed toe.
"WET" began life a little over a year ago in a 50-seat theater in LA — which seems apt, since that California metropolis is the only place Alpharaoh has any memory of living. Precariously smuggled into the United States at the age of 3 months by his 15-year-old mother (who was promptly offered a Big Mac and a Mickey Mouse onesie for her baby), the performer and social worker had spent most of his life ducking under the immigration radar when, in 2012, under the Obama administration, DACA, which stands for Deferred Action for Childhood Arrivals, was introduced. The only member of his family to remain undocumented (his mother, siblings and daughter are all American citizens), he leapt.
But jumping through the hoops of application for what is at present a renewable reprieve from deportation is complicated. And for Alpharaoh (whose birth name is Anner Alexander Alfaro Cividanis), the journey toward legal standing as an American just got more and more so. His is a very particular story, and by telling it, even as the Trump administration threatens to upend DACA, he puts himself on the line as well as on the stage. Nonetheless, it is the labyrinthine, not always angelic particulars of the tale that rescue it from the drier territory of political policy debate.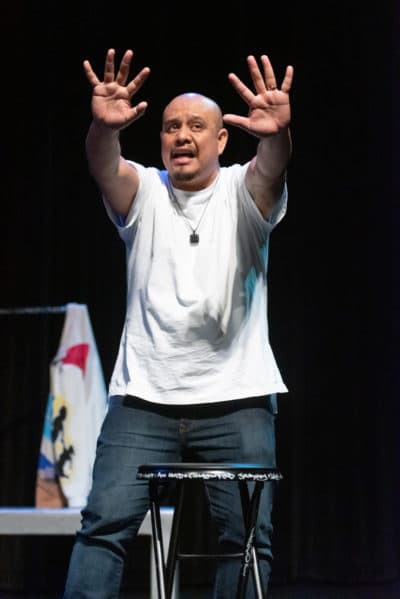 Alex Alpharaoh is a likable and a talented performer who, in "WET," divides his persona into three parts to tell and bear artistic witness to his history. "Alpharaoh" is the rhythmic virtuoso building hip-hop towers on the oft-moving, frequently funny, always exasperating saga narrated in the first person by "Alex" and enacted by "Anner," who plays himself as both child and adult, as well various relatives, bureaucrats and others who helped, hindered or infuriated along the way.
And why shouldn't the writer/performer give himself three names? As "Alex" points out, he has already been hit with a slew, including but not limited to wetback, spic, mojado, illegal, alien — even, in the words of one theater reviewer, "the African-American Soothsayer who told poems with a tragic twist." (What rag did that critic write for?) "I've been called almost everything except for what I am: American!" Except, he might add, on paper.
Sometimes, like the performer, you want to scream at the ways in which, for a responsible if undocumented citizen, no good deed goes unpunished. As a college student paying his way as a psychiatric social worker, Alpharaoh uncovered a nursing-home abuser — which led, when he was subpoenaed to testify in court, to the discovery that he had been working under a made-up social security number.
For an undocumented American, for whom a driver's license, even a library card, is unattainable, such catch-22s abound. Ultimately, Alpharaoh must rely upon a very tricky path to possible citizenship called Advance Parole. Since he was initially smuggled into the country without a record of entry, he must return to his native Guatemala (the only time, he remarks, that he ever felt like an immigrant) to secure a new passport, then re-enter the U.S. if allowed, officially. A great deal of the theater piece is devoted to this perhaps unduly ramped-up adventure — which suggests that, here and elsewhere, bureaucrats are, if not outright malevolent, surely cookie-cut by a team of Ionesco and Kafka.
The production of "WET: A DACAmented Journey" currently on a national tour to eight cities is not exactly the same as the one that played that 50-seat venue in LA. Directed by Brisa Areli Muñoz, it remains a spare affair, staged in three-quarter round beneath a flickering urban mural, with just three stools and a bench, among which Alpharaoh ricochets to energetically enact his story. His costume is jeans, a T-shirt and, from time to time, a creamy, color-splashed bomber jacket. Aaron Johansen's lighting dapples stage floor and surrounding walls in subtle but interesting ways, and Broken Chord supplies a propulsive but quiet musical underlayment that both jacks up the mood and enhances Alpharaoh's intricate, defiant spoken-word riffs.
But the emphasis is on the writer/performer's relatable if increasingly urgent story. Especially toward the end, the script changes with the headlines, adding up-to-the-minute commentary, morphing into both polemic and plea, as, almost daily, the Trump administration ramps up its anti-immigration rhetoric. As Alpharaoh observes at the end: "Yeah, people are trying to destroy our country, but it's not us, the Dreamers."
---
"WET: A DACAmented Journey" is at the Emerson Paramount Center in Boston through Nov. 25.