How An Italian Prog-Rock Band Laid The Integral Eeriness Of Horror Film 'Suspiria'
This article is more than 4 years old.
Let's go back in time for a moment, rewinding to what many would argue were the glory days of horror films — the 1970s. That decade gave us "The Exorcist," "Halloween," "Last House on the Left," "Texas Chainsaw Massacre," "Dawn of the Dead," "Eraserhead" and "Carrie," to name just a handful.
And then there was this little low-budget Italian film, "Suspiria," made in 1977 by Dario Argento and soundtracked by Claudio Simonetti's prog-rock band Goblin. The supernatural movie has been an object of cult fascination for decades. (It was recently remade, in manner of speaking, by Luca Guadagnino, with the soundtrack by Radiohead's Thom Yorke and stars Dakota Johnson and Tilda Swinton.)
The old "Suspiria," starring Jessica Harper, plays one time at the Coolidge Corner Theater on Sunday, Nov. 25. Goblin will play live, accompanying the movie. The group — different from the original sound tracking band — includes Simonetti on synthesizer, keyboards and guitar; Bruno Previtali on guitar and bouzouki; Cecilia Nappo on bass; and Titta Tani on drums, Octapad and tabla.
The soundtrack was a key element of many of those '70s movies, but perhaps none more integral to the overall experience than Simonetti's harrowing compositions for "Suspiria." There is very little underscore, but an eerie, hypnotic theme frequently cycles through, often coming at you full bore when there is no dialogue. Combined with Argento's lurid reds, disorienting camera angles, and Escher-esque sets, it creates a palpable creepiness, and, one must admit, an undeniable camp factor.
"It works because of the colors and the cinematography," says Simonetti on the phone en route to Portland, Oregon, recently. "It's something really new that Dario invented. I think he created something really special with the music that works very good."
Many movies are inextricably linked to the soundtrack: Think Michael Mann's "Thief" (by Tangerine Dream), Nicolas Roeg's "Don't Look Now" (by Pino Donaggio), David Cronenberg's "The Brood" (by Howard Shore), William Friedkin's "Sorcerer" (also by Tangerine Dream) and Sergio Leone's "The Good, The Bad and the Ugly" (by Ennio Morricone).
"Especially in the '70s and the '80s, the music for horror movies was very important," says Simonetti. "Now, you don't have the same style. You have good horror, but music is not so important. It's background music. Nobody creates something really new like John Carpenter or [Mike Oldfield with] 'Tubular Bells' or Bernard Herrmann with 'Psycho' and all the Hitchcock films."
Carpenter, a musician himself, met Simonetti in Los Angeles five years ago. When they were introduced, Simonetti says, "He said, 'Oh yeah, I know you very well. I stole all your music!' He's also a big fan of Argento."
"Suspiria" was the first film in an Argento horror trilogy called "The Three Mothers." (The others were 1980's "Inferno" and 2007's "The Mother of Tears.") And it was the second Argento film for Simonetti and Goblin, having scored "Deep Red" in 1975 — that soundtrack album, Simonetti says, went on to sell four million copies. He went on to score — solo or with Goblin — a total of 11 movies over 43 years with Argento.
The plot for "Suspiria" revolves around Susan Bannion (Harper), a young American student who arrives in Munich to study at a prestigious ballet school. The school — horror fans will not be surprised to hear — is not what it seems. And there is something off with the two women who run it — one stern and one seemingly charming, but both of questionable character.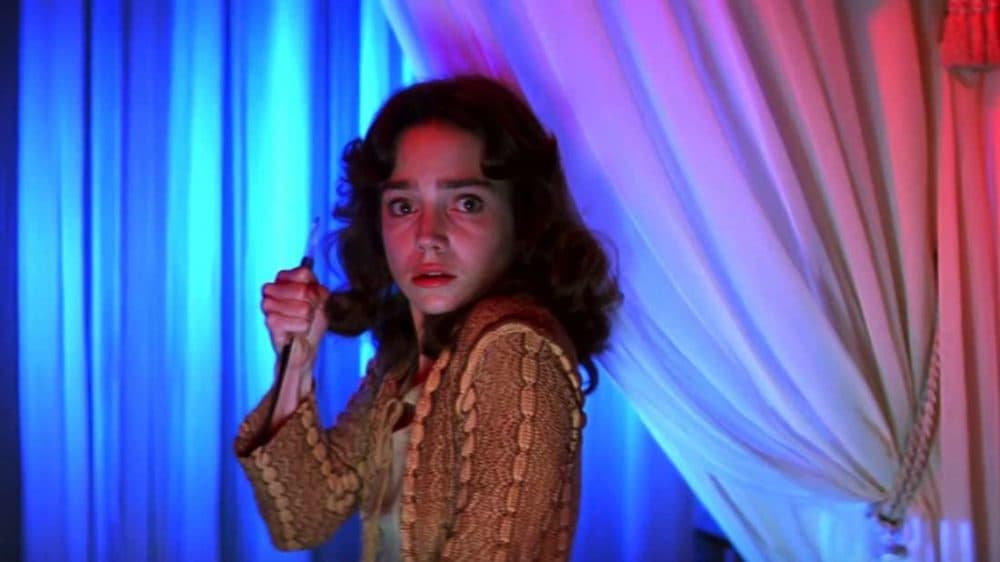 But before Bannion even starts classes, she's greeted by a scared student who flees past her at the entrance to the school and soon, unbeknownst to Bannion, meets a most gruesome and tragic fate. Argento felt Goblin would be the right choice to match the spooky, surreal nature of the film.
Simonetti formed Goblin in 1972. He grew up listening to and being influenced by Emerson, Lake & Palmer, King Crimson, Jethro Tull, Deep Purple and Gentle Giant. Then in 1977, Argento called upon them to write the music for his film "Suspiria."
"Dario said, 'This is my new film and this is completely different from the others. It is not a giallo,' [an Italian slasher/sexploitation movie] 'or a thriller or a typical Italian horror movie.' For the first time, he's working with witches as a [main] theme in the film. He said, 'I want the music to always scare the people even when nothing is happening on the screen.' So, when you put this music as background, it lets the people know that the witches are still there even if you don't see witches on the screen."
Simonetti originally tried scoring the film as he read the script, "but it didn't work when the film was finished. I don't like to do this because it's like, for example, if you go to see a film and read the book before, for sure you will be disappointed because you have a completely different image in your mind. The same happens with a script. So, with 'Suspiria' we started over again."
"Many digital instruments didn't exist when we created it in 1977," adds Simonetti. "We had just the Moog 55 [synthesizer] — the same thing Keith Emerson used — and a few keyboards. There was a lot of experimenting in the studio."
It's not just the music per se. You'll hear this evil sounding hiss, repeatedly, throughout the movie and Simonetti simulates it during our chat. "I thought there was something missing so I recorded my voice," he says. "There is all that screaming and I put my voice all over it, like a devil's voice' going, 'Witch!' We had a lot of fun."
Boston-based musician Terry Donahue is a long-time horror movie aficionado and also a veteran sound-tracking artist. Along with his two mates, Donahue has been writing and performing original soundtracks for silent movies for 28 years as part of the Alloy Orchestra. (The Alloy Orchestra also performs film scores along silent movies at the Coolidge.)
"Sometimes [the soundtrack musicians] go too far," he opines, "like in 'Creature from the Black Lagoon.' Some people could say that about 'Suspiria.' It's a delicate balance."
Simonetti's Goblin has been touring with "Suspiria" off and on for the past five or six years, he says, swearing that the dates timed near the release of the new "Suspiria" was just coincidental. "When we decided to start with this tour," he says, "it was many months ago and we didn't know the releasing date of the new one." Still, he notes, it hasn't hurt interest in people coming to see and hear the original film.
---
Here's a look at Goblin playing live as "Suspiria" screened in the Netherlands:
---
At the Coolidge, the musicians in Goblin won't replace the soundtrack. "It's a mixing of original on the screen and we play live, synchronized with the old one. We play exactly in the same time where the music is in the film. We use the same instruments. The live sound is the same as the original except for some parts where we added something [improvised] every day, a few parts we create at the moment."
"I think it's a kind of a lullaby, sweet music over violent scenes," says Simonetti, "and sometimes the contrast works. If you don't know the film and just listen to [the soundtrack album], except for the voice it's not very scary. But it works in the scenes."
Donahue feels live music can enhance the cinematic experience. "It makes all the difference in the world [to the audience]," he says. "Any live performance, it's much more exciting. You feel like you're at an event, not just going to a movie. And live music is like theater — anything could go wrong."
The soundtrack often works best when it's hardly noticed, he says, "but the ones that stick out, it's like "Wow! Who did that?' With horror movies, the repetitive theme that comes around, you think about 'Jaws,' 'Halloween' and 'Suspiria,' the recurring themes are pieces of music that bring you in. And for those '70s horror films, the music matches the campiness of the movie. It's hard to put yourself in their shoes, but I think campiness is part of it. It seems to work and they had a niche."