It's Going To Be A Long Holiday Shopping Season. Mass. Retailers Are Thrilled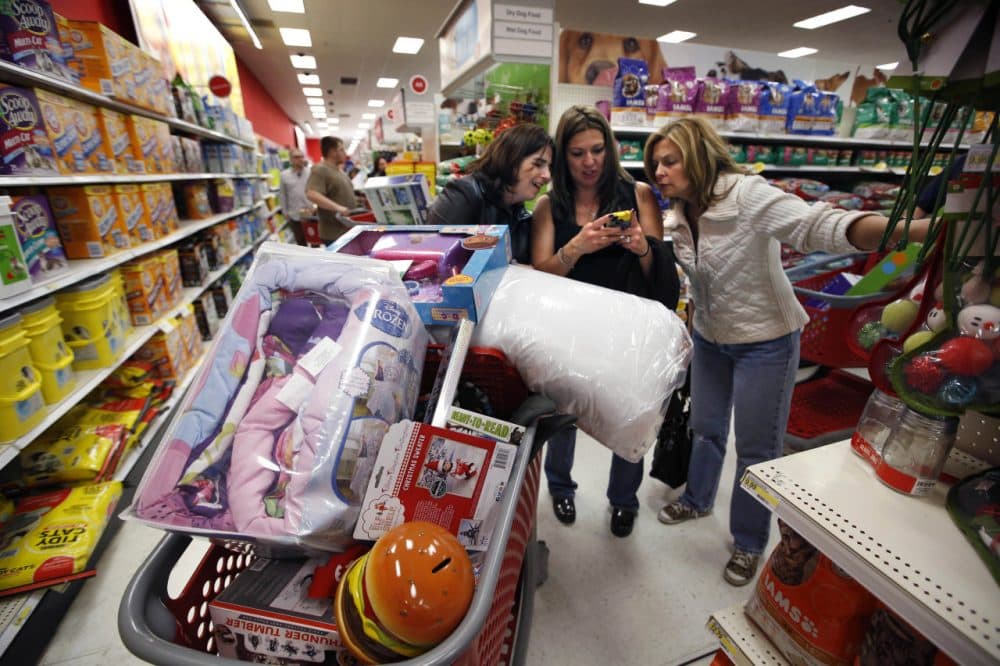 This article is more than 3 years old.
The Retailers Association of Massachusetts is expecting a very merry holiday shopping season. The trade group projects sales will increase 3.8 percent over last year.
Businesses can thank a strong economy — and the calendar — for the jolly outlook. Black Friday arrives on the earliest possible date this year. That means a longer-than-usual spending period.
"We've got five full weekends between Thanksgiving and Christmas," said Retailers Association President Jon Hurst. "And that last weekend before Christmas, with Christmas Eve being a Monday, that's just going to be a gangbuster weekend. This is the best possible scenario."
Framingham-based TJX Companies, the state's largest publicly traded retailer, on Tuesday reported a higher-than-expected third-quarter sales increase of 7 percent. The parent company of Marshalls, T.J. Maxx and HomeGoods upped its full-year earnings projection, anticipating high demand throughout the holidays.
"I believe we are very strongly positioned as a destination for gifts this holiday season," TJX Chief Financial Officer Scott Goldenberg said on an earnings call. "We will be flowing fresh product multiple times a week, right through the holidays, which we believe differentiates us from many major retailers."
TJX Chief Executive Ernie Herrman added that the company has not been harmed by the U.S.-China trade dispute. Hurst said the same is true for many retailers in the state because they bought holiday inventories before tariffs went into effect.
Sales increases will, however, be somewhat diminished by rising labor costs.
"There is a real concern here," Hurst said. "It's tougher and tougher to get those seasonal employees, and a lot of times you're paying far more than what you did just a few years ago. You have to balance your sales against your overhead."
Holiday shopping stakes are especially high for businesses recovering from the September natural gas disaster in the Merrimack Valley.
The day after Thanksgiving is traditionally a time for retailers to get in the black, after running deficits for much of the year. But hundreds of businesses in Lawrence, Andover and North Andover are just trying to reduce their losses from weeks of closures.
"They've come through a very difficult time, and they're telling us that there is renewed interest in their businesses, which we're very pleased to hear," said Joe Bevilacqua, president of the Merrimack Valley Chamber of Commerce.
The chamber is advertising in local newspapers, urging shoppers to buy from stores that have reopened.
Some stores remain without gas.