Forecast: An Arctic Blast This Thanksgiving, Followed By Chilly Rainfall
This article is more than 4 years old.
As advertised, the arctic air is here … but as Mark Twain said, "If you don't like the weather in New England now, just wait a few minutes." Although the weather might take a tad more than a few minutes to change, a few days is very accurate.
Very cold high pressure is building in today. As detected on the thermometer, many interior towns will struggle to reach 20 for a high this afternoon. The coldest Thanksgiving on record here in Boston was 19 in 1873 – today will certainly rival that.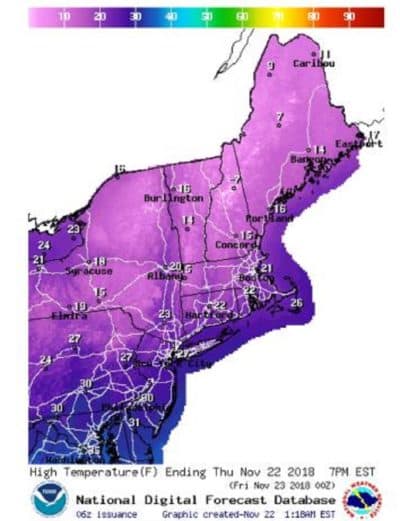 It will feel even colder with wind-chills dipping to near zero or below at times with a stiff northwest wind gusting to between 15 and 25 mph.
Although plenty of sunshine will be with us Friday, temperatures will be much colder than normal, with highs in the 20s. Temperatures will moderate through the 30s Saturday, as winds turn more southwesterly with increasing clouds by evening.
The second half of the weekend will go downhill in a hurry as a storm moves at us from the southern states. Clouds will lower and thicken Saturday night with rain overnight into Sunday morning. Some of that rain will be heavy with nearly an inch expected before taping to showers. Colder air moves back in again Tuesday with snow-showers a good possibility during the midweek period.
Today: Sunny, windy cold. Temps 15-20 this afternoon. Wind chills near zero.
Tonight: Clear skies, breezy, very cold. Low 12.
Friday:  Sunny, continued colder than normal. High 28.
Saturday: Sunny morning; increasing clouds PM. High 40. Rain overnight with rising temperatures.
Sunday: Rain tapering to showers. Staying cloudy, Highs in the 40s.
Monday: Cloudy. Periods of rain. Highs: 45-50.