In New England, These Exonerated Prisoners Take A Leap Of Faith
Play
This article is more than 4 years old.
On Labor Day, Darrell Jones was standing with a group of men who hardly knew each, but who share an unenviable life experience as former prisoners.
They strapped on harnesses and chutes, checking and re-checking, as Jones offered a word of advice: "Put on Chapstick, because you're definitely going to have a dry mouth."
These skydivers in training were, until recently, among New England's 32,000 prison inmates. Now that they are outside of bars, they are free to jump with family members, friends and even their lawyers.
"It's a day for us to take control of our own lives and not count on the court system, not count on anybody. This is as free as we can get," said Jones.
Monday morning, Jones will be back in a Brockton Courtroom as his 32-year legal battle enters a new phase, a final hearing before he's re-tried in January.
Jones was freed last year when his conviction in a 1987 murder was overturned, due in part to WBUR's investigation of the case. A judge ruled that the jury was racially biased, that the lead Brockton detective had lied at the original trial, and that police deliberately altered a key piece of evidence.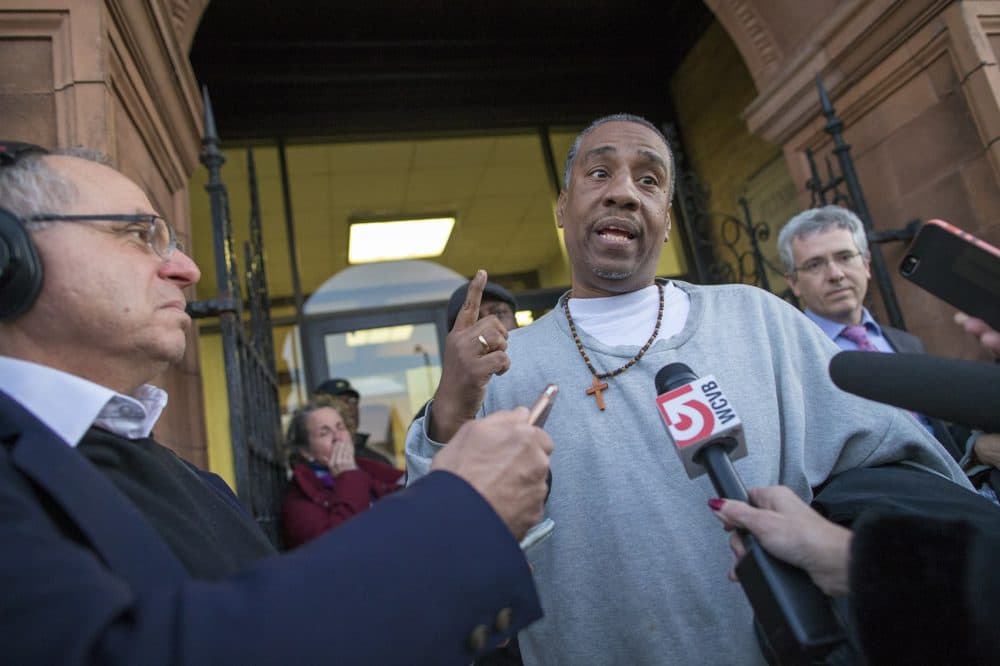 Jones, who organized the skydiving event, was an activist inside prison, and in the year since he has been freed, he has continued the fight for the rights of the growing number of exonerees across the country: people whose convictions were overturned or those, like him, who are free but still have to battle their cases in court as they await new trials.
"We did a major march in Memphis, Tennessee," Jones said. "You got guys, they did 45, 50 years on death row, and where did it go? No one paid attention to it.
"It's an issue that everybody throws away. And my thing is ... you're not going to throw us away."
Lisa Kavanaugh, director of the Massachusetts Innocence Program, and her team of public and private attorneys got four convictions overturned just last year, one of which was Jones'.
With the help of Rahda Natarajan, executive director of the New England Innocence Project, Jones' out-of-thin-air-idea literally took off and has helped free a dozen prisoners from around the region, many of whom came to the skydiving event in Rhode Island, called Flying for Freedom.
"The event is about people whose freedom was taken away unjustly," Kavanaugh said.
As single-engine Cessnas soared 10,000 feet above the ground, former prisoners, who served an average of 30 years before they were released, jumped and free-fell to the earth at 120 mph.
"There's no turning back," said Fred Clay. "Once you jump out of the plane, you can't say, 'Well, I change [my] mind, I want to go inside.' There's none of that. You just have to deal with it."
Clay was 17 when he was convicted of murder, and was sentenced to life for a crime he always insisted he did not commit. Police detectives relied on an eyewitness, who originally couldn't identify Clay but was put under hypnosis — a method now largely debunked.
"When I was in prison, I saw a bunch of documents on skydiving, and it looks like people was always having a good time," said Clay. "I said to myself, privately, that I want to have a chance to do that if I ever got out of prison."
Last year, with the help of the Massachusetts Innocence Program, Clay's life sentence was vacated. He had served 38 years in a cell not much bigger than a walk-in closet.
"Let me say it this way: You couldn't put your arm out and touch both walls," Clay said. "If you paced the room, you might get 2 1/2 steps to the wall. It was kind of small."
"That's freedom -- jumping out of an airplane at 10,000 feet, flying like a bird."

Ray Tempest
Sean Ellis spent nearly 22 years in prison for the murder of a Boston police detective. His conviction was overturned, though, when a judge ruled detectives, who later pleaded guilty to corruption charges, had withheld evidence. He now faces a retrial set to start next September.
"They took our lives, and now we're taking our lives back," said Ellis. "This is really what it's about."
Ray Tempest stood off to the side after his skydive. He was arrested and convicted nearly a decade after a murder in Woonsocket, Rhode Island. His conviction was overturned when it was discovered that evidence of his innocence was not turned over to his defense attorney.
"The jump was exhilarating. That's freedom — jumping out of an airplane at 10,000 feet, flying like a bird," Tempest said. "I enjoyed it, and I'll do it again."
Lifers released from prison after decades for crimes they did not commit, or for wrongful prosecution, miss out on the mundane and ordinary events that come with freedom, and certainly those things that are special — a chance to celebrate birthdays, attend a funeral, skydive.

"I've never been on a plane," said 56-year-old Tyrone Scholl. "My first time in a plane, and I jumped out of it, and I loved it."
Scholl missed most of his life. He first went to prison when he was 16, and at 27, a Rhode Island jury convicted him of murder. Scholl expected to leave prison in a body bag, but now, he's in legal limbo.
"We got him out on parole. His case is still pending," said Mike DiLauro, an attorney in the Rhode Island Public Defender's Office.
DiLauro was at the Flying for Freedom event, preparing to skydive with Scholl. "It seemed like something I wanted to do with these people," he said.
"He's a very inspiring person," DiLauro said about Scholl.

In New England, 70 people convicted of horrible crimes and given lifelong sentences have been exonerated by the courts. How many innocent people are in prison now, no one can say. A few years ago, though, DiLauro did research for a criminal reform bill and was able to document eight people who had been mistakenly identified, but were eventually exonerated.
The New England Innocence Project plans to hold a second Fly for Freedom next year. Likely, there will be several new people making the jump.
This segment aired on November 26, 2018.