Darrell Jones Back In Court As Prosecutors Seek Grounds For Retrial
04:32
Play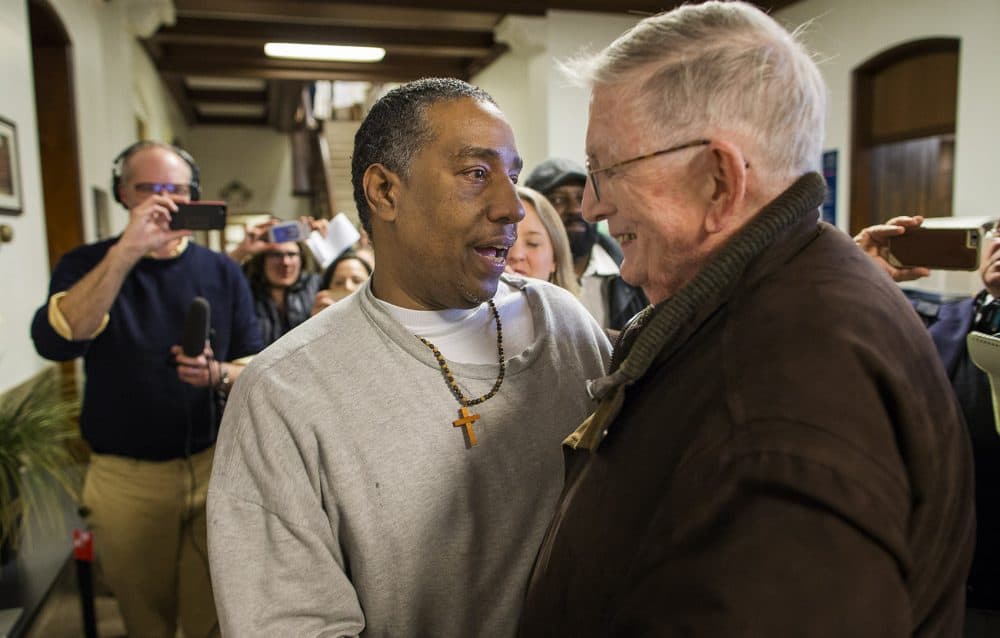 This article is more than 2 years old.
The wheels of justice are turning slowly in the case of the Commonwealth v. Darrell Jones. Almost a year ago, Jones's murder conviction was overturned after a judge ruled he had not received a fair trial. He served 32 years in prison before his release in December 2017.
On Monday, he was back in court to determine if Plymouth County prosecutors have sufficient evidence beyond a reasonable doubt to retry him.
It was an intense and dramatic day of testimony from the same eyewitnesses who had testified 32 years ago in Jones' murder trial, in the very same Brockton courtroom where he had been convicted. Even though there was no physical evidence or motive linking him to the murder, he was sentenced to life in prison without the possibility of parole, at age 19.
His defense team called four women to the stand on Monday — witnesses who had been in the Brockton parking lot where Guillermo Rodriguez was shot and killed in November 1985. Rodriguez was a supposed Cuban cocaine dealer.
At the original trial none of them could identify Jones in the courtroom as the murderer, and their eyewitness accounts were contradictory. But their testimony was consistent in one area — the shooter was much shorter than the victim. Jones and Guillermo were just one inch apart in height.
Jones' lawyers challenged the women's testimony and the identification of the killer using photos provided by police.
Denise Vannah, now 54, probably had the best view of the murder, but when she was questioned by defense attorney Paul Rudof, she said she never got a good look at the killer.
Many memories fade after 33 years, but even a few days after the killing, Vannah couldn't ID Jones when presented with a photo book of suspects.
"He asked me to point out who I thought it was... I told him I could not identify the guy," said Vannah on Monday.
Adding to the confusion was that the defense had poor copies of the mug shots police had shown to eyewitnesses. Prosecutor Jessica Kenny didn't bring the originals to court but said they probably were in the Plymouth County DA's office.
The prosecution's original case depended almost entirely on a video tape Brockton police made of one of the women eyewitnesses. But last month, Superior Court Judge C.J. Moriarty determined that critical portions of that tape, which had been deliberately altered by police, could not be used at Jones' retrial.
Terie Lynn Starks, another eyewitness, testified she had been addicted to crack and alcohol at the time, and Brockton police had arrested her on prostitution warrants in Metheun six days after she witnessed the murder. They held her without charges overnight.
Kenny challenged Starks over her often-contradictory testimony. She repeatedly asked Starks if she was high when she testified before a grand jury when she identified Jones' photo. Starks said she didn't remember.
Another eyewitness testified she told police she didn't see the shooter and only pointed to Jones as someone she knew — not as the killer. She said police threatened  to send her to the women's prison in Framingham if she didn't testify against Jones.
At the end of the hearing, Kenny announced that after 11 months, the only witnesses she intends to call are two Brockton detectives who handled the case. Last year, a judge ruled that one of the detectives had lied in Jones' trial 32 years ago; the same detective, the judge ruled, perjured himself at a hearing last year.
Jones erupted on Monday at what he said were deliberate delays.
"We brought every witness in here, your honor, that she told me for a whole year...I can't get a job...because this is going on."
Kenny announced that Darrell Jones had left a voice message telling her to drop the case. Judge Robert Cosgrove said he'd revoke Jones's bail if he tried to speak to her, and set the next pre-trial hearing date for early December.
Corrections: The name of Terie Lynn Starks was originally misspelled, and the wrong judge was attributed for a ruling. We regret the errors.
This article was originally published on November 27, 2018.
This segment aired on November 27, 2018.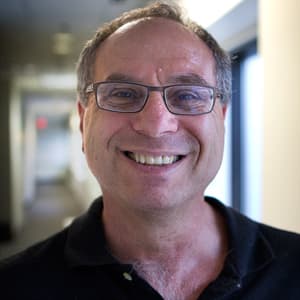 Bruce Gellerman Senior Reporter
Bruce Gellerman is an award-winning journalist and senior correspondent, frequently covering science, business, technology and the environment.