How Ryan Landry Channels The Cinematic Theme Park In His Head To Create His Singular Stage Productions
Ryan Landry's brain is in a constant state of motion. He has a never-ending film reel of sepia and technicolor scenes running through his head. Film facts and pop culture trivia are implanted in his synapses. "The netherworld of my mind is a vast fantasy land," the playwright and producer says. "It is a big amusement park in there." He cites film references repeatedly in casual conversation, as if he shares his consciousness with divine divas, dashing cavaliers and dastardly villains alike. Forget sugarplums: Visions of Lana Turner dance in his head.
But living in a cinematic theme park can have its ups and downs. "It is both a blessing and a curse,'' Landry says with an exaggerated sigh, allowing that he takes a sedative to help turn the production numbers off so he can sleep at night. He's not kidding, except he can't remember the name of the medication.
He's been this way all his life. Growing up in a trailer park in Connecticut, Landry didn't have anything in common with the jocks because he didn't like sports. He didn't fit in with the rockers because he listened to Captain & Tennille. He was raised Mormon. "They were the only ones who knocked on the door, so my mother decided we were Mormons," he says. "It was hard for me to connect with anything except for old movies and cartoons. I was different. I made up fantasies. I was the star of my own private movie."
And he still is. For nearly three decades, he has channeled all those images into plays for his Boston-based theater troupe, the Gold Dust Orphans. The art of writing helps him funnel the soundtrack that occupies his cerebral cortex. "When I wake up and I have to get these songs out of my head, the only way is to put them into a story. It relieves the pressure of the memories and the sounds."
And since it's the time of good cheer, Landry is waking up these days to scenes of reindeer getting slaughtered while poor Santa Claus frets about his delivery system. His troupe's annual holiday (horror) extravaganza is called "A Nightmare on Elf Street," which is at Machine Nightclub from Nov. 29 to Dec. 23.
That's right. Freddy Krueger meets St. Nick — and his tiny reindeer, too.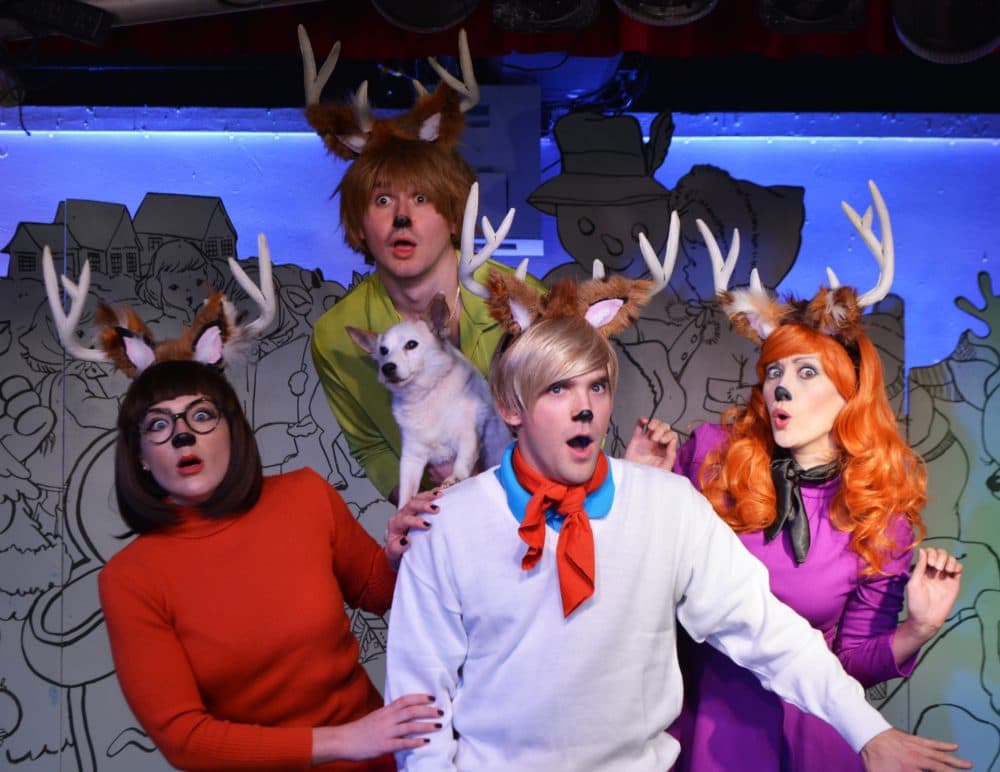 This isn't your run-of-the-mill Christmas pageant, although Landry is quick to tell you that it is Spectacular. "There are 14 songs and dances, 208 costumes and 25 people in the cast. The music spans from old rock 'n' roll to Broadway and jazz," he says.
A Landry play, whether it be a parody of creature features or dramas like "Medea," has a signature style that features actors in drag, laugh-a-minute jokes, risqué sendups of dusty chestnuts and treasured classics, and costumes, costumes, costumes. The material is irreverent by design — and some of it is probably not safe for work.
Even for a writer with a mind that is always spinning, it isn't easy to come up with a holiday-themed show, year after year. "There are only so many times you can do the 'Grinch' or 'A Christmas Carol' or 'Susie Snowflake,' " Landry says. "I am not a fan of slasher movies. They are really stupid. I may not like this genre, but I want to do my version in my world and filter it through my colander."
Landry takes his cue from Mel Brooks, known for his parodies of space films, horror flicks, and old Westerns. That is, write what you know. "I watched all these movies," he says, reciting a list that begins with "The Cabin in the Woods" and "Carrie" and continues with "Prom Night" and "Scream." (The list never ends. Landry is always researching.) "They are so misogynist. They are unbelievable. I do throw in some social commentary. I don't hit you over the head, but it's not all dumb jokes."
Director Kiki Samko, whose stage name is "Bubbles Goldberg," had to brush up her Wes Craven. She is not an aficionado of slice-em dice-em films. Not in the slightest. "When he asked me to direct this, I said, 'That is not a good idea,' " Samko explains. "I had never watched a horror movie in my life." She has now. Landry holds frequent movie nights for his company, and now Samko has seen her fill of blood and guts. "They're not as bad as I had thought," she admits.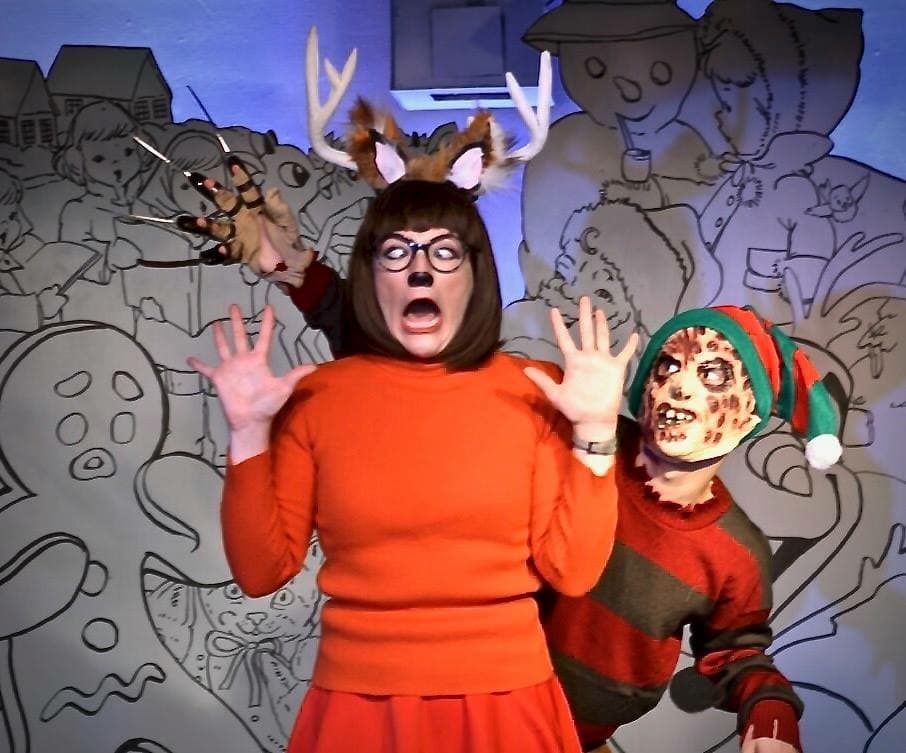 Landry analyzes each genre he parodies and distills it to its essence. In slasher movies, he says, the only rule is that "only one girl gets to live, and she is the good girl." A common theme is that some characters have done something really, really bad and have a secret: The killer, of course, comes back to get them. "Nightmare on Elf Street" begins with a short film, an homage to Brian De Palma's "Carrie" — "the first one, the good one," Landry insists. Poor Rudolph is defenestrated by his peers at the Elf Street Academy. Flash forward a generation, and the offspring of the perpetrators are getting knocked off one by one. Santa, who is a Howard Hughes-like misanthrope, gets involved, and two sleuths arrive to help solve the crime.
Topical references abound. "I love a good debate," Landry says. "I care about the issues, but it's not like I am looking to be some savior of the American theater. I entertain people, and I make them think. It's not like Huffington Post Presents. Or Fox News Presents. I don't play those reindeer games."
But he does play his own stage game, and he has built a tight-knit ensemble of actors to live out the carnival in his brain. Every moment, every joke is carefully choreographed. He imagines a play like a trip to a theme park. It has to proceed naturally and not start out with the roar of the Lightning Rod roller coaster in the first five minutes. The trip to the Tunnel of Love has to happen after two characters have discovered each other. A win at the arcade indicates a small victory for the hero. A stop at the photo booth signals a memory.
His writing process is about taking the movie in his mind and putting it on the page. "His brain is like a camera, focusing on the shot, zooming out and panning in on a scene," Samko says. "As the director, I have to translate the cinematic vision going on in his mind and get it on the stage. I have no idea how he keeps so much in his head. His brain never stops. It never slows down. It must be both amazing and exhausting."
That's what the sleeping pills are for, but in his waking hours, Landry is always watching a movie in his mind, always conjuring up the next show. He's currently working on "Dr. Jekyll and Miss Thing," in which the evil doppelgänger resembles Lil' Kim running rampant in nightclubs. "I believe I am kind of crazy, but crazy with the best intentions," he says.
---
"A Nightmare on Elf Street" runs Nov. 29 to Dec. 23 at Machine Nightclub in Boston. Minimum age 16.
---
Patti Hartigan is an award-winning journalist who was a longtime arts reporter and drama critic for The Boston Globe.