Locked-Out National Grid Workers Tell Personal Stories At Hearing To Turn Up Pressure On Utility
Days before Brian Harvey would find out that National Grid had locked him out of his job and canceled his health insurance, he and his wife Michelle found a lump on their youngest son's stomach.
Within days, their son Winston, 20 months old at the time, would have surgery to remove a renal tumor, and then would be diagnosed with stage three cancer that required chemotherapy treatment. His parents had to figure out how they would afford to pay for it.
"What National Grid did was wrong. It was hurtful and it devastated us," Michelle Harvey said, wiping away tears as she recounted "the worst month of our lives" and accused National Grid of using a "cruel negotiating tactic."
The story was one of dozens shared by gas workers with lawmakers Tuesday as the Legislature weighs how deeply to get involved in a lengthy labor dispute between National Grid and United Steel Workers Locals 12012 and 12003.
National Grid locked out the gas workers in late June after several years of giving contract extensions that didn't yield any concessions on health care or pensions for new employees. Legislators, however, have grown increasingly impatient with the impasse, have largely sided with the workers over the utility, and are now actively considering legislative relief for locked out workers.
"I believe National Grid should be ashamed of itself," Sen. Marc Pacheco told the company's Massachusetts president Marcy Reed.
As gas workers argued for legislation to restore their health benefits during contract talks, House Speaker Robert DeLeo on Tuesday started to move a bill that calls for the state labor and workforce development secretary to establish "a benefit program for any individual who is involuntarily unemployed during the period of the negotiation of a collective bargaining contract because of an employer's lockout." Under the bill, all program costs will be assessed on the employer who has locked out their employees, and the bill precludes an employer from passing on the costs of the program to ratepayers.
Unemployment benefits for many locked out workers are scheduled to expire on Jan. 14, according to the union.
"This public utility has chosen to lockout its employees as a negotiation tactic, the cost of which is being subsidized by taxpayers and the Commonwealth's Unemployment Insurance Trust Fund," DeLeo said in a statement Tuesday. "Such reckless behavior by any large employer would be appalling, but it is even more egregious when undertaken by a public utility that has been granted a territorial monopoly by the Commonwealth. When we grant a public utility, we expect that companies bear implicit responsibilities because of the special status conferred upon them."
While the bill advanced in the House, it did not make it over to the Senate. House Minority Leader Brad Jones threw the brakes on late in the afternoon after, his spokesman said, members of the Republican caucus had questions about "whether or not it might be setting a precedent."
Jones' office did not say how long the minority leader might seek to hold up the bill, saying Republicans want questions answered before allowing the bill to move forward. Democrats throughout the day defended their right to get involved in the labor dispute.
Senate President Karen Spilka's office also did not commit to taking up the bill this month, stating through a spokeswoman, "The Senate is very concerned about the negative impacts of the ongoing National Grid lockout for families, businesses and the safety of our communities. We continue to monitor this situation and evaluate all available options."
The Legislature until early January is scheduled to meet in only "informal sessions" where any member can stop a bill and debate is not allowed.
"It's a solid concept, said Rep. Antonio Cabral, who fled the unemployment benefit bill. "If an employer chooses, in this case National Grid or any other employer chooses, to lock out their employees they have to understand there might be some consequences to that. This is not how you deal with folks who work for you every day to make your products or make your company a success."
The action on the Cabral bill came as a surprise as lawmakers had been gearing up for a hearing in the afternoon on separate legislation before the Committee on Telecommunications, Utilities and Energy.
Rep. Jim O'Day back in July filed a bill that would require National Grid to restore health benefits to workers for the duration of the lockout and prevent the utility from accessing public funds or seeking rate increases.
"There is currently no incentive for management to end the lockout and that is precisely what this legislation aims to do," O'Day told the committee, surrounded by nearly 20 of his House and Senate colleagues.
Rep. Colleen Garry, of Dracut, said members of the United Steelworkers unions are "petrified" of getting sick. "To have a multi-million dollar international company holding Massachusetts residents to their knees trying to make them submit is outrageous," Garry said.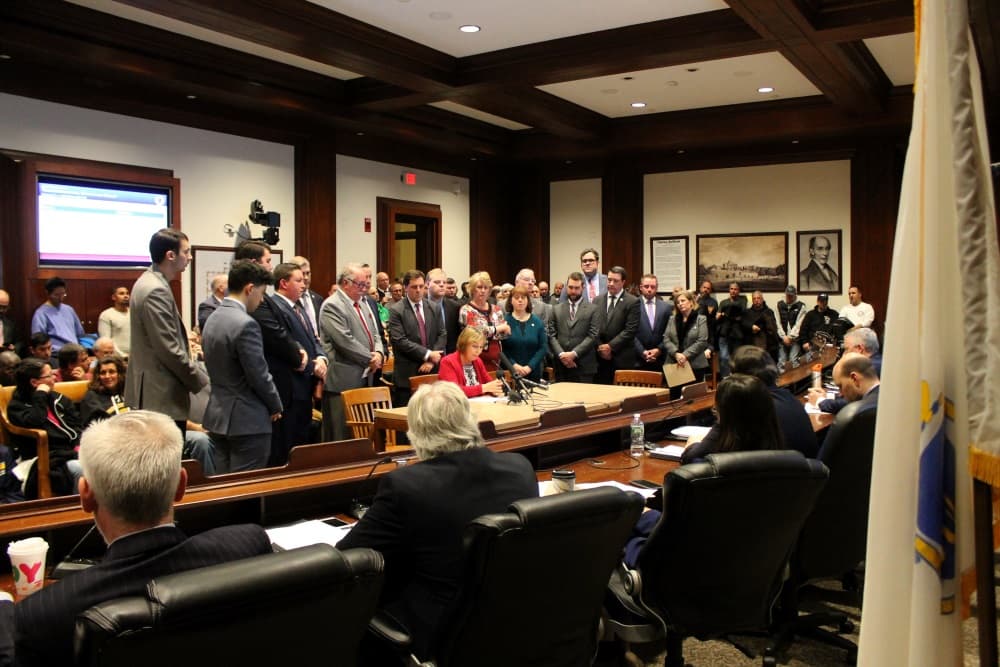 Following the lawmakers, scores of gas workers waited their turn in a sweltering hearing room to share stories about how National Grid's decision to lock them out and end their benefits, had negatively impacted their lives, from struggles to pay for health treatments to children having to put their college educations on hold.
Workers also said the lockout had put public safety at risk as the volume of gas work being done has slowed and the task of fixing leaks has fallen to replacement workers.
"The shit's going to hit the fan," said Andy Smith, a gas worker who lives in Medford and warned that as winter arrives Grade 2 gas leaks gone unaddressed will soon become Grade 1, or the most severe.
After nearly three hours, it was finally National Grid's chance to testify.
Massachusetts President of National Grid Marcy Reed said the utility had "serious concerns" that the O'Day bill could conflict with federal law, and said the Cabral bill would have the opposite effect of spurring an agreement.
"Private labor relations are just that," Reed said.
The unions and National Grid will be back at the bargaining table on Friday, and National Grid said it would like to have a deal in place by Christmas, but the utility says any deal must include concessions on health care and pension plans for new employees.
"We're not asking the Steelworkers to blaze a new trail. They've blazed this trail with everyone I can find," said Tom Ryan, National Grid's vice president of U.S. labor relations, who told the committee that he has reached similar deals with 10 other unions and seen the Steelworkers agree to similar terms in New Hampshire, Connecticut and Rhode Island.
Reed and Ryan said National Grid gave the unions plenty of notice early this year that it did not plan to extend their contract beyond the June expiration date, and were met with a "complete lack of urgency" to strike a deal. They said the union has been available to meet just 21 times over the course of the 164-day lockout, and didn't make a counter offer for 150 days.
"We aren't the hold-up here," Reed said.
Ryan drew jeers when he described the lockout as the "single biggest disappointment I will ever have in my career," but said he's "never seen anything like it, ever."
"Nobody enjoys it. Nobody wins," he said.
Members of the committee, however, appeared to have little sympathy for National Grid's position.
Sen. Michael Barrett, the co-chair of the committee, urged Reed to consider reinstating health benefits on her own, and Pacheco questioned Reed over what he described as rumors that National Grid was trying to "break the union" so that it could sell the gas company.
Reed denied the suggestion.
Members of the committee also questions National Grid's safety record and protocols with replacement workers, as well as the cost the lockout has foisted onto the state budget for workers who are signing up for MassHealth and other public benefits. The Department of Revenue told Speaker DeLeo in October that locked out workers had received $13 million in unemployment benefits, and were costing MassHealth about $70,000 a month.
Rep. Jim Hawkins of Attleboro asked Reed whether she personally thought it was a humane negotiating strategy to take away health benefits from union workers.
"I think it sucks, actually," she said. Reed also said she didn't think it was fair to ratepayers to ask them to cover the cost of health insurance for workers who aren't performing any services at this time for the gas company.
Rep. Thomas Golden, the House co-chair of committee, told Reed he found her suggestion "insulting" that union gas workers, who had voted to authorize a strike before the lockout, might have jeopardized safety by striking during the middle of a job.
He also forced her to admit that the Massachusetts arm of the utility was profitable after she had told Pacheco that the state had a "negative return," and was not a major factor in the companies' $4.6 billion profit.
"We do make money," Reed clarified, telling the committee that National Grid Massachusetts has a 3 percent rate of return, well below the 9.8 percent allowed by regulators.
While Reed and Ryan were left to fight alone during the hearing, Associated Industries of Massachusetts is also opposed to legislation intervening in the contract dispute. AIM Vice President John Regan, in written testimony, said the O'Day bill represented a "a troubling – and perhaps unconstitutional – foray by Beacon Hill into a private-sector labor dispute."
"Intervention in a private labor dispute is beyond the scope of the Massachusetts Legislature and sets a dangerous precedent for the ability of government to takes sides in negotiations between companies and their workers," Regan said. "If lawmakers interject themselves in this labor action, what would prevent others from seeking Legislative involvement in disputes concerning manufacturing, service or technology companies across the commonwealth?"
Steve Finnigan, who said he was one of the two lead negotiators for United Steelworkers, said the union has made concessions over the years to maintain health and pension benefits, and ALF-CIO of Massachusetts President Steve Tolman chastised National Grid management for dismissing the union's contract offer as "status quo."
"It's now considered old-fashioned to have a retirement," said Tolman, delivering one of his trademark fiery speeches.
Sen. Barrett asked United Steelworkers Local 12012 President John Buonopane how the union would feel about the Legislature declaring gas workers "essential," which, like police, would prevent a utility from locking them out, but would also make striking illegal.
"It would be something we'd have to take a look at, because we are essential to the safe delivery of this product," Buonopane said.
This article was originally published on December 04, 2018.