Worcester Mourns Death Of 36-Year-Old Firefighter Christopher Roy After Early-Morning Blaze
This article is more than 4 years old.
The Worcester Fire Department is mourning the death of 36-year-old firefighter Christopher Roy, who died Sunday fighting a five-alarm fire.
Roy, a Shrewsbury resident, leaves behind a 9-year-old daughter, a brother and two parents who live in Worcester, authorities said.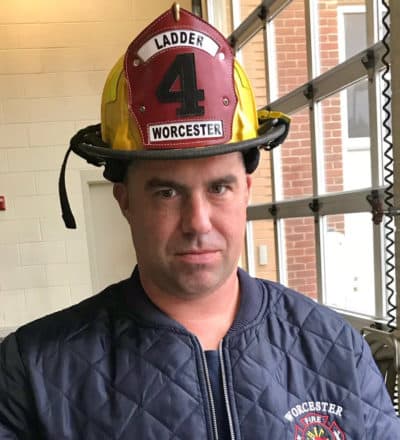 Firefighters responded shortly before 4 a.m. to a fire in the basement of a three-story, six-unit building on Lowell Street. "Conditions deteriorated rapidly, with heavy fire forcing several firefighters on the second floor to evacuate," Worcester fire Chief Michael Lavoie said in a press conference.
Five firefighters escaped over ladders, and two were taken to a local hospital. Roy died of his injuries. The other firefighter is in stable condition, according to Lavoie.
The cause of the fire is under investigation.
Roy had worked in the department for two-and-a-half years and was assigned to Ladder Four at the Webster Square fire station, the chief said.
Lavoie offered his condolences to Roy's family and recognized early-December as a difficult time for the department. On Dec. 3, 1999, six Worcester firefighters died fighting a blaze at a warehouse in the city, and on Dec. 8, 2011, another city firefighter died after a burning building collapsed on him while he was trying to rescue someone inside of it.
"Once again, December has proven to be the cruelest month of the year for the Worcester Fire Department," Mayor Joseph Petty said. "Firefighter Roy paid the ultimate sacrifice last night doing what he always wanted to do: helping people and saving lives."
This article was originally published on December 09, 2018.