Researchers Develop Portable Diagnostic Test For Ebola And Malaria
This article is more than 4 years old.
High fever, vomiting, diarrhea, abdominal pain: These are all early symptoms of Ebola hemorrhagic fever. They're also symptoms of malaria, a mosquito-borne blood infection that's endemic in regions where Ebola tends to break out.
For public health officials working in West Africa during the 2014-2016 Ebola outbreak, distinguishing between the two wasn't always easy, says Dr. John Connor, associate professor of microbiology and researcher at Boston University. Connor is part of an international team working on a portable, easy-to-use, battery-powered test that can identify Ebola, as well as malaria and other diseases, in less than 30 minutes.
"During the outbreak, one of the things that was, unfortunately, painfully obvious was that getting good diagnostics to the point that they were needed was difficult," he says. "[Our] goal was to make something really simple where you don't need a tremendous amount of training and people can pick it up very quickly. Current tests for Ebola are much more cumbersome, and for patients in rural areas, getting results can take days."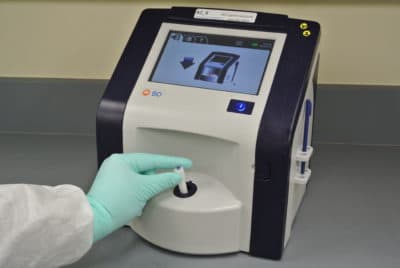 Connor's team, which includes the medical technology company Becton, Dickinson and Co., published a proof of concept research study in the journal Science Translational Medicine on Wednesday.
The test uses magnetic beads coated in antibodies that attract specific infectious agents in a blood sample and can be detected with a laser. When hit with the laser, each infectious agent creates what Connor calls "a unique scattering barcode" that is easily distinguishable.
By allowing health officials to diagnose a patient quickly and in a remote setting, this technology could have big public health implications in future out infectious disease outbreaks, he says.
Correction: An earlier version of this story misstated the name of the journal Science Translational Medicine. We regret the error.
This article was originally published on December 13, 2018.