Children Of TPS Recipients Bring Stories Of Uncertainty To The Stage With 'The Last Dream'
A child in reindeer pajamas, alone on stage, calls out to her mother that she can't sleep. The mother's voice replies from offstage, narrating a folk tale that soon becomes disturbing. A group of teenagers decorate for the child's birthday party, bickering and dancing. Festive turns tearful when one teenager tells the rest: "We were supposed to be in bed, but we hid in the stairs and listened. They said the announcement was going to come sometime today or tomorrow." Later, a green backdrop flips around to become an immense, gray-faced monster. The kids on stage nearly disappear as news footage about changing immigration policy is projected behind them.
All of the young people performing this play, "The Last Dream: Stories Created and Performed by the Children of TPS," are children of parents with Temporary Protected Status as its title implies. Earlier this year, the federal government announced it would end TPS for Salvadorans, potentially forcing them to leave the U.S. An October injunction blocked the Department of Homeland Security from enforcing this decision for recipients from El Salvador, Haiti, Nicaragua and Sudan, unless "a superseding final, non-appealable judicial order should permit the terminations," according to a DHS alert. Today, TPS recipients still face uncertainty.
On Friday night, the auditorium of the the Harvard Ed Portal in Allston fills with people representing many ethnicities and generations — families pack into rows, babies on laps. This theater-as-activism has layers and nuance, but there's nothing subtle about its urgent message: Keep families together. Establish permanent residency for TPS recipients.
"We did this play to … raise our voices as TPS children," declares performer Jacqueline Abigail Landaverde, 17, of Malden, at the show's close. "And every single one of you can help us."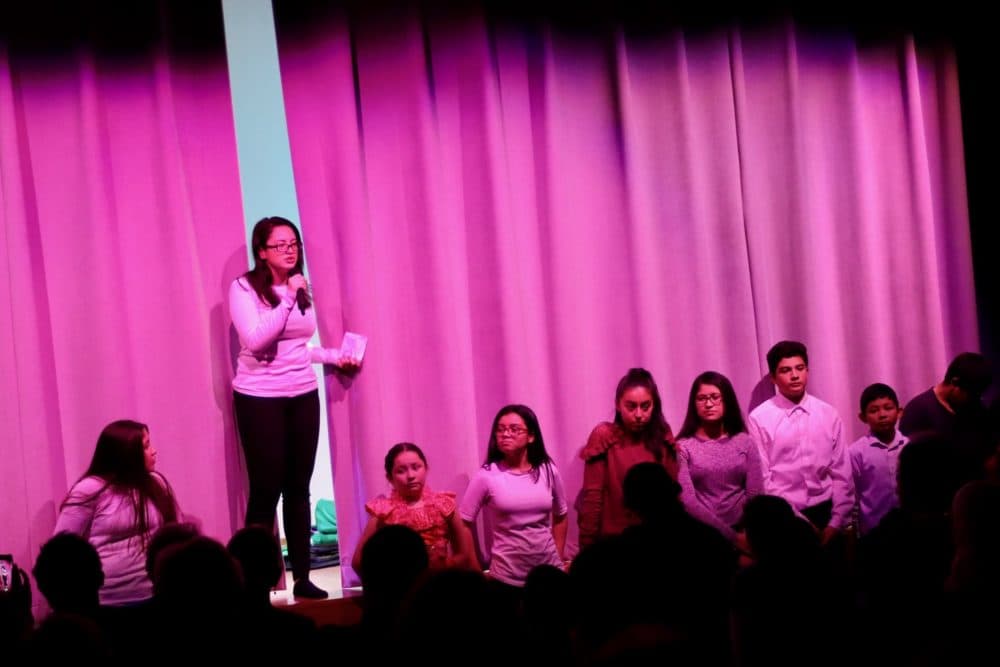 She's applying to college now, but if her parents have to return to El Salvador next year, she will have to find full-time work in the States and become like a mother to her three younger sisters.
"The Last Dream" is a production of Boston Experimental Theatre (BET), co-directed and written by Donya Pooli Yeganeh and Jared Wright together with Salvadoran-American families active in Comité TPS Massachusetts, a chapter of the National TPS Alliance, a grassroots network that advocates for TPS recipients. Haitian-American youth dancers from Hyde Park's Aashka Dance Company opened the evening.
BET felt a special urgency to create work about immigration. It's personal for artistic director Vahdat Yeganeh. In 2000 he fled political repression in Iran, where making theater put his life at risk. He escaped to Turkey on foot ("over the mountains … in snow up to here" he says, gesturing to his chest) to apply for refugee status. In the shadow of 9/11, he ended up waiting more than a year for a U.S. visa. In 2008, he founded Boston Experimental Theatre, forging collaborative processes influenced by the philosophies of Antonin Artaud, Jerzy Grotowski and Iranian philosopher Dariush Shayegan. Until this summer, the company focused on artistic exchange between Iranian and U.S.-based artists.
Theater companies that produce work with communities on social justice issues usually operate within an infrastructure that provides funding and other support. But "Last Dream" evolved more organically, with no budget. BET first reached out to Comité TPS this past spring. Together they planned a public speaking and storytelling workshop for community organizers. When the two groups finally met in July, the organizers, many who are working parents organizing on nights and weekends, brought their children. All spoke about what they were going through.
"I took Donya and Jared aside in the middle of that workshop," says Yeganeh. "You guys, we cannot leave after one workshop," he told them. Both Vahdat and Donya Pooli Yeganeh had worked on children's theater, and Wright had taught high school. They halted work on their previous production and began working with the youth of Comité TPS to devise a new play.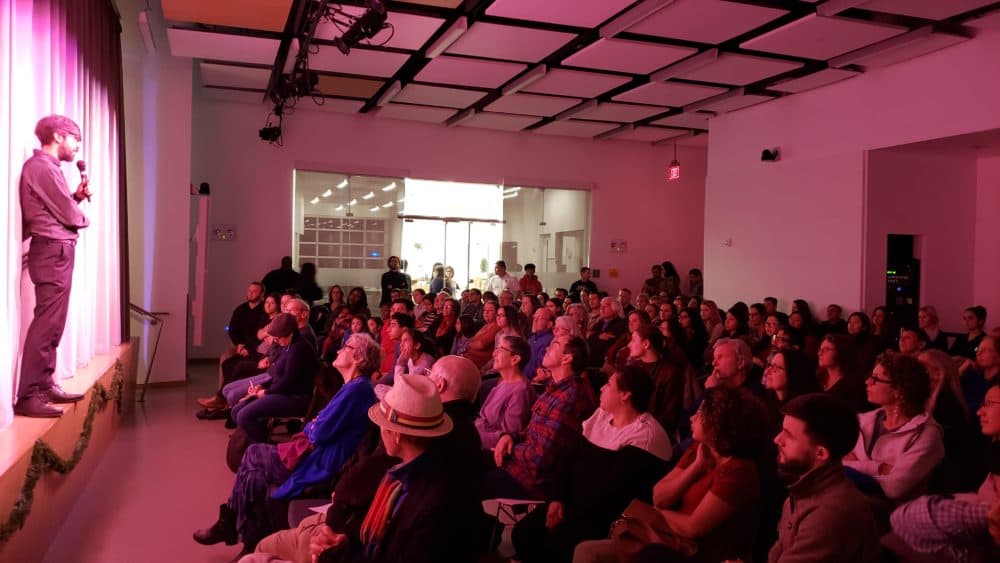 The Consulate General of El Salvador in East Boston offered its lobby, where families came together weekly for three and four-hour sessions. "[Yeganeh and Wright] technically wrote it but we were the ones who had multiple workshops and dedication to this, to write this play," says Jacqueline. "We started off with bringing in pictures, drawing … saying descriptions of how a birthday party was, how a family reunion was."
The script uses "words that we use in celebrations. They use what they've heard us sing, what we eat. They use exactly [the children's] own stories," said Berlinda Tejada, of Malden, mother to Jacqueline and three other young performers. Tejada, who came to the U.S. from El Salvador in 1998, is active in the Comité, involved with everything from outreach to childcare.
The first performance took place in September at Boston University. Wright, who has a day job at the Harvard Kennedy School, secured one night's use of the Harvard Ed Portal. The December performance has galvanized artists, new supporters and TPS advocates, including the Harvard TPS Coalition, who spread the word throughout the Salvadoran community.
"A lot of people don't know what TPS means or who it's affecting," says José Palma, a lead organizer of Comité TPS. "This motivates us to keep doing the work. And keep organizing." The Comité wants to get the play to Washington, D.C. and perform it for members of Congress.
"I do this for my family especially," says Jacqueline, "but also for the families that [are] too scared to come out." The teenager speaks with a practiced ebullience that she's still making her own. "I've never acted before and I've learned so much. I've become more confident in public speaking. I'm like the quietest girl in school and this has changed me personally."
"As a mother? [Seeing the play] destroys me," says Tejada. "It's impossible not to feel as though my heart is breaking when I hear that these children are going through something similar to what I went through in my country — the fact of coming to this country after a civil war meant that I couldn't finish my education there. Yet again I see that because of laws, because of governments, another time they want to shatter kids' dreams."