Mass. Not Immune To Nationwide Rise In Uninsured Children, Report Finds
Play
This article is more than 4 years old.
Massachusetts prides itself on its healthcare system and coverage rates. But, for the first time in at least a decade, the number of uninsured children here increased in a statistically significant way, a report from the Georgetown University Health Policy Institute finds.
Though the numbers are small in absolute terms — 15,000 uninsured children in 2016 to 22,000 in 2017, representing a 1 percent to 1.5 percent uninsured rate — the fact that it happened at all has some in the state's healthcare community concerned.
"One of the things we pride ourselves on in Massachusetts is having the commitment among all different sectors – among advocates, among government, among providers, insurers – to make sure that our healthcare system works for people in Massachusetts," says Suzanne Curry, associate director of policy and government at the Boston-based non-profit consumer advocacy group Health Care For All.
"The report reminds us that we can't sit back and say, 'Oh, we've done such a great job, now we're done.' "
The problem is not unique to Massachusetts. With the exception of the District of Columbia, every state in the country saw an increase in the number of uninsured children during 2017. Nine states, including Massachusetts, however, saw a statistically significant rise in uninsured rates.
Joan Alker, who has written the annual Georgetown report for eight years, says this is the first time she's seen a nationwide increase.
"This country has been moving steadily in the right direction for many years, but in 2017, that turned around," she says. Alker is the executive director and a co-founder of the Center for Children and Families at Georgetown's Health Policy Institute.
Using data from the U.S. Census Bureau's American Community Survey, her team finds that the national uninsured rate for children rose from 4.7 percent in 2016 to 5 percent in 2017. In raw numbers, that's a change of about 276,000 children — from a historic low of 3.6 million in 2016 to 3.9 million in 2017.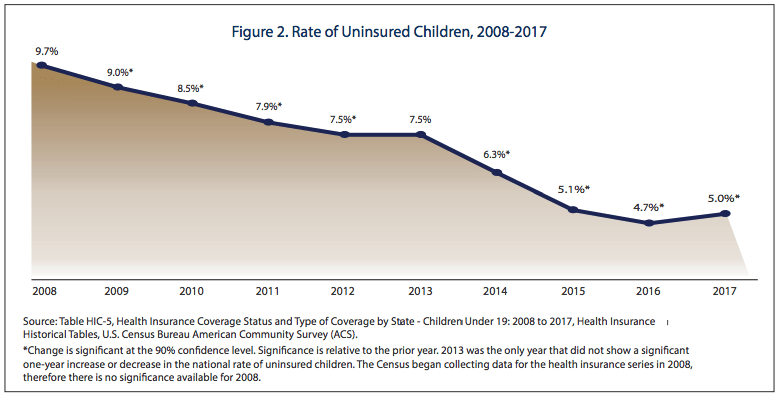 So what's going on?
According to the report, the increases in uninsured children, at a time when the economy was improving and unemployment was falling, "strongly suggest that federal actions contributed to a perception that publicly funded health coverage options are no longer available or, in the case of an immigrant parent, created concern about enrolling their child in public coverage for fear of reprisal."
"Typically, we'll see the majority of states going in the right direction, a bunch of states stagnating, and then a couple states going backwards," Alker says. "But to see all 50 states clearly go backwards, or have small declines or stagnation, suggested to us that the negative national climate in 2017 was what was really driving this trend."
On President Trump's first day in office, the Department of Health and Human Services deleted information about healthcare enrollment from Healthcare.gov, and began cutting enrollment outreach efforts nationwide. In mid-February, the administration suggested shortening the Affordable Care Act's open enrollment period from 90 days to 45 days. The truncated enrollment period was made official in April. By this time, Congressional Republicans had introduced the American Health Care Act, the first of many legislative attempts to repeal and replace the ACA.
"Thinking back to 2017, Congress spent most of the year talking about taking coverage away. Months were spent debating repealing the Affordable Care Act and cutting Medicaid," Alker says. "Fast-forward to the end of September and Congress let funding for the Children's Health Insurance Program expire. It took them many months to extend it."
Funding for CHIP was restored on January 22, 2018, 114 days after it lapsed.
"Add to the mix, a climate where there's a lot of hostility toward immigrant families, and immigrant parents who might have immigrant children — they're very worried that interacting with the government might lead to deportation," Alker says. "Families were being bombarded with messages saying your coverage might be taken away."
But Massachusetts, which has had the lowest rate of uninsured children in the country for years, is different, right? According the report, not really.
"The absence of significant progress across the country suggests that even states with the best intentions were unable to withstand strong national currents to protect children from losing health coverage," the report states.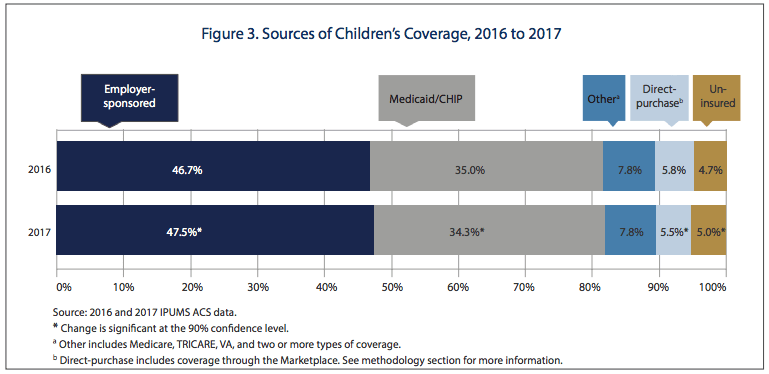 Alker calls Massachusetts the "most surprising state on the list," and expects this year's report is "a wake-up call" for anyone who cares about children's health care coverage in the state.
Curry of Health Care For All certainly sees it that way.
"I think we need to dig deeper into the data and work with state policymakers and other stakeholders to really understand who this population is, and how to reach them and get them back into coverage," she says.
While no one is arguing that more uninsured children is a good thing, not everyone is sounding the alarm over this report. Josh Archambault, senior fellow at the conservative-leaning think tank Pioneer Institute, warns against what he calls "sky falling rhetoric" over the results of one survey.
"I think it's important that we're looking at multiple surveys from multiple organizations at different times to actually see what's happening in the insured rate," he says.
He's also not convinced that anti-immigrant rhetoric and confusion about the ACA are the reasons more children are without insurance. What about the rising cost of care?
"The cost of insurance alone and the increases over the last few years would seem to me to be just as logical, if not more, than some of the conclusions others are drawing," he says.
Meanwhile, state officials are standing by work they've done to insure children in Massachusetts. Asked for a comment about the report, a spokeswoman for Health and Human Services Secretary Marylou Sudders emailed the following statement:
"The Baker-Polito Administration is proud of Massachusetts' progress to lead the nation and ensure nearly universal health care coverage for everyone in the Commonwealth. Open Enrollment in Massachusetts extends past the federal deadline through January 23, 2019, and we encourage anyone without health insurance to sign up online at MAhealthconnector.org or call 877-623-6765."
Data about children's coverage rates for 2018 isn't available yet, but both Alker and Curry worry the national political climate could, as the study suggests, suppress coverage rates again. Of particular concern, they say, are proposed changes to the "public charge" rule, which allows immigration officials to consider a person's dependency on the government before granting a change in legal status.
Though the Trump administration announced the proposed changes in September, rumors had been swirling for months.
"I've heard about people who are dropping their ConnectorCare (Massachusetts's state-run health insurance exchange) coverage, which isn't even one of the programs that would count against you if the public charge rule changes go through," Curry says.
No one knows precisely whether or how the proposed changes have impacted enrollment in Massachusetts in 2018, but Curry says that she and others at Health Care For All have heard anecdotal reports from doctors, hospitals and health clinic employees that people are concerned about maintaining their coverage.
They've also heard it from the public.
Health Care For All operates a helpline for people in the state with questions about health care options, or who need help enrolling in a plan. Hannah Frigand, associate director of the helpline, says she and her team receive approximately 20,000 calls annually. The helpline offers enrollment assistance in English, Spanish and Portuguese because about half of the calls are from non-English speakers.
"Back in 2016, after the election, we started hearing fears about, 'Well, there's going to be changes to immigration. Should I stay on coverage or what?' " Frigand says.

While callers like this don't always tie their health care directly to immigration status, she says many ask questions about who gets their information if they enroll in MassHealth, the Massachusetts Medicaid and Children's Health Insurance Program, or a ConnectorCare plan. It's also impossible to know who isn't calling into the helpline with these sorts of questions, and relying instead on what friends and family tell them, or what they glean from the media about the proposed changes, she adds.
A Kaiser Family Foundation study estimates that if the proposed public charge changes are adopted, 2.1 million to 4.9 million fewer people would enroll in Medicaid and CHIP annually. It's unclear what percentage of this would be children, but the study suggests the end result would be more uncovered children nationwide.
"Barring new and serious efforts to get back on track, there is every reason to believe the decline in coverage is likely to continue and may get worse in 2018," Alker's report says.

Correction: An earlier version of this story misspelled Joan Alker's surname. The post has been updated. We regret the error.
This article was originally published on December 21, 2018.