This Flamenco Teacher Uses Dance To Help Rebuild The Brain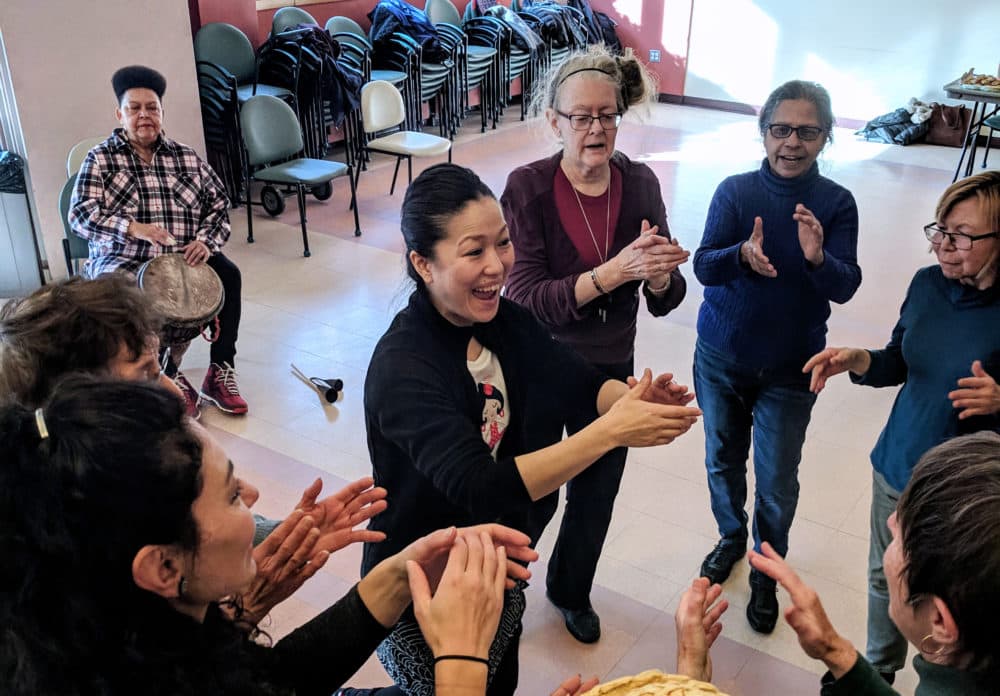 This article is more than 3 years old.
Halfway through her Friday morning dance class, Yosi Karahashi makes an announcement: It's time for "¡Olé!"
"Use your abdomen," she instructs, patting her torso. "Imagine it coming up from the ground. One, two, three y ¡ole!"
The eight women gathered at the Cambridge Senior Center — all over 60, some with physical limitations, others with neurological disease — can't easily match Karahashi's volume. But after a few attempts, they all touch their fingertips to the floor and draw them up their bodies, ending with hands overhead and a chorus of loud, triumphant exclamations.
That movement — from the finger extension to the shout of exultation — is at the heart of Flamenco Therapy, an emerging nonprofit created by Karahashi, a Japan-born, Madrid-trained flamenco dancer. Partnered with Bonnie Wong, a neuropsychologist at Massachusetts General Hospital, Karahashi uses the principles of her art form to stimulate cognitive reserves in patients suffering from brain injuries or age-related decline. Karahashi works with The Dance Complex in Cambridge to offer the program at the senior center; Wong runs rhythm and music clinics for an aphasia patient group at MGH.

While their long-term goal is to establish a definitive link between dance therapy and lasting change in neurodegenerative conditions, the short-term effect is simpler: Give patients and their caregivers a joyful, exciting set of exercises to help their bodies and minds.
For Karahashi, it's also a way to honor her late father, who suffered several strokes near the end of his life, and went through tedious rehabilitation.
"Life in the rehab center was picking up beans, right and left. It looked like waiting to die," Karahashi says. "But from that sad moment, he gave me the opportunity to do this."
The idea for Flamenco Therapy first emerged when Karahashi moved from Madrid to Boston with her husband, who was transferred to a U.S. branch of his company. It wasn't her first cross-continent move — at 22, inspired by the movie "Strictly Ballroom," she left her hometown of Aizuwakamatsu to study flamenco in Spain. She had no experience, and didn't speak Spanish, but she was certain that flamenco was her destiny — so certain that she ate wild chestnuts, picked from the public parks, to save her money for lessons at the legendary Amor de Dios school.
In Madrid, Karahashi earned her flamenco certificate and performed with several companies. But when she arrived in Boston in 2012, she was pregnant and didn't speak English well. She began teaching flamenco at The Dance Complex, where she met Wong, who was eager to hear more about Karahashi's vision of using flamenco to help people.
Wong is well known in the research community for her "brain training" work, which examines how cognitive, social and physical stimulation may slow the advancement of degenerative conditions. Practicing what she preaches, Wong dances flamenco and plays music for up to 10 hours each week for her own brain health. Flamenco, she says, is ideal for rehabilitation because it offers continual challenges.
"The best activities for brain health have to be something that's within reach but challenging, and engaging enough to keep you motivated to achieve the next level," she says. "Now the question is, can we stretch that to patient populations with Parkinson's, neurodegenerative disorders, and stroke?"
Karahashi and Wong incorporated Flamenco Therapy in 2017, and received initial funding from the Mind Brain Institute at Harvard University for a small feasibility and impact study. Now both are in their second cycle of workshops with the groups at the senior center and MGH.
As their partnership has developed, the workshops have grown more comprehensive, targeting muscle groups from the toes to the tongue. Starting seated, Karahashi leads the women at the Senior Center in a finger-tapping exercise, then moves on to ballet's five arm positions. Then she rises from her chair and demonstrates golpe, the full-foot stomp at the core of flamenco footwork. After they all dance in a circle, she instructs them in the traditional flamenco song "Qué Bonita Está Triana," curling her upper lip for "qué" and stretching her mouth wide to pronounce "bonita."
"We need to use the muscles in our face," she says, pointing to her lip. Circling the room, she sings the opening line to each student; each repeats it back, clapping the rhythm. Finally, she passes out castanets. The class concludes as everyone taps out a beat with the wooden instruments.
"I'm rusty, but I'll be better after this class," confesses Sandra Corsetti of Newton, who attended Karahashi's class last fall. Corsetti has Parkinson's disease, and the rhythms and cues make it easy for her to follow along. After the last round of classes she saw an improvement in her motor control. And the music, dance and socialization are just what a neuropsychologist like Wong would order.
"I should be doing exercises, but it's hard," Corsetti says. "This is fun."