An Experimental Music Fest In Somerville Celebrates The Boundary-Pushing Genre
Why can't a festival be planned with an artist's logic? That's the question Luke Martin and Aaron Foster Breilyn asked in reaction to the music festival where they met.
The two experimental composers longed for an alternative to the administration-heavy, fee-based model of a festival, with its inherent hierarchical structure — faculty vs. attendees, who had paid for the privilege. The pair dreamed up the co-incidence festival — "an experimental music gathering."
"We wanted to fill a perceived gap in support for experimental composer/performers in the U.S. with a music festival focused on experimental music and built as an experimental composer might build a piece," the festival's website states.
And so, beginning on Friday, Jan. 11, out of art space Washington Street Gallery, the two will host 11 composers — one resident artist, and 10 guest artists from around the world. For nine days, the group — including Foster Breilyn, 30, and Martin, 26, who participate as guest artists themselves — will engage in a kind of public artist residency, presenting concerts, discussions and undefined, improvisational social "activities." The entire festival is free and open to the public.
---
Here's the welcome concert to last year's festival: 
---
The creators are well-spoken, intelligent and idealistic. Both graduates of CalArts, they don't just pay lip service to the theories and philosophies that inform and inspire their art form. (As experimental composers, they play with chance, indeterminacy, and unpredictability in their creation of new work.) Says Foster Breilyn, "One of the things that is very important about approaching the festival as its own piece, or its own work of experimental art, is that it allows it to change and evolve and grow in ways that Luke and I can't even expect or foresee."
The festival's title, co-incidence, is pronounced "co-inSIDE-nce" — a nod to Swiss composer Manfred Werder and his concept of experimental composition involving chance encounters of different events that momentarily converge or "coincide." Says Martin, "We like to think of it as different events but inside together that happen to intersect."
What may these intersecting events consist of? In addition to the series of concerts, and the daily critical discussions led by this year's resident artist, Malden-raised, LA-based Sarah Ayotomiwa Pitan, the rest of the festival will be loose, open to spontaneity, and allowed to grow organically, influenced by the people in the room. One artist making lunch for the group can be seen and appreciated as its own "event." Last year, resident artist Joachim Eckl, an expert on Egyptian art, took the group on a tour of the MFA. "These kinds of ideas — you can't really distinguish what they are," says Martin, "but they involve some sort of practice that brings together a community of people."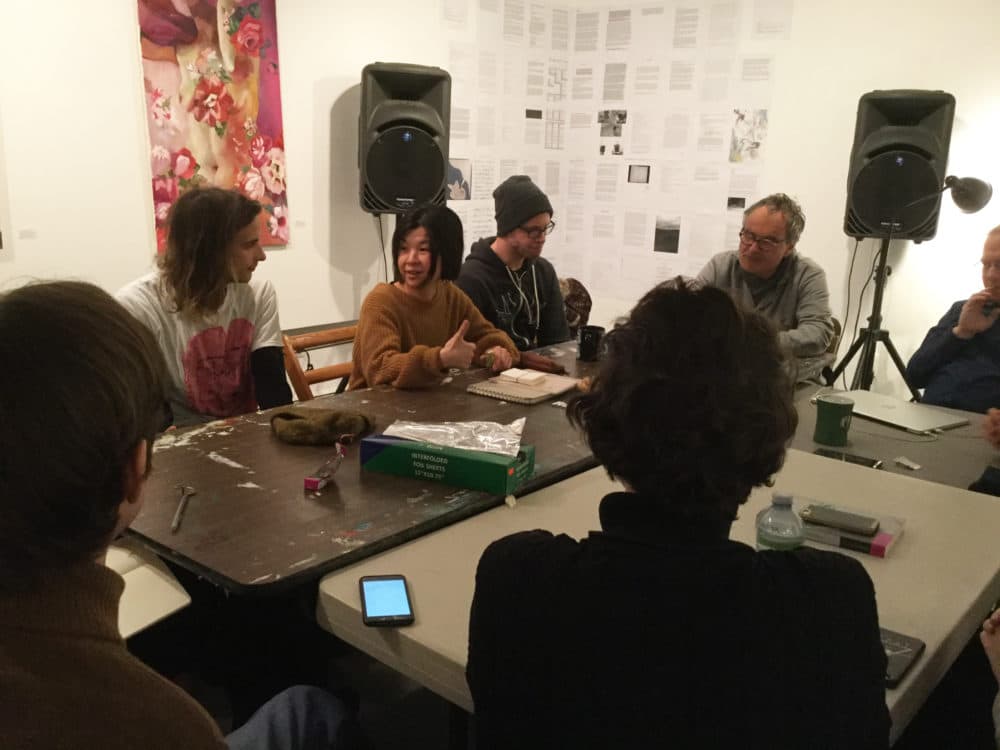 If this all sounds a little vague or conceptual to you, or if you're downright confused as to what to expect at co-incidence, you're not alone. Martin and Foster Breilyn are aiming for something beyond a weekend of events — they see co-incidence as a chance not only to nurture experimental arts, but to practice a different way of being in a group, and in the world.
"One of our goals with this," says Martin, "is to provide some kind of model that Aaron and I can learn from, and everybody else can learn from ... that can act as a model for creating alternative communities, or ways of relating to people." More specifically, ways of "relating to people in a manner that doesn't have to do with exchange, that doesn't have to do with getting credit for things," that instead involves "getting into debt with people, in a really beautiful way, like friendship. And taking, as a very fundamental thing, caring for other people. That's just so easily forgotten. Like, if I buy you a coffee, maybe you'd feel like you had to buy me a coffee back. No, we'll just get into debt together, and go further into debt until we can never get out."
This emphasis on community, egalitarian ideals and a non-capitalist philosophy are at the heart of co-incidence. Even the term "resident artist" (as distinguished from guest artist) strikes a problematic chord for the pair. "It's not some kind of authoritarian thing," says Foster Breilyn. "[The resident artist is involved] really just as a collaborator, to help frame this particular iteration of co-incidence."
This open and radical approach carries a certain element of risk, as does any experiment, be it musical or otherwise. The concept of creating a festival as "an action that you can't predict the outcome of" leads truly to an unpredictable outcome. "I like the indeterminacy of it," says Martin. "You don't know who's gonna walk in, and participate at any level they want. How do we react to that?"
---
The co-incidence festival starts on Friday, Jan. 11 and ends Jan. 19. Here's the full schedule of events.