Listening To Patients: Living With Terminal Cancer
Chris Davie died on Jan. 8 at the age of 41. He was diagnosed with a grade 2 glioma — a brain tumor — on the last day of 2007, when he had an unexpected seizure in the car with his wife Betsy and baby son Nathan, on their way to a New Year's Eve party. It was a frigid Minnesota night; luckily Betsy was driving.
The diagnosis was a shock and the initial treatments — including brain surgery — grueling, but he was told his life expectancy with this type of tumor could be 10 to 20 years, and this seemed like a long time.
"I know this is the real world, that this is terminal," he recalls thinking, "but I am going to do my best to go 20 years."
Despite regular medical checks, life went on as usual, for the most part, for the next 10 years. But in 2017 the tumor started to grow again and, after a second brain surgery, the tumor was reclassified as a grade IV glioblastoma, a diagnosis with an average life expectancy of 15 months. The cancer was no longer "surreal," as it had been for so many years. Suddenly, it was a reality with a frighteningly short time-line.
Betsy Davie, Chris' wife, contacted me by email in early June 2018. She had learned about the nonprofit I started, Health Story Collaborative, after watching a live-streamed story event, featuring Michael Bischoff, another patient living with glioblastoma, and his neuro-oncologist, Dr. John Trusheim. The patient's story resonated with Betsy and Chris.
"Chris is in a tough spot medically," she wrote. "The last few months have been difficult. To be transparent, the tumor is affecting his ability to communicate, particularly in written form, which is why I am writing to you. In the last month, we have discussed at length the importance of being more open with family, friends, and possibly the wider community. We are exploring ways for him to tell and share his story while he still can."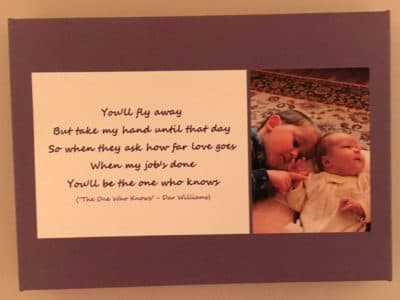 We met in August to record their story. Chris was clear on his goals. He wanted to capture a record of his experience, to communicate what he was going through, what he had learned, and what had been meaningful to him. Most importantly, he wanted his kids, Nathan, now 11, and Julia, now 7, to remember him and to know, deeply, how much he loved them, and how much their love meant to him.
During our conversation, he mentioned a song that has been important to his family: "The One Who Knows," by Dar Williams. A quote from this song hangs on the wall in the hallway between his children's bedrooms, where it has been for years: "You'll fly away, but take my hand until that day," it begins. "So when they ask how far love goes, when my job's done, you'll be the one who knows."
Chris knew that he would fly away first, before his children are grown, making the song's message all the more poignant.
While on his way out of this world, Chris worked actively and intentionally to deepen his connections and to make his love known.
Michael Bischoff, who, without his knowledge, led Chris and Betsy to me, also has young children, and has also committed himself to doing what he can now, before it's too late, to share his story and deepen his relationships. Michael reflects on his first experience sharing his story with family and friends:
I was putting my trust in the healing power of bringing forth what is inside of me, not in thinking that it will magically cure me of cancer, but in trusting that bringing together my internal and external worlds will bring me closer to life, and connect the sometimes-lonely landscape of moving through brain cancer with other people I care about.
Michael is now part of the Health Story Collaborative team, guiding others in storytelling and leading by example. He has taught me that it is possible to heal even in the face of death. He has demonstrated the power of connection. If we fully own and openly express our vulnerability, the imagined walls that keep us separate often disappear.
Watch a clip of Michael here:
At Health Story Collaborative, our work centers on using storytelling as a therapeutic tool for individuals navigating health challenges. We encourage them to develop and share certain narrative themes that have been linked to improvements in mental health, namely agency, communion, redemption and coherence. But the people we work with keep it real. It is not always possible to have a sense of agency in the throes of illness. And not everything is redeemable. It can't get worse than death.
And yet, Chris and Michael, two men with glioblastoma, a deadly brain tumor, have given me hope and inspiration. They remind me: It is not all or nothing. Even when death is imminent, we can look for threads of redemption and flashes of agency. We do what we can, and we do it with love. We nurture and celebrate our communities and connections. We give voice to what is in our minds and hearts. We expose our humanity. They remind us.
If this isn't healing, what is?
Audio production on the clip above by Dr. Annie Brewster, with music mixing by David Goodman. The video is courtesy of CaringBridge.