Dartmouth's Hood Museum Of Art To Reopen After Major Renovation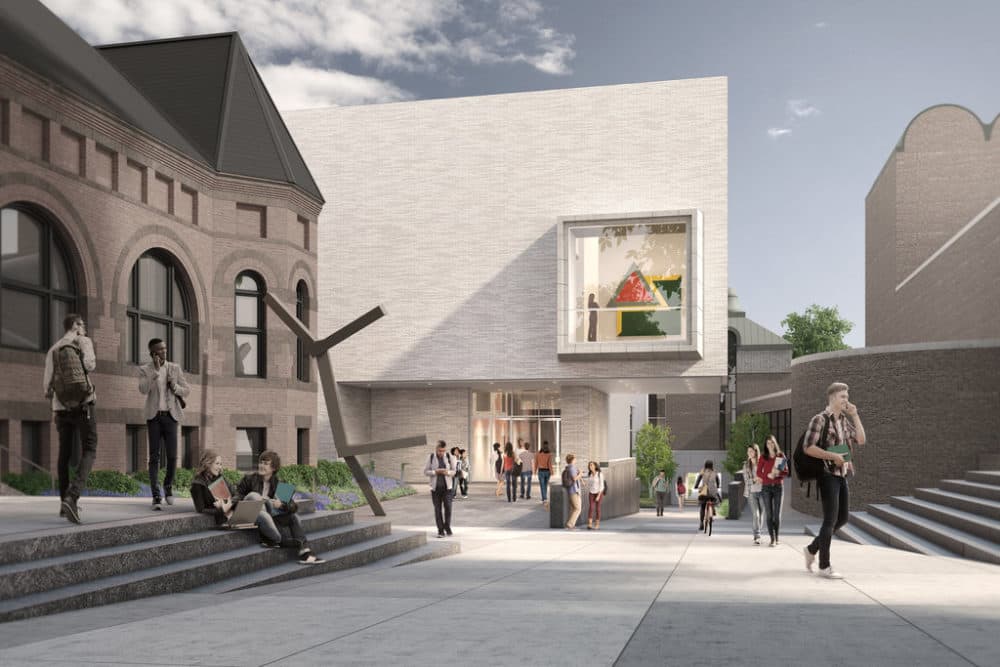 This article is more than 2 years old.
After a three-year closure, the Hood Museum of Art at Dartmouth College in Hanover, New Hampshire, reopens this weekend. The new Hood Museum boasts a bigger building and updated exhibits that reflect the museum's dedication to "art that expresses social concern," says museum director John Stomberg.
The $50 million redesign, by New York City architecture duo Tod Williams and Billie Tsien, increases the building's floor size by 50 percent to 62,400 square feet, just shy of the size of Boston's Institute of Contemporary Art. It's the latest example of a recent trend: huge, high-profile art museum projects at elite universities, from Harvard to Stanford with stops in between.
The new Hood Museum sports six new galleries, three new classrooms and a highly visible entrance facing the Dartmouth Green, the campus's central artery, in contrast to the building's original entrance, which was low-key to the point that visitors had trouble finding it. "The museum was always called a 'hidden treasure,' " says Stomberg. " 'Treasure,' yes, but the hidden part killed us."
For its inaugural year, which coincides with Dartmouth's 250th anniversary, the museum is exhibiting works from its extensive, 65,000-plus piece collection.
Like the college itself, Stomberg says that the Hood Museum's art collection leans toward social justice. "You'll see a lot of socially engaged, politically engaged artwork ... that addresses environmental concerns, racial concerns, gender identity."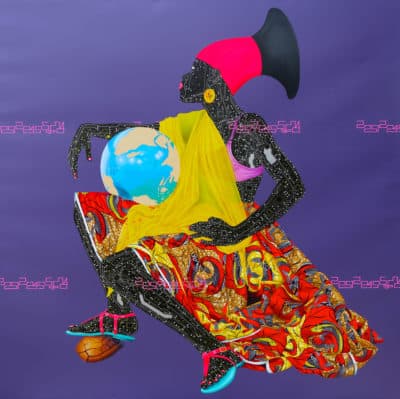 While American and European art staples like the 16th-century Perugino altarpiece "Virgin and Child with Saints" are back on display, the museum's exhibits have expanded to showcase work by African-American, Native American, contemporary Aboriginal Australian and Asian artists that has been traditionally overlooked.
In the entrance gallery, visitors will be greeted with "Our Journey," a 21-foot-wide painting by Nigerian artist Obiora Udechukwu and a recent acquisition. Stomberg describes the painting, completed in 1991, as a masterwork. "It's stunning, it holds the wall, it's beautiful, and it's unfamiliar" to most visitors. It demonstrates that "not all great art is familiar," and signals that fresh insights and discovery are in store for Hood Museum visitors.
The Hood Museum's collections span six continents and three millenia. Other galleries feature contemporary Native American sculpture and portraits; calligraphies, prints and sculpture by post-war Japanese artists; canoe parts, drums, and masks from the museum's strong collection of objects from Papua New Guinea; and a show exploring consent in photography curated by student interns. The museum's six monumental stone reliefs from a king's palace in ancient Assyria (circa 900 BCE), now Iraq, are back on display, anchoring an exhibit on ancient and pre-modern cultures.
In expanding and upgrading its footprint, the museum offended some preservationists. The original 1985 building was designed by Charles Moore, a pioneer of post-modern architecture who died in 1993. The Charles Moore Foundation, which works to preserve his legacy, argued in a 2016 letter to Dartmouth's president that the original Hood Museum of Art was "Moore's most important museum, and one of the 10 most important buildings of his career." Moore Foundation director Kevin Keim told the New York Times that "the entire conception of Moore's building is being fundamentally wrecked." Critics particularly objected to the removal of the museum's original gateway, and the conversion of an open courtyard to an interior atrium.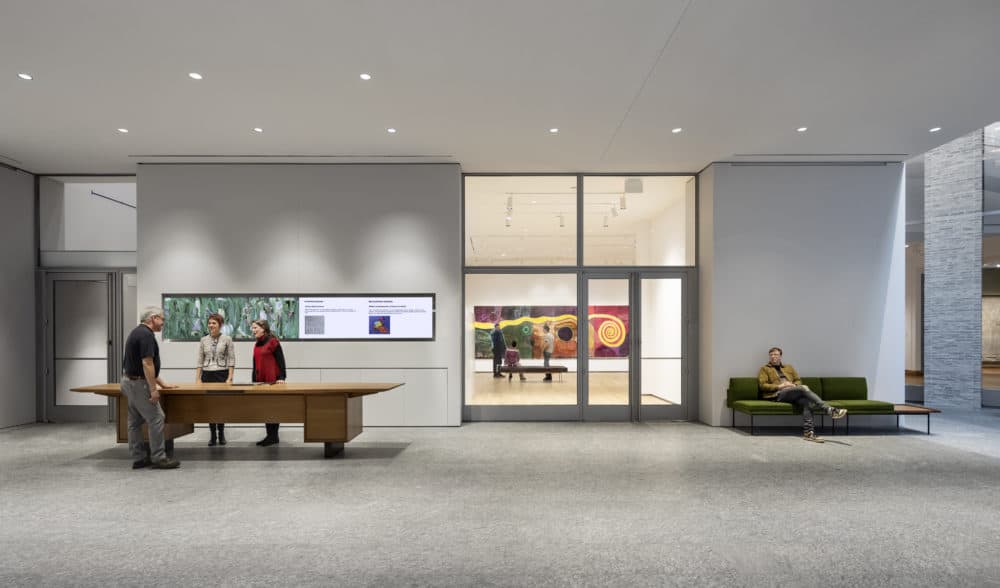 Stomberg, who inherited the building project from his predecessor, says the new build solves issues with the old space, and fulfills the museum's modern needs.
"The No. 1 problem with the old building is that it was built six years too soon," he says. In the early '90s, six years after the museum opened, Dartmouth became a pioneer in teaching interdisciplinary classes through art. "Very soon, we became a victim of our own success." Classes were held on stools in art storage spaces. Museum staff increased from 10 to 35. Its holdings expanded, and the museum's operations outgrew its architectural footprint.
Over the decades, the building also developed structural issues. In winter months, icy ramps and falling snow posed hazards to visitors. Windows were covered over, to prevent sunlight from destroying the art, and some leaked, causing mold and mildew that could destroy the art. Structural materials were beginning to rust and rot.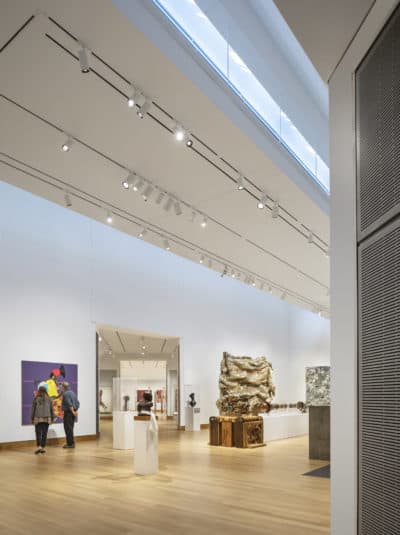 The new museum restores galleries and major elements of the original Moore design, and also provides new galleries, classrooms and offices. To Stomberg, the updated architecture signals a more welcoming space. "We are free and open to the public," he says, "but for a long time ... the architecture read 'Closed to the public.' " Now, a prominent north entrance on the Green opens into a grand atrium space. Another entrance faces south toward community parking. "We stretch our arms out to the community and the students simultaneously," he says.
Hood Museum's renovation is hardly unique among university art museums. Among the Ivy League alone, Dartmouth follows a 2012 renovation of the Yale University Art Gallery by Ennead Architects, a 2014 revamp of the Harvard Art Museums by architect Renzo Piano, and the 2017 opening of Columbia's new Lenfest Center for the Arts in Upper Manhattan, also by Piano. (Piano, an Italian architect, is a prolific museum designer. He's completed over 25 museums and art galleries, including the new Whitney Museum in New York and updates to the Isabella Stewart Gardner Museum in Boston.)
Soon, Princeton University Art Museum will join the pack with a renovation designed by Sir David Adjaye, the Ghanaian-British architect behind the Smithsonian National Museum of African American History and Culture. The project is also expected to cause a three-year museum closure, beginning in 2020.
"None of these colleges and universities are investing in vanity," says Stomberg. "They're being reinvigorated, because they help with the curriculum of campus in very clear ways." At the Hood Museum, over 40 school departments and programs, from English and anthropology to biology and engineering, use the museum's collections to foster creativity and observational skills.
"As we push forward in trying to think about what people in the 21st and 22nd centuries will need, Dartmouth is emphasizing the [need] to be adaptable," he says, "to be able to ask tough questions, to be able to deal with ambiguity, to be able to take risks."
With the new Hood Museum of Art, Dartmouth has invested in the belief that the modern art museum serves as a vehicle to creativity, innovation and social concern.
---
The Hood Museum reopens on Jan. 26. The museum is free and open to the public on Wednesdays through Sundays.