Setting Up In Empty Storefronts, Spaceus Wants To Keep Artists' Workspaces Front And Center
As architecture students at MIT for the last few years, Stephanie Lee and Ellen Shakespear walked through Central Square each day to class. They saw the neighborhood change — Cambridge artist spaces Out of the Blue Too and EMF both closed down in the last couple years. They also watched storefronts close on Mass. Ave.
"We talked about what it means for stores to close up. It's not just unsightly, or some kind of tooth missing in the street. It's an actual palpable sense of life no longer being on the street," says Shakespear.
Beyond that, Lee and Shakespear realized there were plenty of people, namely artists, who could use such an accessible spaces close to the city, if only they could afford it. They workshopped an idea — to match excess space with people who needed or wanted it — and looked into storefront rental rates. Last May, their concept came to life as Spaceus, a creative coworking and exhibition space for artists, opened in an abandoned retail space in Boston's Faneuil Hall.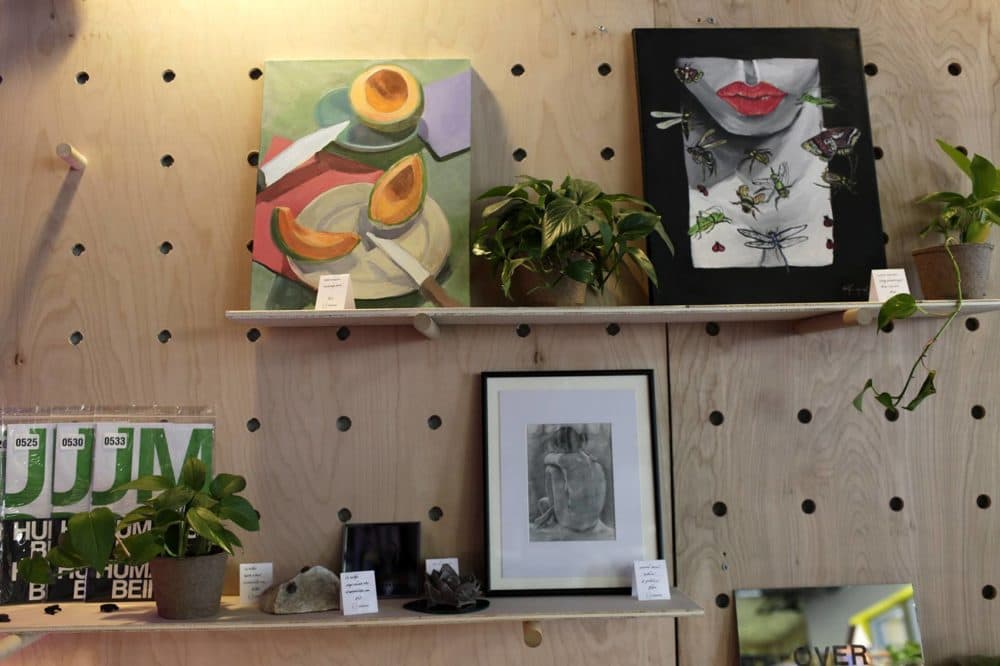 Today, Spaceus, pronounced "space us," has become a pop-up artist studio, changing locations and neighborhoods every few months. They opened their newest home last weekend on First Street in East Cambridge, in a former Finagle A Bagel storefront. As new buildings are being constructed all over Boston with higher and higher rents, Spaceus is trying to maintain an arts ecosystem in the city center by providing artists an affordable place to work — and show their work.
Access to affordable spaces is one of the major barriers noted by Boston Creates, the city's cultural planning process. Its 2015 report cited a "deep and widespread need for affordable cultural spaces for people to gather, create, collaborate, and participate in the arts."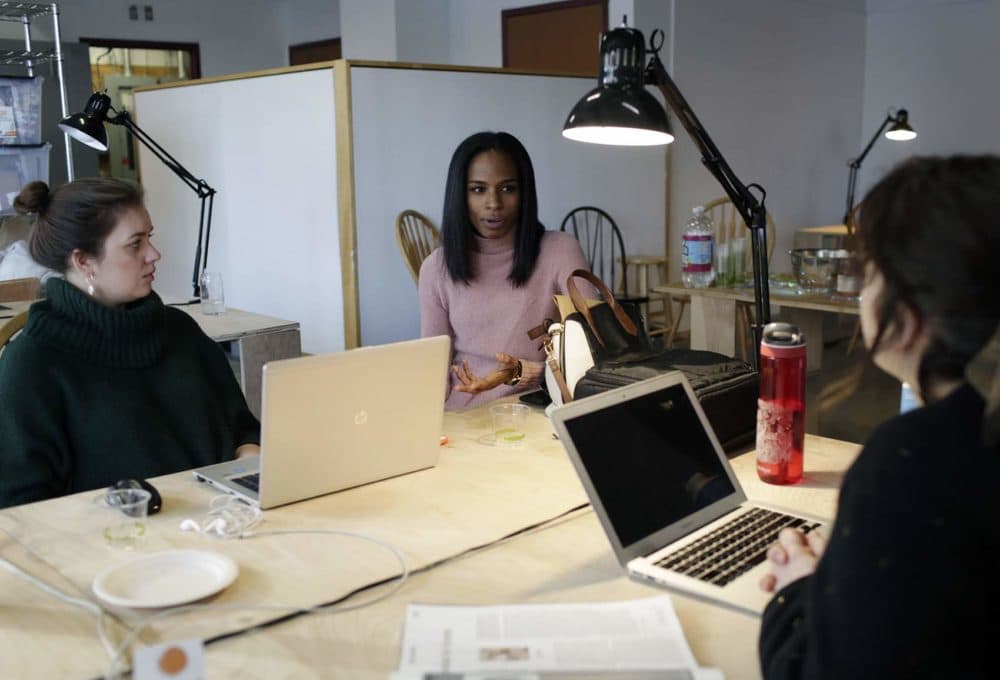 That was something painter A.J. Rombach, now a Spaceus member, palpably felt as she graduated from Boston University with a BFA back in 2010. She felt priced out of the rental market and underwhelmed by the city's creative community so she moved to the North Shore. She'd been waiting for more artist-run spaces like Spaceus to take hold in Boston.
"If you want a thriving artist community, if you want Boston to not be in flux, to not be transient, to not have that in-and-out college vibe, then affordable artists-run spaces, places for people to show their work, places for people to make work, places for people to live, all of those things have to exist if you want to have a burgeoning art community," says Rombach.
With coworking studios and retail space for artists priced at $125 per month, Spaceus' owners hope to be one of the most competitive prices in the market for space of their size. There's a regular flow of people in and out of the space — both working during the day and with public gatherings and exhibits at night.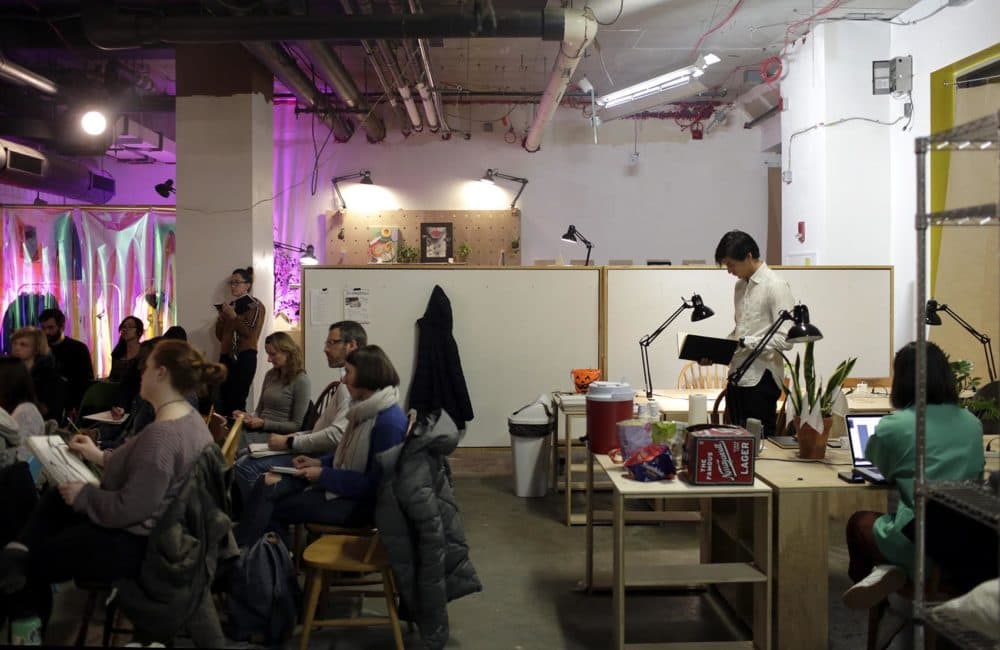 Jason Weeks, executive director of the Cambridge Arts Council, says that for-profit coworking spaces, like WeWork, WorkBar and the Cambridge Innovation Center, abound in Boston. Yet these organizations are lacking within the arts ecosystem.
"A lot of times when we think about and talk about our innovation economy in Cambridge, we sort of talk about innovation in context of tech and life science and education and our universities and then it's a hard stop," says Weeks. "What Spaceus is doing a great job at is elevating artists and makers in that conversation and giving them high profile locations to conduct and carry out that work."
Raising the profile of creatives in city communities is notable, Weeks says. It shows private developers the value of keeping artists in the area and could lead to new models down the road.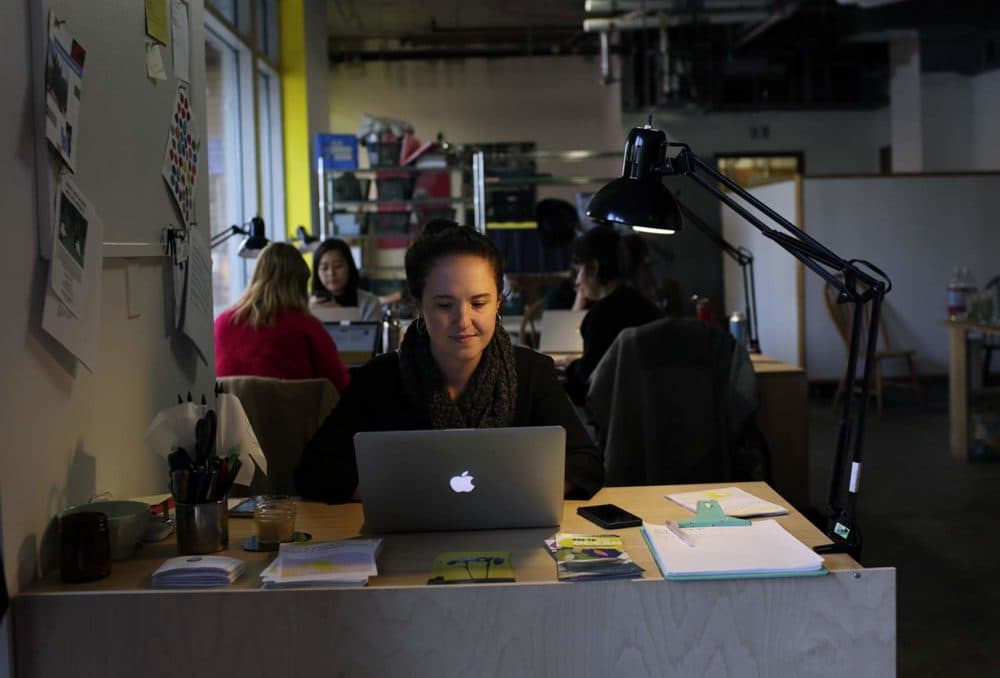 It's part of Spaceus' mission to keep an arts community in the "heart of cities, because local creativity is what makes a place, gives it identity and meaning," says Lee. And it's found a way to operate within Boston's expensive rental market by negotiating short-term leases, thereby placing artists' work at the street level, where they're able to sell goods and interact with customers. But the transient nature presents clear challenges.
A loyal group of artists who have moved with Spaceus from location to location — after Faneuil, they moved to Roslindale Substation, then a former Tess Clothing store on Brattle Street before their new location in East Cambridge — but illustrator Kit Collins says she'd be open to a longer-term situation. "We all knew the Harvard location wasn't going to be forever. It seemed that everyone was a little bummed when it closed," says Collins. Having a more permanent location, she adds "could only be positive."
Spaceus' current location is a month-to-month lease. As the organization looks forward, Lee and Shakespear hope to create a sustainable model to support local artists, and potentially open a permanent studio space in addition to their pop-up locations.