Fast-Paced And Fleet-Footed, Steven Soderbergh's 'High Flying Bird' Lands At Netflix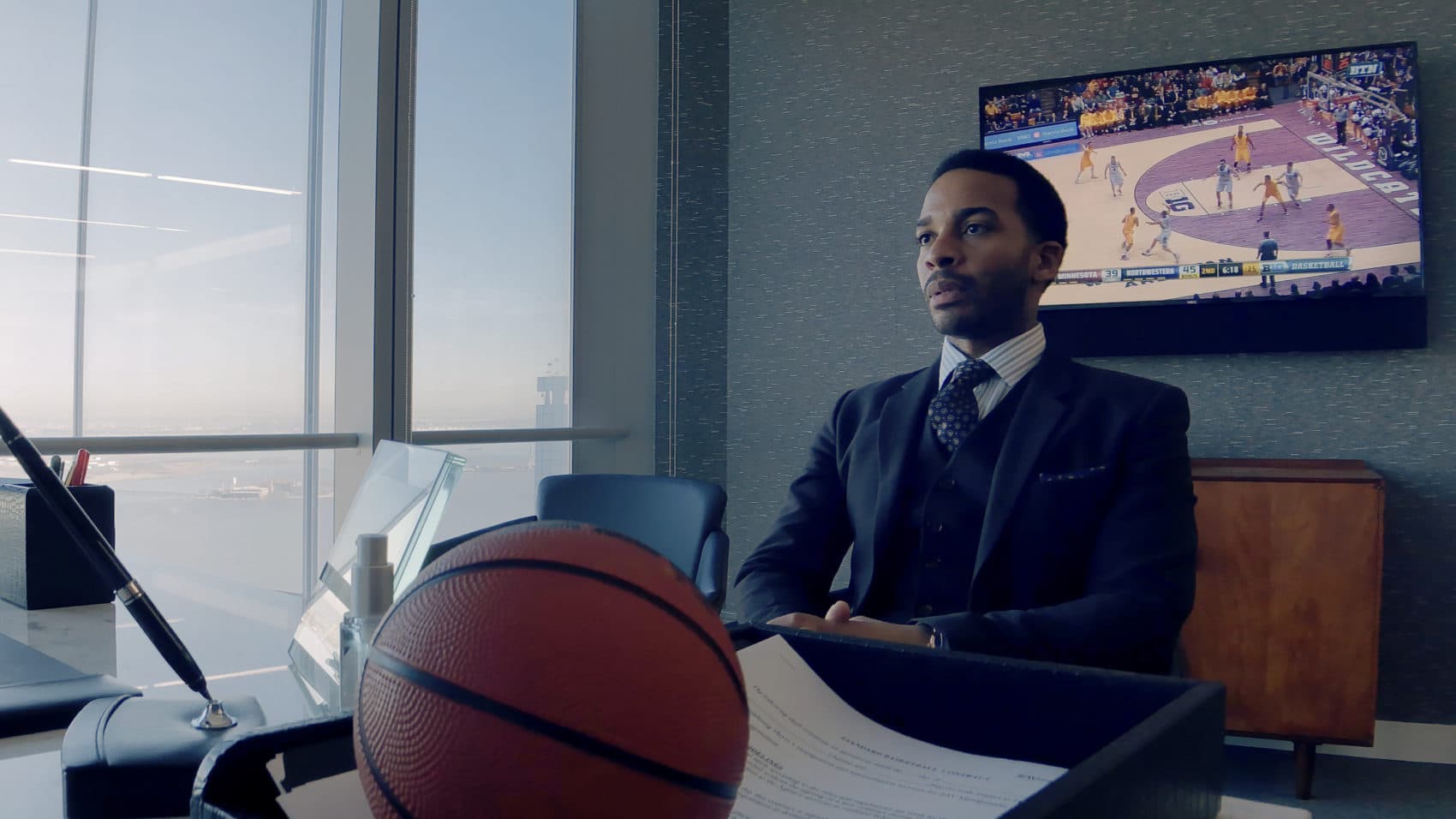 This article is more than 3 years old.
Steven Soderbergh's "High Flying Bird" is a fast paced, fleet-footed and all-around dazzling entertainment that serves as something of a stealth autobiography for a director who doesn't often put a lot of his personal life into his pictures. Ostensibly a movie about an NBA lockout, it's really about a natural born hustler banging his head against the money men's corner office windows, and how when something you love is stuck in a stalemate, sometimes it's necessary to knock all the pieces off the board. Any resemblance to a certain restlessly innovative, maverick filmmaker is presumably entirely intentional.
Veteran scene-stealer André Holland (of "Moonlight" and "The Knick") finally lands a leading role here as Ray Burke, a fast-talking sports agent we meet just as he's getting fired from the company he helped put on the map. The doughy office drone (Zachary Quinto) in charge of canceling Ray's corporate credit cards appears to be a couple measures in back of the beat, but then everyone seems a step or two behind Ray, who glides beneath shimmering silver Manhattan towers to the locomotive guitar strums of the Richie Havens song from which the film takes its title.
Ray's been repping a first-round draft pick (Melvin Gregg) who can't get paid until this labor dispute is settled, but 25 weeks into the lockout, the team owners are still stalling, primarily as a tactic to renegotiate their television contracts. According to the zippy, hyperliterate script by playwright Tarell Alvin McCraney, there's always an ulterior motive and a bigger fish to fry. With some help from his former assistant (the marvelously magnetic Zazie Beetz) Ray spends a long holiday weekend subtly nudging an unctuous owner (Kyle MacLachlan) and a hilariously hungover players' union rep (Sonja Sohn) toward breaking the deadlock via a series of machinations and manipulations that stay just barely on the side of legal.

Legendary, sepulchral-faced character actor Bill Duke — on hand here playing a gym teacher in the Bronx to symbolically haunt the film as the ghost of basketball's past — calls it all a "game on top of a game," one invented by white men in corner offices after the NBA was finally integrated in 1950. Soderbergh peppers the picture with documentary testimonials from real-life players about a sporting culture that doesn't always have their best interests at heart, and what makes "High Flying Bird" so much fun to watch is the tantalizing possibility that Ray just might be able to beat the league on their boardroom home court.
At a particularly grim moment, Duke's mentor figure asks Ray if he's out of the game. "I'm still in," the agent answers. "But I'm outside." It's an apt description of Soderbergh's position in contemporary cinema, as since returning from this short-lived retirement, the filmmaker has been constantly tinkering with renegade distribution strategies and new filmmaking techniques to try and make the lugubrious, stupidly expensive movie-making process sleeker, cheaper and less risk-averse.
In a lot of ways, "High Flying Bird" feels like payback for "Moneyball," from which Soderbergh was famously fired by Sony in 2009 after turning in a script rewrite containing a lot of the wonkier elements that feature prominently in this picture. And it certainly can't be a coincidence that Ray's scheme hinges on the industry disruption caused by a meeting with Netflix — which just so happens to be streaming "High Flying Bird" starting this Friday. (MacLachlan also throws some pretty funny shade at Hulu, for those keeping score at home.)

As with last year's "Unsane," Soderbergh shot this movie on his iPhone, pseudonymously acting as his own editor and cinematographer. But whereas the 2018 horror film leaned into the consumer camera's muddy deficiencies to ramp up an air of paranoia, "High Flying Bird" is a much more refined-looking affair, with a strikingly rich color palette and depth of field that goes on for days. Soderbergh uses the wide-angle lens to warp the space inside these meeting rooms, bending our perspectives and breaking up his rectangular cinemascope frames with the metallic, horizontal struts of New York skyscrapers. There's construction everywhere, the carefully chosen locations presenting a city constantly in the process of rebuilding itself.
Screenwriter McCraney won an Oscar for 2016's "Moonlight," which he and director Barry Jenkins adapted from his drama school project "In Moonlight Black Boys Look Blue." "High Flying Bird" has a similarly conversational structure, with a good deal of the scenes playing out like little one-on-one games between the ridiculously talented cast members, who spit the feisty, whip-smart banter back and forth at screwball velocity.
The whole film is so brisk and propulsively entertaining, only when it's over do you realize that Soderbergh has just made one of the all-time great basketball movies without ever showing anyone playing basketball.
---
"High Flying Bird" begins streaming on Netflix Friday, Feb. 8.