New Report Finds Promise — And Urgent Problems — Facing Boston Public Schools
This article is more than 4 years old.
A new report is asking that the next superintendent of Boston Public Schools be more "change agent" than "caretaker." The report — funded by the nonprofit Boston Foundation — suggests that the district may be in danger of losing its reputation as a leading urban school system.
To be clear, the report — called "An Uneven Path" — finds things to praise in BPS's record from 2007 to 2017.
For instance, the authors celebrate the city's efforts to expand access to high-quality pre-kindergarten education, noting that more than half of the city's 4-year-olds are now enrolled. It finds success in later grades, too, in rising test scores and graduation rates.
But the report's lead author Bonnie O'Keefe said it will be important for city officials not to become complacent, adding, "Not only are other cities catching up, but [BPS's] strengths are not equally distributed."
---
Like what you're reading? Get the latest education news (and other stories Boston is talking about) sent directly to your inbox with the WBUR Today newsletter. Subscribe here.
---
The report redirects attention to the gaps hidden beneath those apparent successes. As an example, O'Keefe highlighted eighth-grade math scores on a national exam: They're up across the board since 2003, but have fallen for black and Latino students since 2013.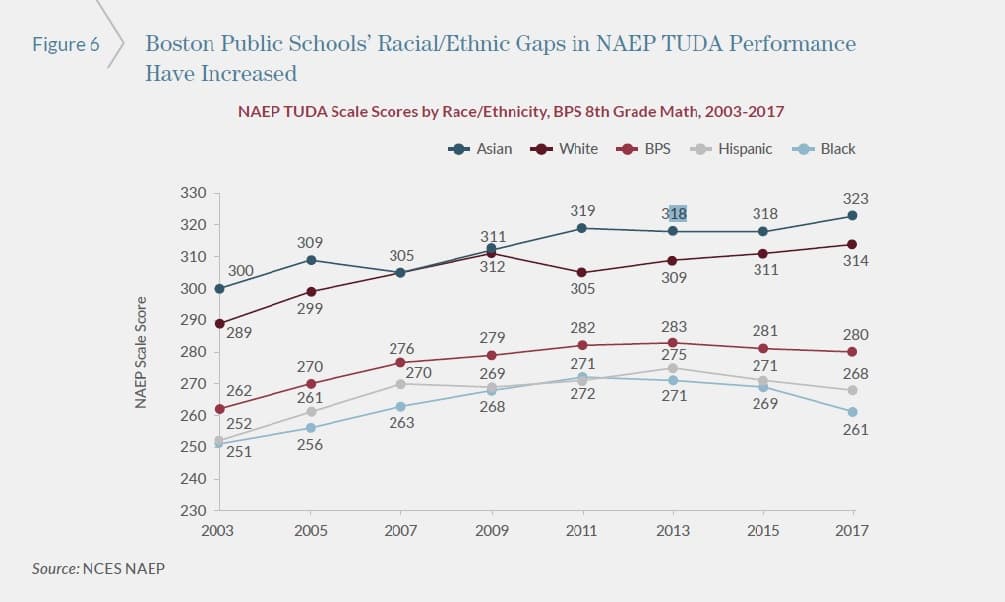 And English learners and black and Latino students still tend to graduate at lower rates than their white and Asian peers — though BPS's graduation rate is up overall.
Further, the report does find that BPS's test-score edge over districts like Washington and New Orleans is shrinking.
The authors attribute that to slowing growth in Boston as well as "rapid improvement" in districts that are pursuing a "portfolio model" of education, in which schools are given more freedom and families choose among a "diverse range" of traditional, charter and private schools.
Citing test scores and other data, the Boston Foundation has historically argued that minority students fare better in charter schools than in district schools. The group that authored the report, Bellwether Education Strategies, describes its mission as "dramatically changing education and life outcomes for underserved children." (Bellwether works frequently in the charter sector.)
But the report is not a list of radical demands. For example, it only makes note of "calls for more collaboration and cross-sector learning," given charter schools' strong academic results.
Instead, it raps past district leadership for letting big reform efforts stall out, or fail — including the reshuffle of school start times abandoned two years ago and "unified enrollment," which would have allowed families to apply at both BPS and charter schools on a single application.
The report's sharpest language intervenes in that search to ask that the district's next leader enter with a "unifying vision" — either in favor of school-level autonomy or of change driven from central office — as well as a determination to rebuild community trust by "frankly acknowledging ... inequities and proactively engaging the community" to find solutions.
O'Keefe said she does not necessarily see a "tension" between bold change and rebuilding community trust, saying it's a function of a new district leader better communicating BPS's priorities: "'here's why we think they'll work, here's how we're going to go about them.'"
"If that communication is done well — and if various leaders from the grassroots to the mayor can be in alignment — it's much more likely that you can accomplish bold change," O'Keefe said.
She added that the report wound up being "timely" because of the transition at the top of BPS.
Interim superintendent Laura Perille announced in October that she won't seek the job on a permanent basis, and the Boston School Committee selected Isaacson Miller as their search firm in late December. They expect to surface final candidates in early 2019.