John Cameron Mitchell Reflects On 'Hedwig And The Angry Inch' 20 Years Later
This article is more than 4 years old.
When the glam/punk rock musical "Hedwig and the Angry Inch" first debuted off-Broadway at the Jane Street Theater in 1998, the stage had never seen anything quite like it.
Hedwig, as played by John Cameron Mitchell, was retelling her life story in a cabaret format: Born Hansel Schmidt in East Germany, Hedwig is a confused, but talented singer who underwent a botched sex-change operation at the behest of her GI lover. (This will allow them to marry and emigrate to the West.) The relationship does not work out. Hedwig ends up in a Kansas trailer park. There, Hedwig coaches a singer named Tommy Speck, transforming him into a megalomaniac rock star Tommy Gnosis while Hedwig is left playing tiny theaters.
Described as "the girly-boy who became the internationally ignored song-stylist barely standing here," Hedwig was cocky, yet sad ("I had my heart removed to fit into a size six dress"). The sexy blonde in a denim mini-dress goose-stepped down the middle aisle of the theater to a hard-rocking "America the Beautiful." At one point, she burst through the fourth wall and danced suggestively over a male patron, declaring "There is no fourth wall!"
A hilarious, semi-tragic and hard-rocking play, not without pathos, "Hedwig" was a critical and commercial smash. With the book by Mitchell, music and lyrics by Steven Trask, "Hedwig" toured the world and was made into a movie in 2001, directed by and starring Mitchell. When "Hedwig," featuring Neil Patrick Harris, hit Broadway in 2014, it won four Tonys.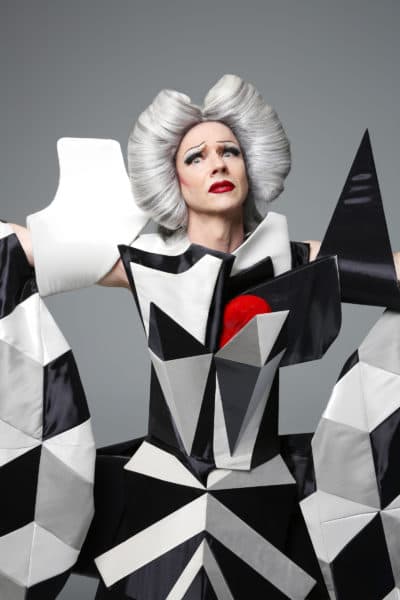 Now, at 55, Mitchell is bringing "Hedwig" back, in a manner of speaking, with "The Origin of Love Tour," featuring the songs of "Hedwig" by Stephen Trask. It stops at the Boch Center's Shubert Theatre on Saturday, March 2. The show is structured in a cabaret style, Mitchell says. He'll be wearing "meta-Hedwig drag," with a range of six costumes throughout the night. Expect a range of material discussing where we are now, learning how "Hedwig" has affected Mitchell, and celebrating the Hedhead community.
Looking back to its creation, Mitchell considers "Hedwig" a theatrical outlier. "Drag was considered low class and punk rock was not in theater," he says, on the phone. "It opened up for young people a way into thinking about queer and thinking about AIDS and thinking about the beautiful tapestry that was New York."
Transgender rights and issues have become a far bigger concern over the ensuing two decades. Mitchell says he always saw Hedwig as a drag character and not trans "because as a boy he is kind of forced into this gender reassignment, with this absurd operation forced upon her by a mendacious boyfriend."
"The real transformation comes later," he adds, "when she's at rock bottom in the trailer park watching the [Berlin] Wall come down. If she – or he – had only waited a little longer" he could have emigrated without having to go through the operation.
Ultimately, though, Mitchell says, the operation freed Hedwig. "It really was finding her persona as Hedwig," he says. "Putting on the wig, putting on the makeup and writing songs. It's self-creation, which is outside assignment. And that is resonating in a different way now, too. It keeps getting rediscovered by the next generation of young queer people or just young outsiders."
Mitchell will be backed by the trio from the Broadway show and cabaret singer Amber Martin. Among the 31 songs performed will be some from a six-hour, 10-episode musical podcast, "Anthem: Homunculus," launching in May on the new Luminary Media network.
A collaboration with composer Bryan Weller, Mitchell says the podcast originated as a "Hedwig" sequel, "but 'Hedwig' had too much baggage. It was like putting a hat on a hat. So, it became much more autobiographical or an alternate biography." Mitchell — whose character, Ceann Mackay, lives in Hedwig's trailer — will be joined by Glenn Close, Patti Lupone, Cynthia Erivo, Denis O'Hare, Laurie Anderson and Marion Cotillard. Mitchell conceived the podcast as an audio telethon where Mackay is raising money to get his tumor out on an app — like a live Kickstarter, a comic life flashing before his eyes before he perhaps meets his maker."
That fundraising scenario has a real-life corollary for Mitchell. And, it is, in fact, part of the reason he's doing this four-date "Origin" U.S. tour and plans to bring it to Japan: He needs to raise money for his mother's Alzheimer's care.
There's some irony, too, in that his mother, a conservative Catholic, was no "Hedwig" fan. "She never really approved of 'Hedwig,' " says Mitchell. "I think she accepted that it did some good in the world, that it made people feel better when they saw it. But it wasn't for her and now it is. Funny how things come around."