Baker Wants To Withhold Aid To Help Reform Long-Struggling Schools. Could It Hurt Them Instead?
A plan from Gov. Charlie Baker to withhold state aid from long-struggling schools prompts the question: Would it help those schools improve?
Baker included the provision in a broader bill proposed last month, which would pump local and state aid into public schools across Massachusetts. Education Commissioner Jeff Riley — who would wield the power if Baker's bill passed into law — described it as "much less punitive" than it might seem.
Baker's bill asks that any withheld funds "not be deducted from the district's school-based budgets or from direct services to students," meaning it will come instead out of the district's central administrative costs or other budget areas. The withheld funds, Riley added, would simply be "held in abeyance" — in a "turnaround fund" — "until everyone can agree on what the plan is."
Riley described the provision as a means to win the state "entree" in places where schools need help — an added incentive for districts to see state officials as partners.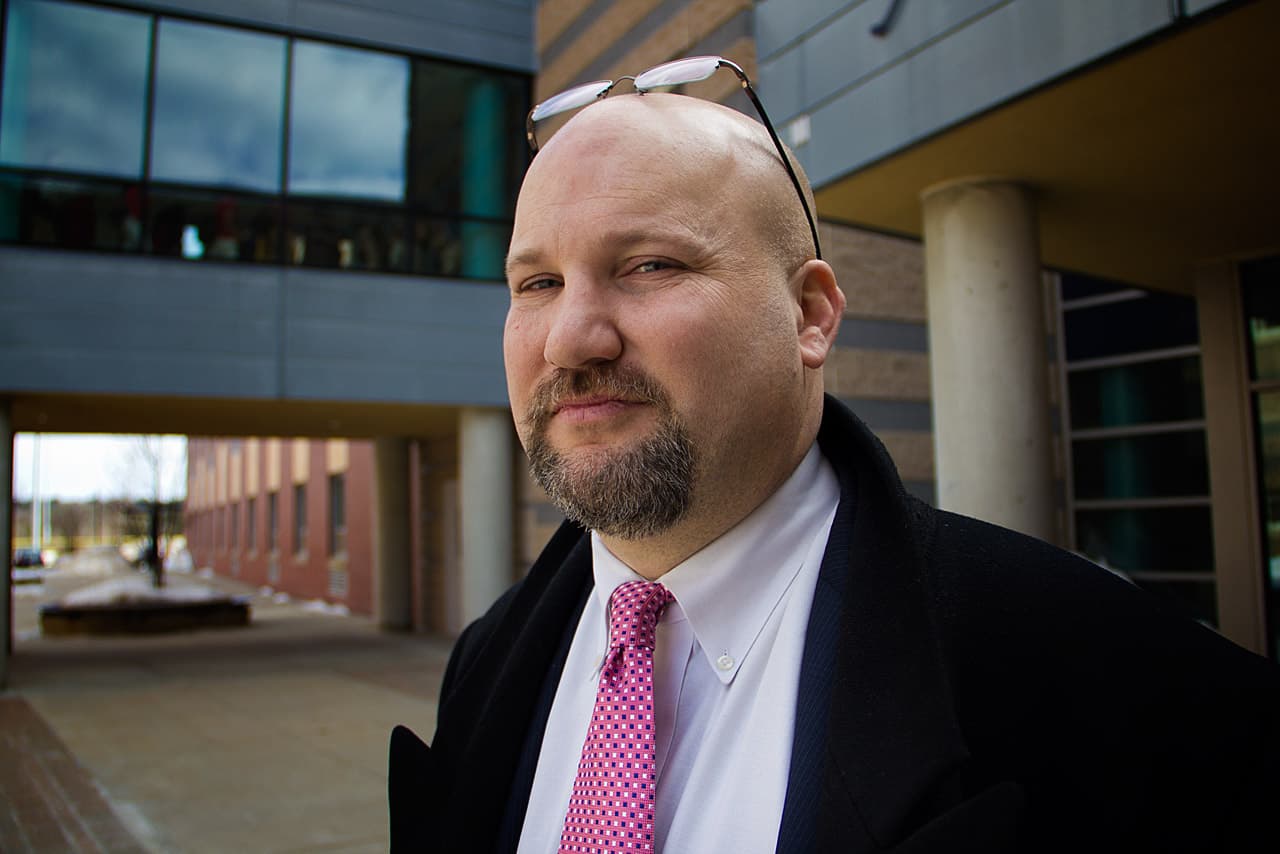 The History Of The 'Holdback'
Nationally, threatening to withhold education aid has emerged over the past decade as a tactic to reward schools that undertake desired reforms — or to punish those that resist change.
The recent wave took shape at the federal level during the Obama administration. The idea was to use new monetary incentives to induce radical change, or "turnaround," in struggling schools.
But there were effective disincentives, too. Mass Insight Education, a Boston-based research firm, published a report in 2010 on 'turnaround' strategies, including withholding available federal grants.
The report reads: "It takes enormous political courage to hold back funding from some of our most under-resourced schools, particularly in this [post-recession] economic environment. However, states must not be afraid to withhold funds from schools where it will be misspent. ... This is not free money."
The money the Mass Insight report referenced would have been supplementary federal aid to be awarded on a discretionary basis, but the administration also considered stopping up existing streams of funding.
For example, in 2013, Obama's Education Secretary Arne Duncan threatened to withhold Title I anti-poverty funds from California schools when that state's legislature passed a bill that would have exempted students from a year of annual standardized testing.
In the end, California's then-Gov. Jerry Brown — who often criticized standardized testing — signed the bill anyway, and Duncan backed down.
At the state level, though, threats of a 'holdback' have worked to compel changes in behavior.
For example, in 2011, the school board of Christina, Delaware, decided to dismiss more than a dozen teachers after state officials there threatened to withhold $11 million in federal aid if they didn't. (Eight years later, the rates of subject proficiency in Christina schools remain comparatively low.)
Eventually, the enthusiasm for strong withholding strategies and its corollaries waned somewhat.
And groups like Mass Insight changed their "theory of action," too. The firm's president and CEO, Dr. Susan Lusi, said the Obama-era emphasis on accountability and radical change was "very well-intended," but that it sometimes miscast what schools needed and how they ought to change.
"It's fair to say that in the school-reform era that was most recently lived through, it was sometimes communicated that, 'Everything you're doing is wrong, and you need to do a 180,'" Lusi said. "Our line now is: 'strength on strength.' It's as important to identify strengths as weaknesses."
Today, Lusi — the former superintendent of Providence, R.I.'s public schools — said she could imagine supporting fund-withholding provisions like Baker's, but warned that their use should be limited, targeted and well-informed: "a scalpel, not a bludgeon," in her words.
For example, she said there may be in which a district's procurement process is so slow that by redirecting aid, the state could more "nimbly" buy computers or hire tutors that have been deemed necessary.
But generally, Lusi warned state officials to ensure they "really know enough about what's happening in a given school or community" before keeping back resources.
(That said, Baker is not alone in advancing a 'withholding' provision at a state level this year. Last month, a Maryland commission recommended a similar mechanism, by which the state's board of education could withhold  "up to 25 [percent] of new funds if it finds that [a] local school system or school is not doing what it should to improve student performance.")
In Massachusetts, Precedent — And Skepticism
Even in Massachusetts, there is precedent for Baker's provision — but based on factors other than a district's compliance with reforms.
The state can temporarily withhold education aid if a district fails to submit annual financial paperwork, or it can permanently divert some of that aid if a district fails to spend the required minimum amount on its schools.
State officials say that second type of withholding is rare, though some of the aid to Lynn Public Schools was held back in 2017 after seven years of the district failing to meet its spending requirement. In the 2018 fiscal year, Lynn's net school spending jumped up by 8.2 percent.
Lynn school officials did not respond to requests for comment about the effects of that withholding.
Since Baker's proposal is tied to new funds, it could be seen as a way to make another 'grand bargain' of the kind made in 1993: trading new resources for new rigor in the state's treatment of its schools.
But that argument has little truck with those representing educators and school administrators.
Tom Scott, the executive director of the Massachusetts Association of School Superintendents (MASS), said that the "first premise" of Baker's proposal "is that we have some sort of equity in school finance today. And we don't."
Scott observed that where some districts — from Cambridge to Lincoln -- spend twice as much on their schools as the state requires them to, while dozens of urban and rural districts are spending just enough to meet the legal minimum, or failing to meet it altogether.
For superintendents in those cash-strapped districts, Scott said, even the existing state accountability measures — like school "levels" and the threat of takeover — are already a "very heavy weight on their shoulders."
Baker's provision has been lambasted by the state's largest teachers' unions, all of whom have lined up behind the PROMISE Act, a more generous education-funding bill put forward by state Sen. Sonia Chang-Diaz.
Merrie Najimy, the head of the Massachusetts Teachers Association (MTA), called the "holdback" provision a "rotten piece" of Baker's legislation, saying she expects it could be used to force through controversial reforms like charter expansion or the implementation of "innovation zones."
Riley, who won accolades for his pragmatic six-year tenure as the overseer of Lawrence Public Schools, is supporting Baker's bill, the withholding included. He's also urging people to trust him with the new authority.
"I have a 25-year track record of not being a bomb-tosser," Riley said, "or one of these ed-reform people that thinks this is a video game. I'm trying to get real results for kids."
Najimy, at least, wasn't persuaded. She criticized Riley's recent handling of a charter-school controversy in New Bedford, and said in general that "placing all our trust in the hands of one individual is a huge mistake."
Riley replied by saying that his main interest is to work with educators who have been regrettably "vilified" in the past.
Even activists who are seeking tougher accountability for failing schools are wary of the 'holdback' provision.
Keri Rodrigues, head of Mass. Parents United (MPU), has called for a "revolution" in struggling public schools, and described the union-backed PROMISE Act — with its no-strings-attached funding — as a "human resource bill" motivated by teachers' "retiree pensions and healthcare costs," not by a search for educational equity.
But in an interview, Rodrigues said withholding funds from districts "isn't the right approach," as she's concerned about unintended effects on student learning.
Instead, she'd like to see struggling public schools put on probation — as charter schools are currently — then face prompt takeover by the state if they fail to improve. "I don't understand why we're so afraid of receivership," Rodrigues said, saying that political and school leaders should face stiff consequences if they are overseeing "generational failure."
Mayor Marty Walsh, former Boston Public Schools superintendent Tommy Chang, and Boston school committee member Michael O'Neill have spoken candidly of their determination to avoid further city schools entering receivership, citing mixed results after state intervention.
For now, this debate is still theoretical. Baker's bill just launched last month, and the PROMISE Act has amassed lots of popular and institutional support beyond teachers' unions without any similar accountability measures.
Najimy said that that approach is only fair, since for years, public schools have not received the "adequate" funding promised under state law: "We have a once-in-a-generation chance to win the funding that our schools deserve. This is money that is owed."
Even if Baker's bill were to win out, the withholding provision's effect on schools, budgets and students would depend largely on the discretion of Riley, who said he'd imagine using the authority only to support "research-based methods" to improve education.
"At the end of the day, the focus is going to be on the kids," he said.