Written In 1945, 'An Inspector Calls' Continues To Spread A Message Of Tolerance Today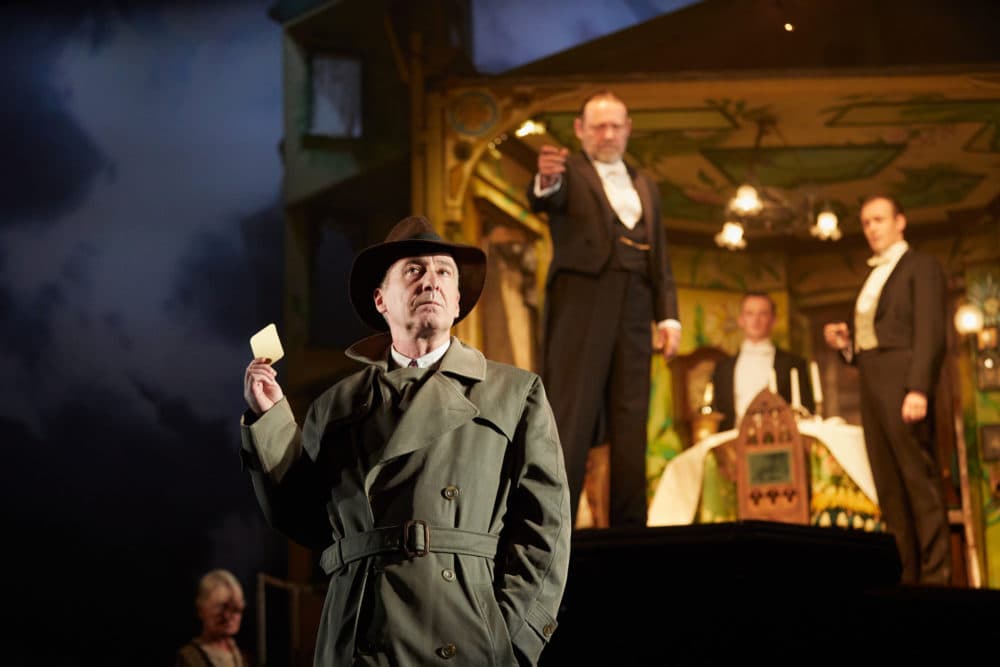 This article is more than 3 years old.
When director Stephen Daldry's dazzling production of "An Inspector Calls" first played Boston's Colonial Theatre in 1995, the British wunderkind (who went on to direct "Billy Elliot" and the Netflix series "The Crown") saw the play as a wake-up call for compassion during troubled times.
"It taps into millennial fears, a fin de siècle yearning for a new idea," he told me during an interview before the production opened at the Colonial. "God knows, I was brought up in a time when people were just making do. You just make the mess tolerable. But I think there is a feeling that you need to create a better society, that there is a yearning in the audience for new dreams, new ideas."
Well, the century is long over. The millennium is well underway. But Daldry's "Inspector" is calling … again. The same National Theatre production — with its decorous doll house set perched precariously on stilts in a rain-drenched urban wasteland — returns to Boston, from March 14 to 24, presented by ArtsEmerson at the Cutler Majestic Theatre. And it could be that the play's message resonates more today than it did 24 years ago.
Written and first performed in 1945, J.B. Priestley's play is set in 1912, during the genteel Edwardian era a few years before World War I brought the British Empire to its knees. On the surface, it's a drawing room drama about a seemingly well-made family that breaks down when a mysterious constable appears. It was a huge success when it was first performed, but it fell out of fashion in the 1950s and 1960s and was dismissed as a stodgy, old-fashioned thriller. So when Daldry first approached London's National Theatre in 1992 with a proposal to revive the play, the powers-that-be questioned his choice. "They thought it was a terrible idea," Daldry told me.

Iain Gillie was production manager for the National Theatre at the time, and he scratched his head when the august institution decided to go ahead with the revival. "I didn't think it was relevant, to be honest," says Gillie, who has stayed on as production manager for "Inspector" for international and U.S. tours. "I was slightly confused as to why we were doing it."
But he quickly changed his mind. "As soon as we saw the designs, we knew it was going to be something different," Gillie says. The production, which has been revived many times and has won four Tony Awards, three Olivier Awards, and seven Drama Desk Awards. The play is now required reading in the British secondary education system, right along with Shakespeare.
Daldry and the creative team took what was considered an old chestnut, tore it apart, and reconstructed to reveal the stark message at its core. The play centers on a bourgeois family celebrating the engagement of a daughter whose marriage will raise the family a notch up on the social ladder. But things fall apart when the title character arrives with disturbing questions about a tragic death. The inspector draws the family members out of their refined world, and the set reflects the characters' psychological journey. Inside the pristine house, all is cozy and warm. Outside, a hard rain falls. Elements of film noir brush against the genteel drawing room theatrics, and the expressionistic set mirrors the disintegration of the family.

The production — and its ominously named title character Inspector Goole — sheds light on the hypocrisy of the middle class and its self-serving notion of philanthropy. When this version was first produced in the 1990s, Daldry was concerned about political attacks against single mothers and state support for them in Britain. There is a plot twist in the play that concerns the plight of an unwed mother.
Gillie is struck by how timely the play remains nearly a quarter of a century later. "Unless our world suddenly changes into a wonderful place, this is always going to be a relevant play," he says. "When we first remounted it a couple of years ago, the refugee crisis was starting in a major way in Europe. Shortly after that, your current president was elected. Our country voted to leave the European Union. The world turned crazy. It seems every time we remount it, something relevant is happening."

The play forces the characters to reveal secrets, prompted by the ominous presence of the enigmatic inspector. "He turns that family's life upside down," says Liam Brennan, a seasoned veteran of the British stage who plays the title role. "He makes them examine their consciences."
The inspector is deliberately a looming figure, and it's never quite clear who he is. "I love the mystery," Brennan says. "I love the fact that the people are debating who the inspector is."
The inspector's final words are haunting, warning that humanity will learn its lesson "in fire and blood and anguish." Since the play is set in 1912, Priestley was making an allusion to World War I, but the words can be interpreted differently for each generation. And Brennan is adamant that he deliver those lines in a matter of fact manner, rather than speak down to the audience.
And the production doesn't force feed a message either. The set, in some ways, tells the story. The urban wasteland is cold and dreary, and the constant rain could be a harbinger of the effects of global warming, even though that was not on the minds of the creators back in 1995. While there was a time when many wrote off Priestley as a tweedy traditionalist, Daldry and his colleagues discovered that he really was a social progressive with forward-thinking ideas.
"If there is a fundamental message to the piece, it is about tolerance and understanding," Brennan says. "It is about not condemning people for having very little and for having to do whatever is necessary to survive. There is no harm in being reminded of that stuff. That should never go out of fashion."
---
"An Inspector Calls" runs March 14 to 24 at the Emerson Cutler Majestic Theatre.
---
Patti Hartigan is an award-winning journalist who was a longtime arts reporter and drama critic for The Boston Globe. She is working on a biography of playwright August Wilson.