What We Know About The Weight Recruited Athletes Are Given In College Admissions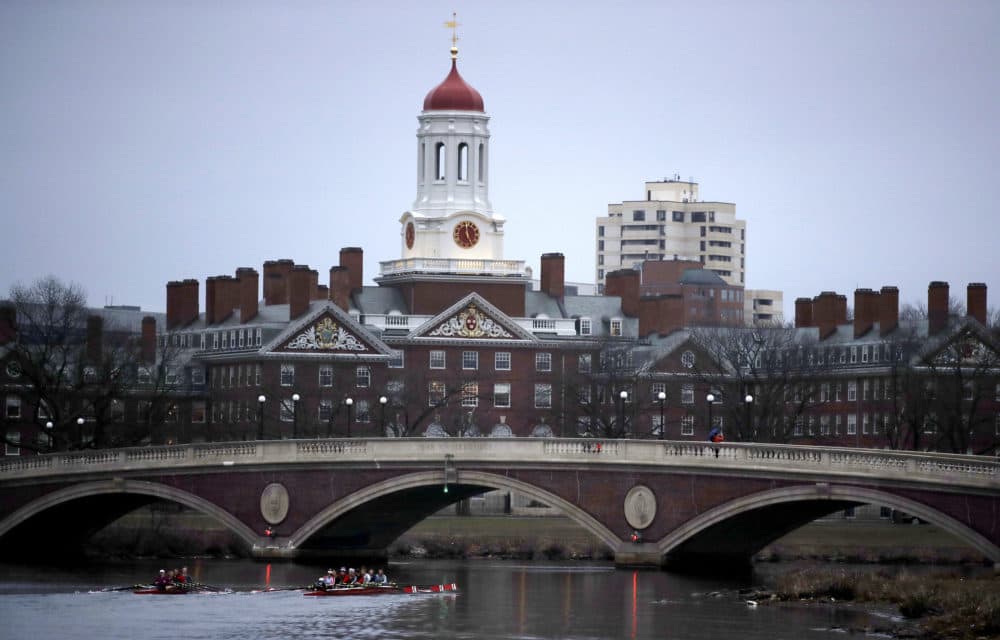 This article is more than 3 years old.
The federal charges alleging bribery and cheating in order to secure a seat at elite colleges has drawn attention — and criticism — to the often opaque college admissions process, particularly when it comes to recruited athletes. 
William "Rick" Singer is the man allegedly at the center of the alleged scheme. Through his consulting company, Edge College & Career Network, Singer allegedly all but guaranteed parents a spot for their child at one of several highly selective colleges.
And that service came at a significant cost. The accused parents allegedly spent anywhere from $100,000 to $6.5 million to participate in one of two fraudulent plans. The first promised higher standardized test scores on the ACT or SAT through a complex system that involved bribing testing center officials. The second promised admission through college athletics departments. Parents who chose that avenue went to great lengths to fake their child's athletic ability in sports like crew, sailing and volleyball. Singer and his partners then allegedly paid bribes to coaches at colleges like Yale, Stanford, Georgetown and Wake Forest so they would categorize his clients as recruited athletes in admissions.
The process of college admissions has been under fire recently. Last summer, the Department of Justice rescinded official guidance on affirmative action from the Obama administration. The federal trial alleging that Harvard University discriminates against Asian American applicants in its admissions process laid bare many details of the largely obscured decision-making in admissions. A federal judge has yet to rule in that case.
Generally, being considered a recruited athlete can significantly improve an applicant's chances of getting into a selective school. At Harvard University, for example, recruited athletes are admitted to Harvard roughly 80 percent of the time. That figure was included in a report from Harvard's Office of Internal Research, which was unsealed last year as part of the Harvard admissions lawsuit.
"The level of impact that athletic ability can have in an application for certain schools is becoming more transparent,"said Casey Near, the executive director of counseling with Collegewise, a Newton based admissions counseling company. She added that the Harvard trial and the records that emerged from it were revealing when it comes to understanding what top tier schools might value in admissions.
In 2002, former president of Princeton University William Bowen and James Shulman published findings that echoed the trends seen at Harvard in their book "The Game of Life." After looking through data collected on 90,000 students at 30 selective schools, they found that being a recruited athlete resulted in a 48 percent advantage in admissions.
But it's not just athletic ability that was found to give students a significant boost. Several other factors can also help, most of which involve coming from a position of means.
Testimony during the Harvard lawsuit showed that students whose family attended Harvard, children of faculty and staff and students on the dean's watch list were all much more likely to gain admissions than the general applicant population. According to statistical analysis from court, this group made up just 5 percent of the analyzed applicant pool, but 29 percent of the final admitted class.
And when talking about college admissions, you can't ignore test scores. While some schools like Bates College in Maine have become test-optional, for most selective schools in the country the scores on the ACT or SAT can still sway an admissions decision, even if most colleges try to weigh factors like grades and extracurricular activities into the final decision.
"They don't get you in but they can keep you out," Near said of the entrance exam scores.
Getting into a highly selective school is not an exact science. Nevertheless, the emergence of alleged scams and legal battles like Harvard admissions lawsuit are giving us more insight about the considerations admissions officers make.