Pressed On Still-High Rates Of Suspensions, Roxbury Prep Points To Progress
One of Boston's highest-profile charter schools will face continued state oversight in response to its high rates of student discipline. But school leaders are arguing they've already made significant progress — and that a culture change is well underway.
In mid-March, Massachusetts' education commissioner, Jeff Riley, announced that Roxbury Prep — a school of more than 1,500 students from grades five through 12 — could be placed on probation if it fails to evaluate its disciplinary practices and to reduce its reliance on practices like out-of-school suspension by the end of 2021.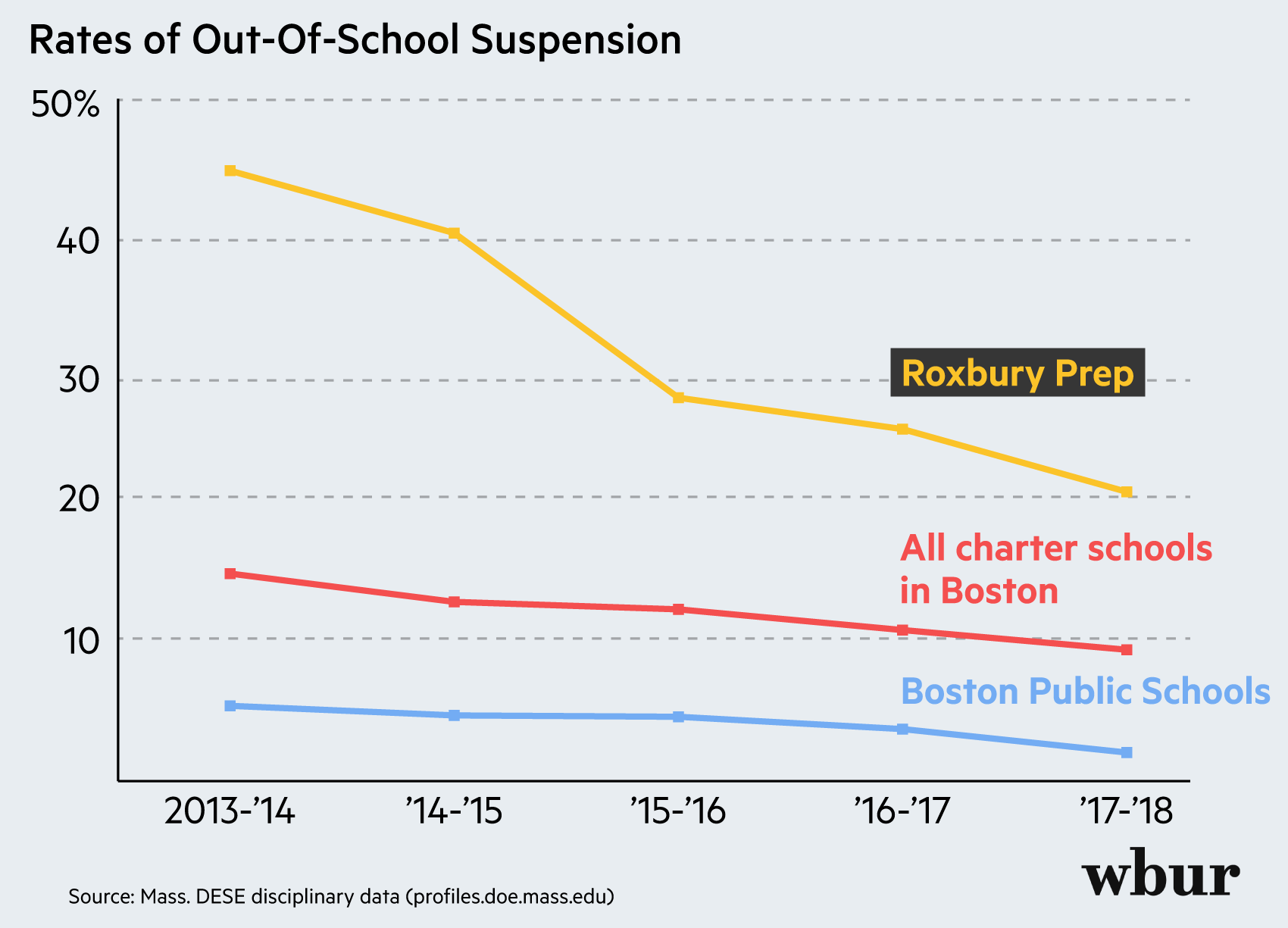 But for Barbara Martinez, a Roxbury Prep spokesperson, now is exactly the wrong time to ring the alarm. "We've brought our suspension rate down 65 percent" between 2016 and this year, Martinez said. "That shows our dedication."
In the Boston Globe Monday, a former Roxbury Prep administrator said the school had fallen into a practice of "suspending students into compliance."
Martinez denied that, saying the school has spent the last few years looking into the "root causes" of its high rates of suspensions. In response, she said they've pursued a number of changes, including "teacher training, positive student engagement, positive reinforcement" and use of restorative-justice practices, in which students discuss disagreements and incidents among themselves.
"We're really proud of the progress that we've made, and we're going to continue to see that number fall, I hope," she said.
Martinez added that the school expects a suspension rate of around 10 percent for the current school year. If that's true, it would bring Roxbury Prep nearly into conformity with other charter schools based in Boston.
It would also bring the school's suspension rate down to a quarter of where it was four years ago. State data show that Roxbury Prep has had among the state's highest rates of out-of-school suspension from at least 2012 onward.
That was, in part, by design: For example, a Roxbury Prep student handbook (PDF) from the 2012-13 school year includes a pledge to "make no excuses." Since the late 1990s, when Roxbury Prep was founded, that phrase — "no-excuses" — has been associated with a brand of charter schools that coupled high performance with tough discipline.
In the past, Martinez conceded, Roxbury Prep students could be suspended for uniform infractions or other small violations. But she said that's something the school has "evolved from" in recent years.
Now, Martinez said, the school aims "to use suspensions as a last resort," in response to "violent offenses, fighting — or something really egregious, like cursing at your teacher during class." They've looked elsewhere for opportunities to help students "grow from errors that they make."
It's part of a national change, in which charter schools have increasingly walked away from the 'no-excuses' label.
In 2016 — 17 years after he co-founded Roxbury Prep — John King, then President Obama's secretary of education, asked a conference of charter-school leaders to find a motivating middle ground between "authoritarian control or no discipline at all."
But that hyper-structured atmosphere has lingered at Roxbury Prep and schools like it. The 2012 student handbook includes the phrase, "[Our] disciplined environment is largely responsible for the school's academic success," followed by a list of dozens of infractions students could commit, earning them demerits.
And indeed, even as Roxbury Prep's suspension rates were uncommonly high, so too were its test scores: Between 86 and 98 percent of its students scored "proficient" or "advanced" on the eighth-grade English MCAS test from 2009 to 2012, compared to around 60 percent in Boston Public Schools. On the math MCAS, the gaps were even wider.
Massachusetts officials have asked Roxbury Prep to alter its approach to discipline before, including in a 2014 "corrective action plan" that mandated better tracking and stricter confidentiality around suspensions, especially for students with disabilities. (Nearly 38 percent of students with disabilities were suspended from the school last year.)
Martinez said the latest reduction in suspensions is being pursued "across the board," and that she expects the rate of suspensions for students with disabilities to decline as well.
The state usually publishes school-discipline data in November, which could confirm the rate of change at Roxbury Prep.
But the school faces earlier deadlines, too: They're required to submit a school-climate evaluation to DESE by the end of this month, followed by an action plan for lowering its suspension rate by the end of May.