Contemporary Disco Queen Saucy Lady Takes Us On A Sonic Space Odyssey In 'Supanova'
This article is more than 4 years old.
Saucy Lady, Boston's self-proclaimed contemporary disco queen, embraces a style of music that isn't usually associated with her culture.
The Japanese-American artist, born Noe Carmichael, confesses that traditional styles of music never really resonated with her. "I listened to everything growing up, from Beethoven to Cat Stevens. Japanese music was never really a cornerstone for me; I don't really relate to Japanese pop. Disco and funk — which originated in the Black community — is what I just gravitate towards." Her face quickly lights up with excitement. "I'm proud of this record because I wanted to pay homage to those genres — and I think our love for them definitely shines through."
The album she's referring to is her sophomore effort, "Supanova," that's been in the making for nearly a decade. Although it isn't out until later this month, Saucy Lady is scheduled to take over the Institute of Contemporary Art's First Friday on April 5. Doubling as her official album release party, the evening will feature a live performance from her eight-piece band, all vinyl DJ sets from Tim Zawada and Shzz Mack and Saucy Lady-designed specialty cocktails.
Carmichael boldly explores intergalactic themes on the record. From beginning to end, "Supanova" is a full-blown sonic space odyssey. Soaked in bombastic horns, dramatizing synths and invigorating percussion, the instrumentation she uses pays homage to classic funk and jazz pioneers such as Gene Harris, Herbie Hancock and George Duke.
Her debut album, "Diversify," was released in 2011 and was more of a sultry and controlled production. It still contained rich melodies and deftly executed choruses, but the growth between that record and "Supanova" is palpable. Carmichael explains that the extensive period between these major projects has been pivotal to her career.
"Those eight years in between were an important time for me," she says. "I developed a lot as an artist. I released over 60 singles and remixes. I also connected with my current label, Star Creature Universal Vibrations, which is based in Chicago. I even did a 12" Honey Sauce Band EP. I was able to come into my own and develop even more as an artist."
Someone who has been significant in Carmichael's evolution is her husband, Yuki Kanesaka. The Berklee College of Music assistant professor not only serves as her go-to instrumentalist during live performances, but he also co-produced "Supanova." They have been collaborating professionally for years, yet "Supanova" fully displays their cohesiveness and maturation as a duo. Carmichael claims that them being in sync has made the recording process easier and more fulfilling.
"I'd say musically for this album, we both wanted to have more sophistication stylistically. Yes, we do boogie and funk; it's becoming trendy and popular right now and those are the categories that our music falls under." She trails off before returning to her original point. "We work so well together because we love jazz funk and don't want to be confined to one genre. We like mixing analog and digital ... and tend to incorporate our musical influences into what we are creating now."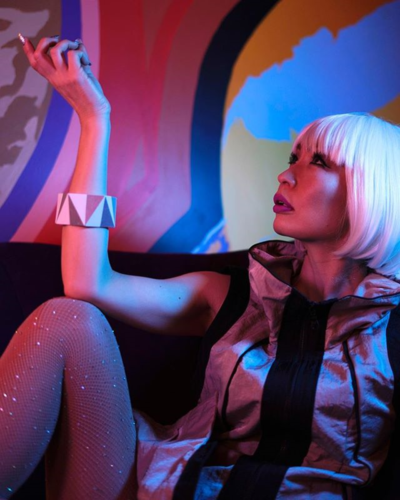 Lyrically, "Supanova" takes stock of our current political climate, which is a new feat for Carmichael. "In the beginning of my career, I would write about parties, places I'd like to go, people I'd want to be around. And that's still me," she eagerly confesses. "But now I write about the things that inspire me, even though the entire record is space themed." She goes on to discuss a few songs on "Supanova" that are heavier than others. "I'm a feminist, so when I learned about the women of the Mercury 13 program and how they were denied the right to be astronauts because they weren't men I had to write a song about it. That's how 'Rocket Science' was born."
Carmichael's soft crooning and tender rhythms on "Rocket Science" don't mitigate the song's powerful message on the importance of gender equality. Another song on the album, "Alien Nation," is more than a clever play on words. With its deeply alluring bass line and ethereal buildups, it serves as poignant commentary on how certain groups of people are currently being treated in America. "The song is very pertinent to our times because it symbolizes how immigrants are being shunned by the government. A lot of them of have little resources and are working class but still manage to find happiness and emit light. It was important for me to touch on that."
The song "Universal Vision" also talks about human nature, which Carmichael divulges "was totally improvised." "In media, in politics, and in society you see people holding hands and working together to achieve something. The next minute they're plotting against and hurting each other ... it's just so crazy."
She hopes "Supanova" will work to bridge this gap. "This record is about looking at things from a different perspective — and encouraging people to want to take a walk in someone else's shoes."
---
Correction: An earlier version of this story's headline misspelled the album name. We regret the error.