Shakespeare's 'Twelfth Night' With A Jazzy Twist Is Here To Entertain
Shakespeare's "Twelfth Night," remains a tried and true classic with all three tenets of a romantic comedy trifecta: love, humor and suffering. The Lyric Stage Company and Actors Shakespeare Project join forces to revisit the beloved tale — but in this production, playing at Lyric Stage until April 28, Illyria looks a lot like New Orleans at the height of the 1920s jazz era.
This "Twelfth Night" directed by prominent Boston actor Paula Plum, opens on a swanky deck of a ship where the party is in full swing, but suddenly the flapper-dressed revelers jolt from one side of the stage to the other, screaming in terror. Viola, played by the spunky and charming Hayley Spivey, can't find her beloved brother, Sebastian, played by Dominic Carter, and she gets tangled up in the ice-blue billowy fabrics hanging across the proscenium. These "waves" wash her up onto the shores of Illyria which has a gothic-inspired visage complete with ornate wrought-iron balconies, dramatic lanterns, and long, slatted shutters.
We follow Viola who disguises herself as a man in order to work for Duke Orsino and support herself in an unknown place. It doesn't take long for Viola/Cesario to fall for Orsino. But Orsino is in love with an Illyrian lady named Olivia, and sends Cesario to court her for him. Things get even messier when Olivia gushes over Cesario who is really Viola. Chaos inevitably ensues. It's a comedy with a classic love triangle. Everyone's crazy for some love and attention or at least a little bit of entertainment.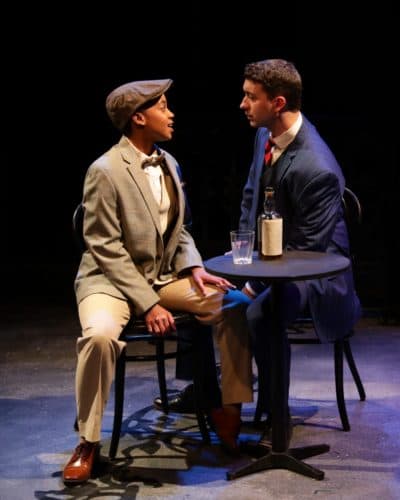 And it wouldn't be New Orleans or the roaring 20's without a soulful soundtrack. The romantic comedy is underscored by big-band hits. Sound designer David Wilson also reimagines the jester Feste's toons as cabaret numbers and Rachel Belleman belts them out, dazzling the audience with her bluesy voice and audacious attitude. Belleman's Feste captures the essence of a jazz nightclub singer.
In one particularly charming scene, Belleman croons as Viola, disguised as Cesario, gazes longingly at Orsino, played by Alejandro Simoes and the latter finds himself staring just a bit too long at the "youth" with the feminine features. Still, Orsino insists on having eyes only for the lady Olivia, played by Samantha Richert as a flapper who has shown no interest in men since her father and brother's death.
Despite Olivia's mourning, there's a sauciness about her that Richert fully embodies as she struts in and out of scenes and lounges lavishly across a chaise.
Little does Orsino know that Olivia has been infatuated by Cesario's charisma.
The entertainment of the 1920's also inspires the physical comedy. I found myself imagining the play as a silent film because moments of wit, high jinks, and confrontation seemed right out of a Charlie Chaplin sketch. With the help of movement and violence designer, Lindsey McWhorter, Andrew, played by Simoes, and Viola brawl in a slapstick boxing match. At one point, Simoes who effortlessly transforms from Orsino to Andrew, leaves the stage to go to the bathroom and returns to the fight in seconds, zipping his pants.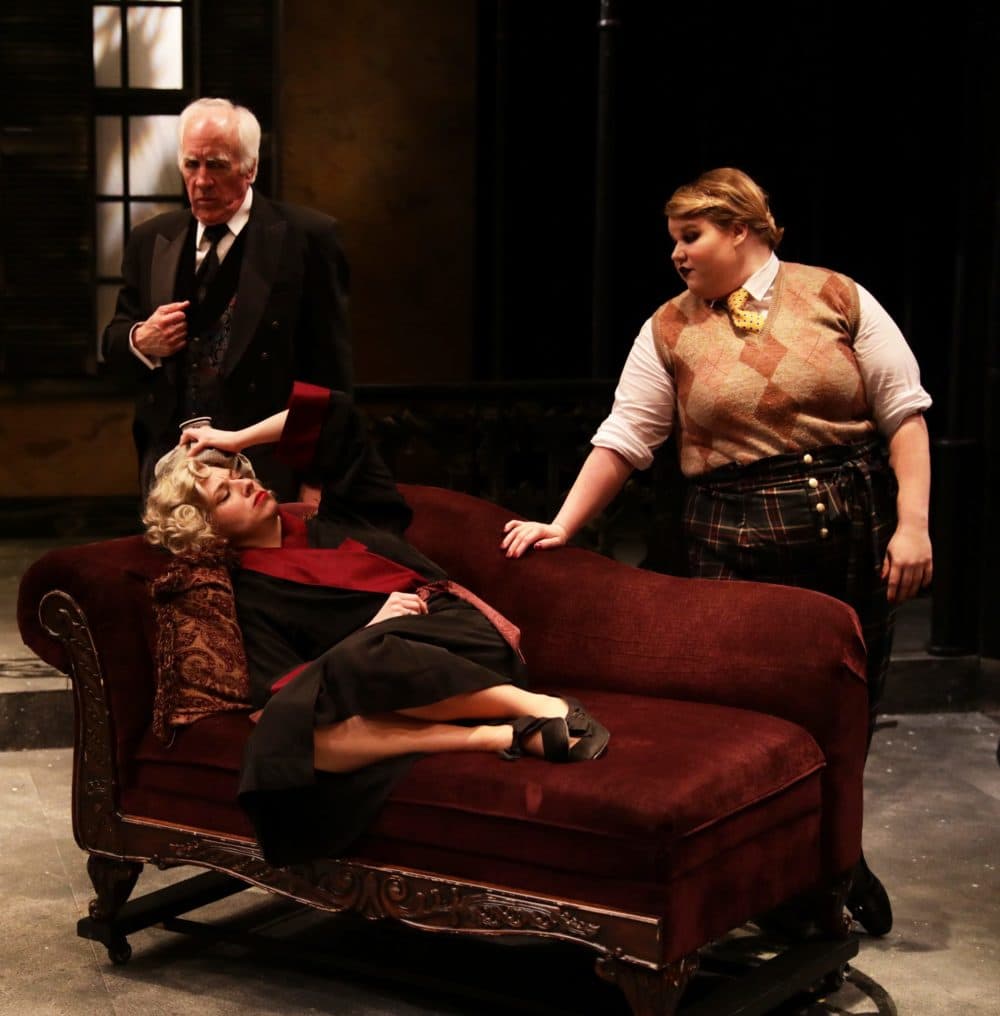 The vaudevillian music paired with cartoonish physical antics makes for a classic, hilarious combination. Bobbie Steinbach swaggers about in red-velvet boots with a matching vest as the brazen Sir Toby Belch. She thrills the audience with her raunchy portrayal. We all have that one embarrassing uncle, and Steinbach captured him impeccably. As they prank Malvolio and hide in plain sight, Sir Toby, Andrew, and Fabian played by Michael Forden Walker, channel the Three Stooges.
The production's eccentric characters and pandemonium delighted me. But, its delight overpowered the moments of gravity, making them seem jarring or a bit confusing. When Malvolio, played by the lovable Richard Snee, declares revenge on everyone after a prank on him goes too far, the moment seems to come out of nowhere.
Most of the characters stayed on stage to swing dance while a few followed him out, which diffused the tension quite quickly and left me disoriented. Following this, the whole cast sings with Feste for the final moment. There is a disruptive shift in tone from the rest of the play. I felt as though the characters were warning me of something, but I wasn't sure of what.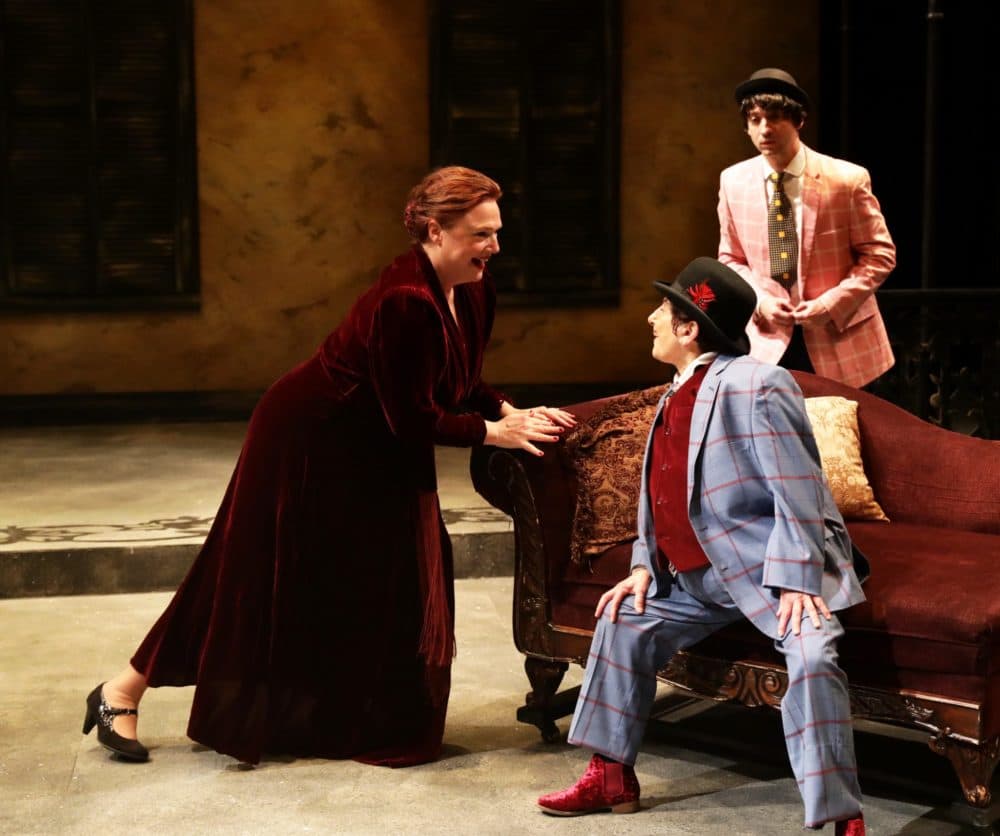 Paula Plum writes in her director's note, "I was struck by the plight of Viola the refugee, Viola the immigrant, struggling to make life on foreign soil," and I'm a little confused because this story seemed completely void of this specific struggle, one that is on the forefront of our current moment, or any struggle at all. ASP Artistic Director, Christopher V. Edwards, also mentions that the concept was born out of conversations around immigration. This is a potent idea and one worth examining, but the exploration of it is lost in the dreamy 1920's New Orleans lens.
Still, the melancholy jazz version of the fool's final diddy certainly satisfied the audience and there was something charming about the fresh take of a time-honored tale.
"Twelfth Night" is sure to entertain. It's a feel-good time. We know everything will all work out.
I'd be curious to see Viola revisit an Illyria that is a little less welcoming and cheerful. But, until then, this "Twelfth Night" serves a positive, easy-going dose of love and laughs.