John Cassavetes' 'The Killing Of A Chinese Bookie' Was A Messy Maverick's Stab At A Genre Film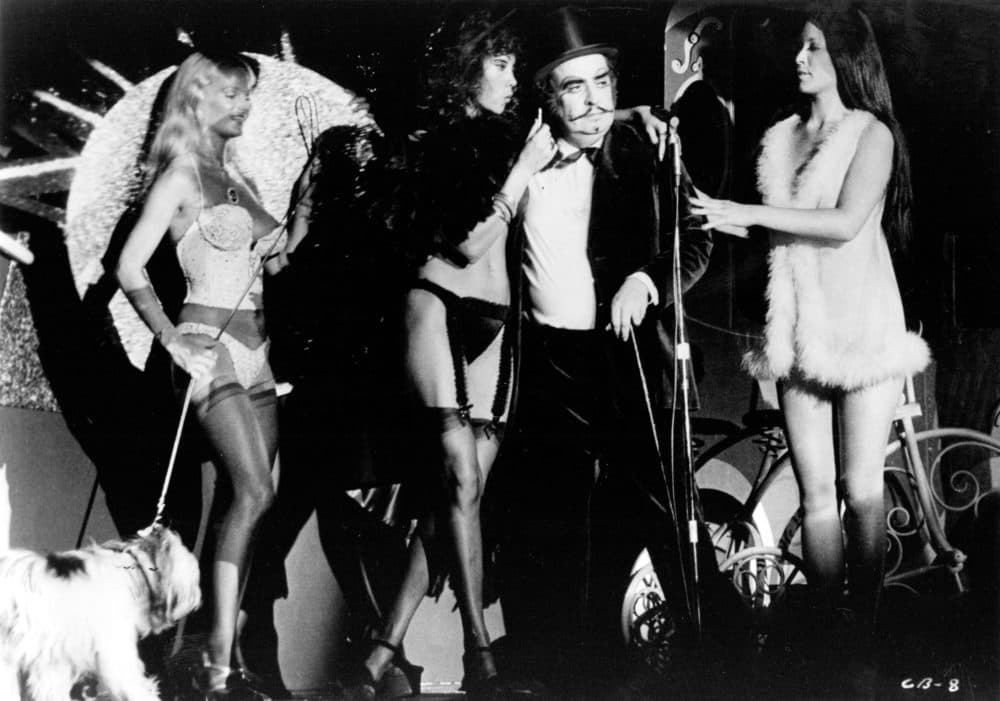 This article is more than 3 years old.
Writer-director John Cassavetes always made sure to tell interviewers that he approached his 1976 film "The Killing of a Chinese Bookie" as "an intellectual experiment." The godfather of American independent cinema became a legend with raw, personal dramas like "Faces," "Husbands" and "A Woman Under the Influence," exposing a boozy discontent burgeoning beneath suburban homes of a middle class otherwise ignored by movies enamored of the counterculture. But "Bookie" — which gets a rare 35mm screening this Friday night at the Coolidge Corner Theatre — was this messy maverick's stab at something like a genre picture.
An outlier in Cassavetes' oeuvre in that it actually has a plot (albeit one that can be synopsized via its six-word title), the film makes faint gestures at the popular conventions of a gangster movie while constantly being sidetracked by the bizarre behavioral details and heightened mundanity that were this particular filmmaker's stock and trade. No matter the assignment, John Cassavetes never could help but smear his whole heart, blood and guts all over the screen, so what was intended to be an exercise turned into an accidental autobiography.
Based on a story Cassavetes cooked up years before with a kid director he'd been mentoring named Martin Scorsese, the film stars Ben Gazzara as Cosmo Vitelli, a Los Angeles strip club owner who gets strong-armed into performing a Mafia hit in order to square his astronomical gambling debts. It's a nifty little noir setup, as the low-level numbers-runner that Cosmo's supposed to assassinate is actually a high-ranking rival Tong boss and all hell breaks loose when Vitelli improbably succeeds at his assignment. (According to several accounts, Scorsese's early incarnation of the project bore the forehead-smacking title, "A Yen for You.")

But Cassavetes being Cassavetes, he can't feign much interest in any of this underworld stuff and "The Killing of a Chinese Bookie" instead becomes a desperately sad little picture about small-timers who dream of being big shots. A perversely gargantuan amount of screen time is squandered in Cosmo's club, the Crazy Horse West, where semi-nude women halfheartedly gyrate to appallingly awful vaudevillian musical interludes sung by Mr. Sophistication — a pathetic, overweight clown played by TV scriptwriter Meade Roberts as something like Pagliacci on his way home from a methadone clinic.
"My name is Cosmo Vitelli," Gazzara announces from a PA system at the bottom of a stairwell in his nightclub's ratty basement. "I'm the owner of this joint. I choose the numbers, I direct them, I arrange them. You have any complaints you just come to me and I'll throw you right out on your ass."
He's an artist, you see. These brain-bendingly bad burlesque performances, with their hilariously highfalutin references to Paris and the Far East, represent the same veneer as Cosmo's ruffled tuxedo shirts and his downright comical adherence to a code of gentlemanly decorum. (Here's a guy who takes special care to politely thank the underground casino thugs who just bankrupted him.) When Cosmo forces three strippers who work at his club to accompany him on the same date, he buys them all fancy corsages because that's the classy thing to do.
Gazzara is magisterial here, all bluster up front and shuddering on the inside from abject, sweaty panic with the most sonorous voice in the history of movies. Cassavetes pictures are all not-so-secretly about acting and performance, so the scenes in which Cosmo and his mobbed-up tormentors (including the great, matter-of-fact Seymour Cassel) politely circle around one another exchanging strenuously heightened pleasantries are some of the film's most nerve-jangling.
People hated this movie, which was ravaged by critics and pulled from theaters after a scant six days back in 1976. (Cassavetes tried cutting 27 minutes out and rereleasing it a couple of years later, to little avail. It also probably didn't help that the movie opened within days of the director's own protégé Scorsese's scuzzbucket masterpiece "Taxi Driver.") Truth be told, "The Killing of a Chinese Bookie" is one of those odd duck films you might not particularly enjoy while you're watching yet somehow still find yourself having weird dreams about years later.
My favorite scene finds Cosmo on his way to commit the murder from which this movie takes its name, but first, he stops at a phone booth to check in on how his troupe's doing tonight. Unfortunately, the bartender on duty has no idea which song they're singing onstage at the moment, and Gazzara's ensuing eruption is one for the books. He doesn't care about the killing, he's more worried about the show.
That's when you realize this is a movie about a testy, outsider artist and his gang of misfit collaborators, the John Cassavetes biopic once removed.
---
"The Killing of a Chinese Bookie" screens at Coolidge After Midnite on Friday, April 5, and is available on home video from The Criterion Collection.