What You Should Know About Measles, After A Case Confirmed In Mass.
The state's latest measles patient traveled widely — and perhaps infectiously — in eastern Massachusetts. Public health authorities reported Monday that someone with a confirmed case of measles visited stores and other venues last week in Plymouth, Waltham, Framingham, Hyannis and Braintree. The full list is here.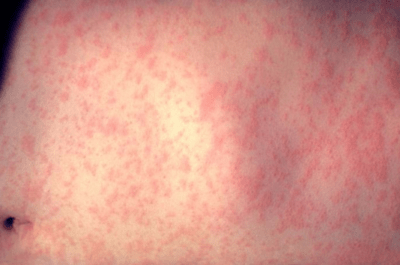 Measles is infamously contagious. Symptoms usually begin a couple of weeks after exposure, ranging from 10 to 18 days afterward, and they tend to be non-specific at first, including a fever, runny nose and red, watery eyes. A rash usually breaks out two to four days later, beginning on the face.
If you're concerned, here are some questions and answers courtesy of the CDC:
I've been exposed to someone who has measles. What should I do?
Immediately call your doctor, and let him or her know that you have been exposed. Your doctor can determine if you are immune to measles based on your vaccination record, age or laboratory evidence, and make special arrangements to evaluate you, if needed, without putting other patients and medical office staff at risk.
If you are not immune to measles, a measles-mumps-rubella (MMR) vaccine or a medicine called immune globulin may help reduce your risk of developing measles. Your doctor can help to advise you and monitor you for signs and symptoms of measles.
If you do not get MMR or immune globulin, you should stay away from settings where there are susceptible people (such as schools, hospitals or childcare facilities) until your doctor says it's okay to return. This will help ensure that you do not spread measles to others.
Am I protected against measles?
CDC considers you protected from measles if you have written documentation (records) showing at least one of the following:
You received two doses of measles-containing vaccine, and you are:
a school-aged child (grades K-12)
an adult who will be in a setting that poses a high risk for measles transmission, including students at post-high school education institutions, health care personnel and international travelers
Or, if you received one dose of measles-containing vaccine, and you are:
a preschool-aged child
an adult who will not be in a high-risk setting for measles transmission
You're also considered protected if:
A laboratory confirmed that you had measles at some point in your life
A laboratory confirmed that you are immune to measles
You were born before 1957
Can I still get measles if I am fully vaccinated?
Very few people — about three out of 100 — who get two doses of measles vaccine will still get measles if exposed to the virus. Experts aren't sure why. It could be that their immune systems didn't respond as well as they should have to the vaccine.
But the good news is, fully vaccinated people who get measles are much more likely to have a milder illness. And fully vaccinated people are also less likely to spread the disease to other people, including people who can't get vaccinated because they are too young or have weakened immune systems.
Do I ever need a booster vaccine?
No. CDC considers people who received two doses of measles vaccine as children according to the U.S. vaccination schedule protected for life, and they do not ever need a booster dose.
Adults need at least one dose of measles vaccine, unless they have evidence of immunity (see above). Adults who are going to be in a setting that poses a high risk for measles transmission should make sure they have had two doses separated by at least 28 days.
If you're not sure whether you were vaccinated, talk with your doctor.
What should I do if I'm unsure whether I'm immune to measles?

If you're unsure whether you're immune to measles, you should first try to find your vaccination records or documentation of measles immunity. If you do not have written documentation of measles immunity, you should get vaccinated. Another option is to have a doctor test your blood to determine whether you're immune. But this option is likely to cost more and will take two doctor's visits. There is no harm in getting another dose of MMR vaccine if you may already be immune to measles (or mumps or rubella).