Mass. Democrats Criticize AG Barr — And Call On Mueller To Testify Himself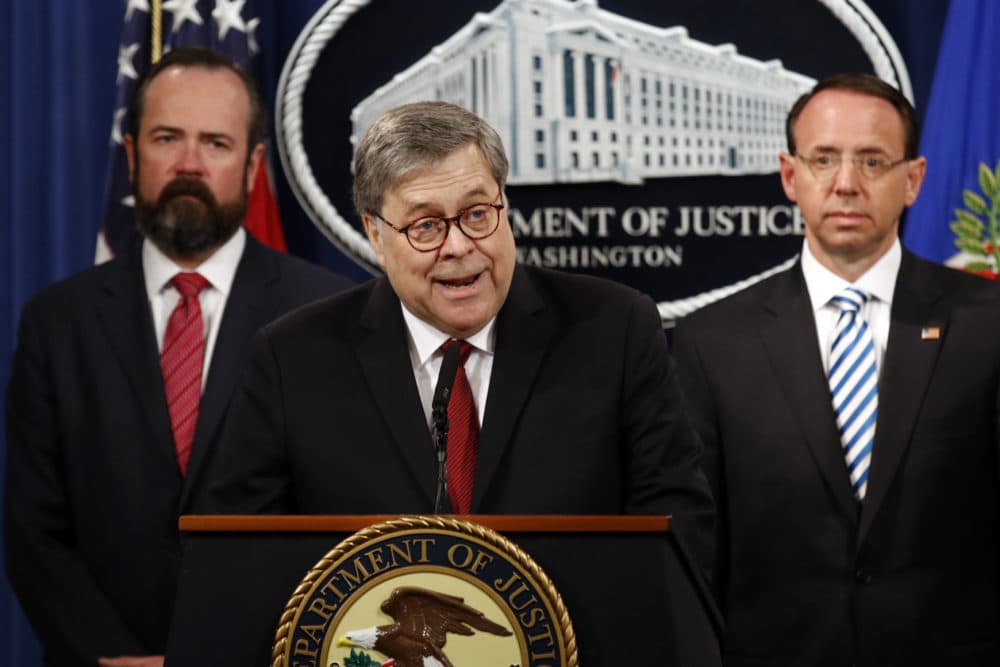 U.S. Attorney General William Barr on Thursday released a redacted version of Special Counsel Robert Mueller's long-awaited report on Russia and the president. The report's release followed a news conference in which Barr explained his decision not to charge President Trump.
Below is how various Massachusetts politicians — all Democrats besides state Sen. Bruce Tarr and William Weld, a former governor who's challenging Trump in the Republican presidential primary — have reacted. We'll update this post if we get more statements or comments.
Senators:
Markey later told WBUR that "the president very much appears to have tried to obstruct justice, and we need to hear from Mr. Mueller about the seriousness of those efforts by President Trump."
Representatives:
McGovern, who released a written statement, also told WBUR's Radio Boston:
This comes down to whether you think Russia interfering with our election and the Trump team welcoming and rewarding their help is wrong. And the president might not think it's wrong, and his team might not think it's wrong, but I do.

The fact that the president of the United States would conduct himself in this way, to me, is unconscionable. I don't care whether you're a Democrat or a Republican. We should expect more from whoever is in that office.

What is stunning about this report is it really highlights the culture of corruption that exists in this White House and how this president believes he's not accountable to anybody and that he's above the law no matter what.
Moulton released a statement, too:
We learned today that the president stated that the Mueller Report would end his presidency. But whether or not he is guilty of conspiracy is not the most serious concern here. Every American, whether we support the president or not, should want to know why Vladimir Putin and Russia worked so hard to get President Trump elected. That unmistakable conclusion of the report is the real threat to our nation.

This is where Congress should focus its oversight of the Administration--as mandated by our Constitution--in the months ahead. Partisanship should end when it comes to our national security.

Russia is the only country on earth that could literally end all life in the United States. Democratic and Republican presidents alike have faced down the Russian threat for two generations. All Americans should know why Putin views this president as an exception.
Rep. Katherine Clark retweeted this:
Rep. Lori Trahan released this statement:
"I am deeply troubled by Attorney General Barr's partisan handling of the Mueller reports' release, including his March 24th summary, his testimony before Congress last week, and his attempt to spin the report in a press conference earlier this morning before the public or Congress was able to view the document. The Attorney General of the United States is not the President's personal defense attorney, but you wouldn't know that based on Mr. Barr's performance today. The sum of his actions bring into question his independence and impartiality. I believe that the unredacted parts of the report paint a grim picture – particularly in terms of obstruction – that must be fully vetted. In my view the only way to begin restoring public trust in the handling of the Special Counsel's investigation is for Special Counsel Mueller himself to provide public testimony in the House and Senate as soon as possible. The American people deserve the truth, and Congress must take steps to assure that they get it."

Republican Mass. Politicians
Former Mass. Gov. Bill Weld's statement:
Confidence in our leaders and in our institutions is at the heart of our democracy. That confidence has been shaken.

It is essential that Special Counsel Bob Mueller come before Congress and address the validity of his report that has been redacted and released. Is this the report he issued? Are these the conclusions to which he came or has the report been altered in any way? Was he pressured to remove or change anything?

I resigned from the Justice Department in 1988 when I felt strongly that the actions of the Justice Department betrayed the confidence of the American people and threatened confidence in our institutions and rule of law. It is long past time for those in positions of authority to similarly stand up and take action. No American and no President is above the law and can attempt to obstruct justice without consequence.

I have known Bob Mueller for over 30 years and I have every confidence in his ability and his integrity.
State Sen. Bruce Tarr, the Republican leader of the Massachusetts Senate, told WBUR:
The most important thing to me is that the report be public so that everyone can digest it and draw their own conclusions and have access to information that was very costly and laborious to produce, that seems to be the case now that it's available, and I think that's a good result.
Massachusetts Republican Party Chair Jim Lyons issued this statement:
I'm done talking about the Mueller report. The Democrats can talk all they want. The bottom line is that there was no collusion with Russia. The only presidential campaign we know to have colluded with foreign operatives is the same one Americans rejected in 2016. It's over. It's time to focus on more important issues affecting Americans, like solving our crisis at the border and making sure socialism has no place in this country.