Beyond Genre Or Medium, Godmother Of Punk Patti Smith Promotes A Sense Of Oneness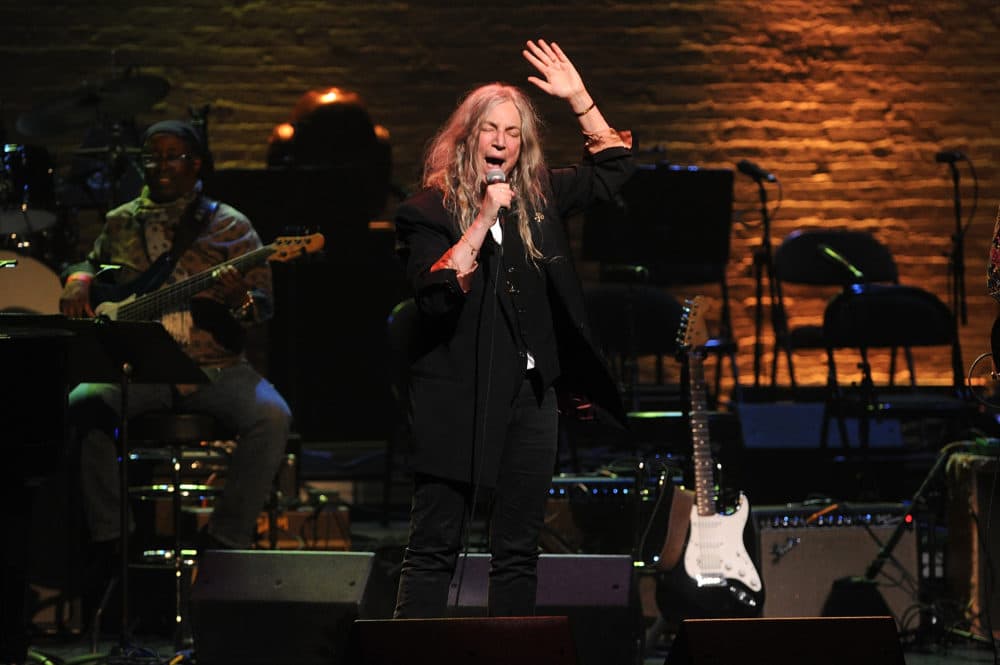 This article is more than 3 years old.
Just as Iggy Pop is almost always referred to as the "godfather of punk," so is Patti Smith considered the "godmother of punk." Smith, now 72, was at the forefront of the mid-'70s punk rock spawned at CBGB in New York. Her 1975 debut album, "Horses," still ranks as one of the best all-time rock 'n' roll debuts.
She earned her punk stripes. Should she, of course, want them.
"You know, punk is such an abstract thing," muses Lenny Kaye, Smith's guitarist and right-hand man for most of the past 45 years. "We were as much a band of the '60s and of the 2000s as we were in the golden age of punk. Punk is a definition now. I like punk music — really fast and angry and simple and direct with chants being shouted out, but we are only punk by association."
Kaye explains that Smith and her band's aspirations were always much broader. And if punk is generally defined by simplistic fast/loud/angry dynamic, they were not that. They did not want to be pigeonholed in a particular style or genre.
Smith came to fame through rock 'n' roll — "Because the Night," her collaboration with Bruce Springsteen landed Smith her only Top 40 hit in 1978 — but she wears many artistic hats, including poet, painter and memoirist. In 2010, she wrote the award-winning "Just Kids" (about her relationship with photographer Robert Mapplethorpe, who took the iconic photo on Smith's first album cover) and 2015's "M Train," which was nominated for a Grammy for Best Spoken Word album.

She'll be at Boston's Orpheum Theatre Friday, April 26. Her 11th album, "Banga," was released nearly seven years ago and this Boston date, part of a five-date East Coast jaunt, has nothing to do with promoting anything. Except, perhaps as Kaye intimates, a sense of oneness, of community.
"Patti is a very optimistic person," Kaye says on the phone from his home in Pennsylvania's Pocono Mountains. "We believe in human good. Maybe it's misplaced or maybe people aren't as elevated as we like to think, but we believe in a communal sense of what's good for the planet, good for our common humanity beyond this division into niches."
In 1988, emerging from nine years of self-imposed rock exile, Smith released the optimistic hit single and anthem "People Have the Power," co-written with her (now deceased) husband Fred "Sonic" Smith. It's been one of the centerpieces of Smith's concerts for years, often the closer. It was a bold, contrarian song for cynical times back then and that it remains.
To some folks, the feel-good vibe of "People Have the Power" seemed a long way from her aggressive punk roots. When I interviewed her in Detroit, following that late '80s re-emergence, Smith told me, "I'm well aware of the overly positive aspects of 'People Have the Power.' Call it naive [but] I don't think being filled with hope and still having the desire and care and vision to dream is naive. The song is trying to give a little inspiration and hope in very troubled times. I don't see the point of just spewing negativity."
Smith's band includes longtime compatriots, Kaye, bassist-keyboardist Tony Shanahan and drummer Jay Dee Daugherty, plus her son, guitarist Jackson Smith and, likely, her daughter, pianist Jesse Paris Smith.
The music comes at you in waves, some gentle, some tidal. Kaye says the root is their "garage rock sensibility" but that's a jump-off point for anything from punk to pop to almost free-jazz improvisation. "We are influenced by cinematic journey," he says. "We're interested in literature, the way words sound as lyrics, the rhythm and melody within a sentence, and also understand that within a piece of music there is a narrative arc."
As to how the set's being structured this tour, Kaye says there are core songs, but there's a vast expanse of possibilities for what he calls the "road map of the night. It makes it a new experience every time you get on that stage. There's a sense of adventure in trying stuff that is newer, that addresses something you happen to be into."
The Orpheum show will likely include "Because the Night," her hit co-write with Bruce Springsteen; her incendiary version of Van Morrison's "Gloria"; "Dancing Barefoot"; "Beneath the Southern Cross"; and "Ghost Dance," with its cleansing, hypnotic refrain, "We shall live again." You may also expect a cover of Midnight Oil's "Beds Are Burning," a rousing song that attacks complacency.
"We're not very genre specific," Kaye says. "We've always been a little idiosyncratic following our own sense of mission and beyond style. I think when you have too rigid a definition of style you trap yourself within your era. We've been able to maneuver backwards and forwards and take the best of who we've been and convert it into who we understand we are now. We just want the freedom to explore and then celebrate during a concert."