Ferry Proposal Aims To Connect Downtown, Dorchester And Quincy
Development along Boston's waterfront has led to greater demand for transportation, and that need could be met by new ferries serving downtown Boston, Quincy and Dorchester, according to two business plans released Tuesday.
The plans, from the nonprofit Boston Harbor Now and state agencies including the Massachusetts Department of Transportation and the Massachusetts Port Authority, received funding from the National Park Service and waterfront businesses.
One proposed route, the Inner Harbor Connector, would expand existing ferry service between Charlestown and downtown Boston, adding stops in East Boston and the Seaport. The other proposed route would connect Quincy's Squantum Point with Long Wharf in downtown Boston, with a potential stop in Dorchester's Columbia Point, near UMass Boston.
"Both of them offer, first and foremost, a really reliable and pleasant way to get around. People who take ferries talk repeatedly about the joy of their commute," says Alice Brown, Boston Harbor Now's director of planning.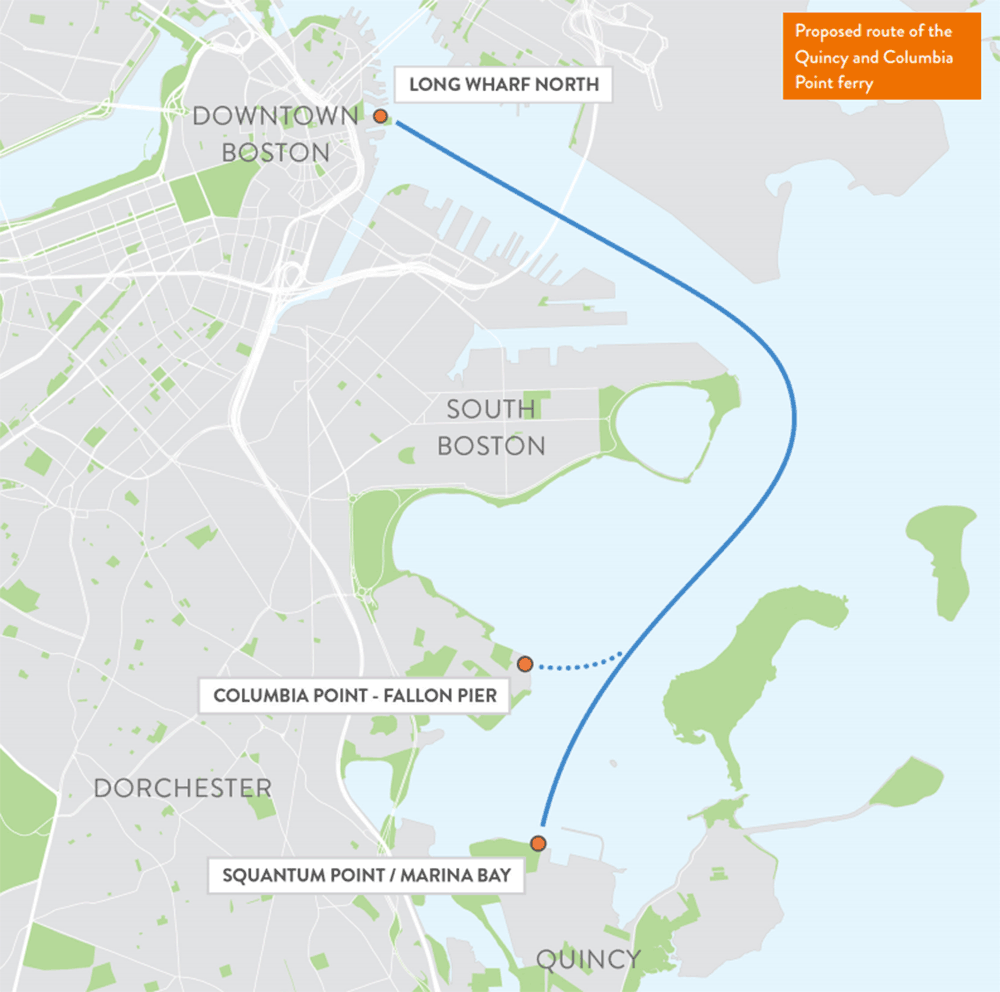 The MBTA's 2015 overview of ferry service suggests part of that joy may come from the fact that over 90% of its ferry trips were on time that fiscal year.
"Most of the ferry riders, including minority and low-income passengers, could use other MBTA services to make the same trips but choose to use ferries, likely because they are the most reliable MBTA mode," the report states.
The new ferry routes would not only offer a pleasant ride, Brown says, but a real transportation alternative. If trains are down, commuters would have the option of taking the ferry.
"Or if the boat isn't operating," Brown says, "you could take a bus or train instead."
Boston Harbor Now's business plan estimates that up to 1.6 million people would use the Inner Harbor Connector route each year, depending on the fare charged and other factors. The organization based its projections on two potential prices — $3.50 and $6.50 per ride.
The Quincy and Columbia Point route, with potential prices of $6.50 and $10 per ride, is expected to serve between 190,000 and 412,000 annual riders, the plan says.
Boston Harbor Now says it studied data from the MBTA's current ferry services to help model the proposals. The price of a standard one-way ticket for the MBTA's Hingham/Hull to Long Wharf/Rowes Wharf service is $9.25, and in 2016 those ferries shuttled a combined 1,164,896 passengers, according to Boston Harbor Now. The group says its service, like others, would not turn a profit.
"Like many transit systems, the new Quincy and Columbia Point service is projected to have an operating shortfall," the group writes. "Whether it is operated by the public sector, the private sector, or as a public-private partnership, an operating subsidy would be needed to sustain the service at any of the price points studied based on the projected ridership."
Existing ferries in Boston Harbor are run by both public and private operators, and some are looking to expand. The city of Salem received a federal grant last year to purchase a new ferry. A ferry service between North Station and the Seaport, managed by the Massachusetts Convention Center Authority, recently lowered its prices. The new Encore Boston Harbor Casino in Everett will offer water transportation.
Boston Harbor Now's business plans are far from a reality. Docks on both routes, especially Lewis Mall in East Boston and Squantum Point in Quincy, would require millions of dollars' worth of improvements, the plans say. Boats would need to be either purchased or leased.
The plans also do not detail who would operate the new ferry service, or how it would be implemented.
WBUR's Jon Cain and the State House News Service contributed reporting to this story.
This article was originally published on April 23, 2019.