Alexandria Ocasio-Cortez's Superhero Origin Story Shines In 'Knock Down The House'
There's a delicious moment about two-thirds of the way through "Knock Down the House" — Rachel Lears' irresistible documentary about upstart progressive primary challengers during the 2018 midterm elections — when Democratic party golden boy and heir apparent to Nancy Pelosi's speaker of the House seat Joe Crowley finally realizes how much trouble he's in.
After callously blowing off a first debate, sending a surrogate who can barely speak on his behalf, Crowley has at long last deigned to sit down with his opponent, some 28-year-old waitress from the Bronx he can't even pretend to take seriously. The condescending politico offhandedly lobs a dirty, guilt-by-association insinuation disguised as a question. It's the kind of cheap zinger that would tie most lightweights up into knots, but the opposite happens here.
Before long Alexandria Ocasio-Cortez is standing up, shredding the false premises of his so-called question and bringing the audience to their feet. A chastened Crowley looks down at the ground and anxiously, hilariously, begins rolling up his sleeves.
"Knock Down the House" follows Ocasio-Cortez and three other working women who challenged entrenched Democratic incumbents during the electoral sea change of 2018. It's an inspirational portrait for anyone who believes a representative democracy should reflect its community and that politics isn't just the province of wealthy old white guys. With the help of the Brand New Congress political action committee, these insurgent campaigns sought to upend decades of received wisdom and in one case resulted in a left-field victory that makes the film feel like a superhero origin story.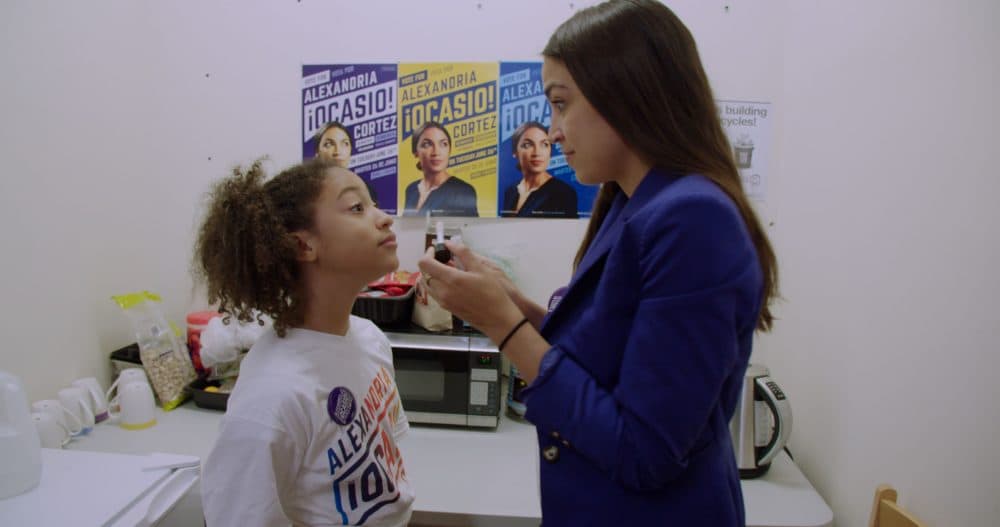 No offense to candidates Amy Vilela, Cori Bush or Paula Jean Swearengin, but from before it even unspooled at Sundance "Knock Down the House" was already known as "the AOC movie." These filmmakers had the good fortune to start following the nascent superstar before her name was even on the ballot, with apparently unfettered access to every step in the ascension of a public servant with the kind of charisma that comes around maybe once in a generation. Compelling as the other stories may be, you kinda can't help but spend them waiting for Ocasio-Cortez to come back onscreen.
At the beginning of the film we see her setting up the bar, dragging an ice bucket up from the basement and mixing margaritas, noting that her background in the hospitality industry – where you're on your feet for 12 hours a day and people are constantly trying to make you feel bad about yourself – is probably the perfect training for a political campaign. (It never ceases to amaze me when dull-witted conservative dudes try taunting her online. Don't they know that an attractive female bartender in New York City spends entire shifts shutting down creepy chumps like them?)
"For every ten rejections you get one acceptance," Ocasio-Cortez tells her niece while handing out flyers, "and that's how you win." Her M.O. seems to be working harder and longer than everyone else until she can't be so easily dismissed. For example, 1,500 signatures were required to land on the ballot. Correctly assuming that the election board – all Crowley appointees – would challenge and discard as many as possible, she showed up with 10,000.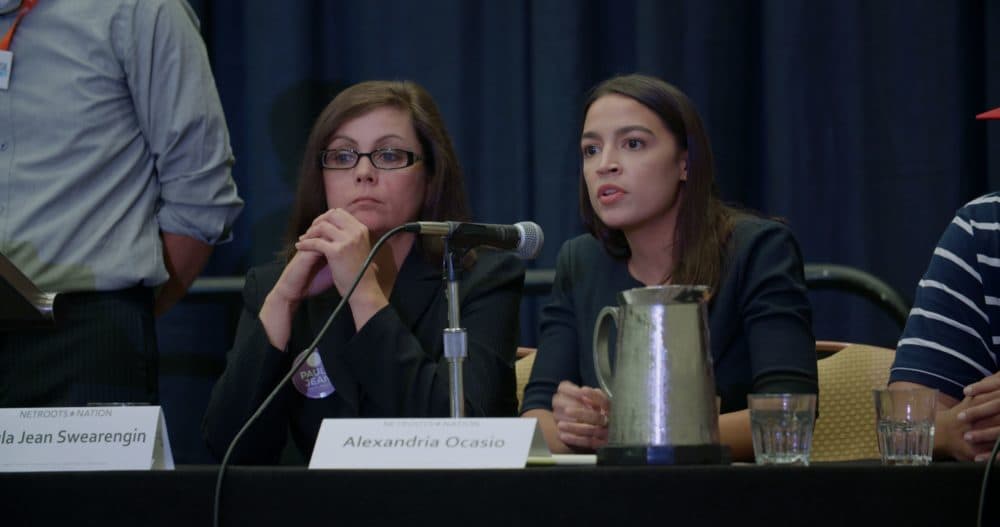 The filmmaking is smart and considerably restrained. Lears knows she doesn't need to oversell these stories, as when Vilia devastatingly details her 22-year-old daughter's death from a blood clot after delays in care due to concerns about insurance. Swearengin's blunt assessments of the environmental ravages to her poverty-stricken coal country are accompanied by appropriately unsettling images, and we're privy to a particularly dispiriting interaction in which Bush is forced to face just how entrenched her opponent's reputation is within her St. Louis community.
"It's just the reality that in order for one of us to make it through, a thousand of us have to try," Ocasio-Cortez claims, and if you've followed politics at all over these past couple years the ending here is already spoiled. Nevertheless, by the time Lears unveils that famous election night footage it plays with the overwhelming emotional payoff of a "Rocky" movie.
But "Knock Down the House" is shrewd enough to close on a more pensive note, with the newly minted Rep quietly sitting on a bench and regarding her new workplace on Capitol Hill, a million miles from that bar basement where we first saw her scooping ice. Now the hard part starts.
---
"Knock Down the House" opens at the Kendall Square Cinema on Wednesday, May 1 when it will also be streaming on Netflix.
Editor's Note: An earlier version of this post incorrectly identified where Cori Bush is from. The post as been updated. 
This article was originally published on April 29, 2019.