Police: Search Ongoing For Suspect Who Shot At Officers In Somerville Bank Robbery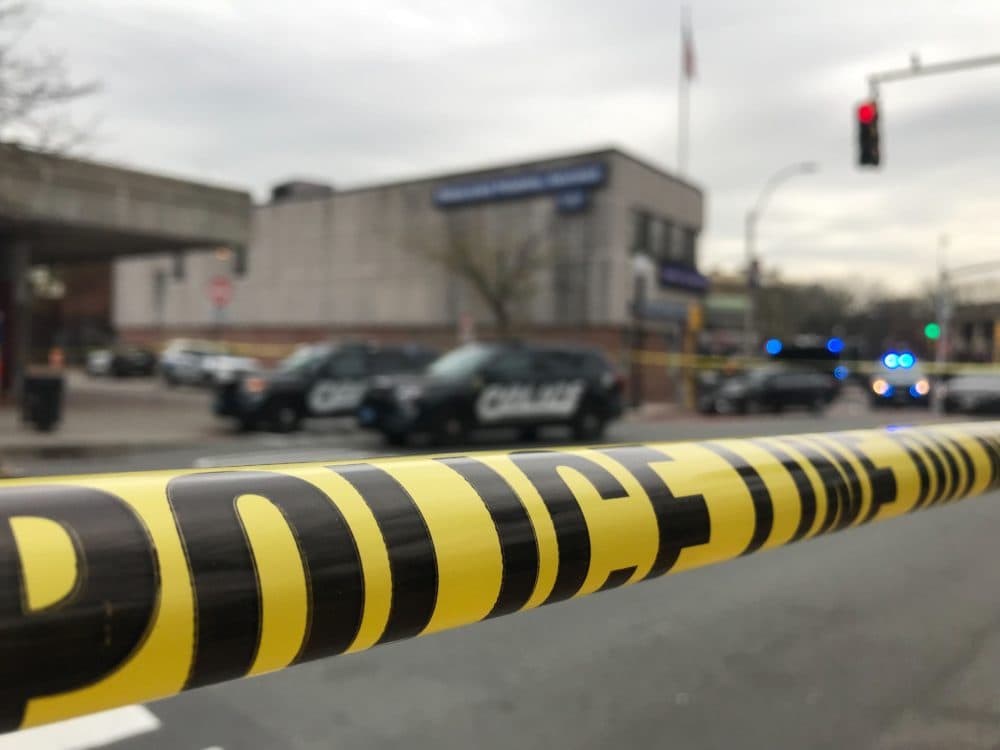 This article is more than 1 year old.
Police say they are actively searching for a bank robbery suspect in Somerville after he allegedly shot at an officer Wednesday morning.
State police tweeted at 10:45 a.m. that one person had been arrested related to the incident at Middlesex Federal Savings on College Avenue. Officials later said in a news conference that the person taken into custody was not involved in the robbery.
Somerville Police Chief David Fallon told reporters that the suspect fired a round while entering the bank and attempting to commit robbery. An officer entered through another door and exchanged gunfire with the suspect, who fled on foot and was pursued.
Residents were urged to stay indoors as multiple police agencies converged on the area.
Arlington police officials say the officer who was shot at was not hit, and told residents to be on the look out for a suspect described as a Hispanic male of medium-to-heavy build who fled the bank on foot.
Somerville resident Dave Powers told reporters he saw police chasing the suspect. CCTV footage captures Powers pushing the suspect, causing him to drop a bookbag containing a gun and stolen money.
Powers said "instincts" kicked in when the robbery ran by him.
"I think I needed to see the video to believe [I did that]," he said.
The MBTA said on Twitter that it had temporarily closed Davis Station in Somerville as a precaution. It reopened the entrance on Holland and Elmwood streets just before noon, but the College Avenue entrance and Davis Square busway remained closed, according to a tweet.
At around 2:15 p.m., Somerville police said the area near the bank became open to normal traffic after it was closed off for several hours.
"This person is dangerous," Somerville Mayor Joseph Curtatone told reporters. "He fired shots in the air while people were occupying the bank, he fired at a Somerville police officer. We need people to be vigilant."
Somerville police are requesting anyone with information contact the investigators at 617-625-1600 ext. 7220.
This story will be updated as more information becomes available. 
With reporting from WBUR's Quincy Walters
This article was originally published on May 01, 2019.