Huntington's 'Indecent' Is An Exquisite Swirl Of Theater History And Heart
"Indecent" is a collision of two plays, both spurred by a passionate pair of Jewish women. One is the 1907 Yiddish Theater classic "God of Vengeance," by Polish writer Sholem Asch, best remembered for the lesbian kiss that shut down its 1923 Broadway debut and got the cast arrested for indecency. The other, which shakes the dust from that long ago scandal, is the 2015 "Indecent," a seamless collaboration between Pulitzer-winning dramatist Paula Vogel and director Rebecca Taichman, who justly won a Tony Award for her ghostly yet vibrant staging of the work.
That 2017 Broadway production has been gorgeously, grittily remounted for the Huntington Theatre Company (at the Huntington Avenue Theatre through May 25), where it proves to be a lively, fluid piece of stagecraft encompassing the fraught histories of embattled Jewish culture, Yiddish theater, arts censorship and the love that for so long dared not speak its name — all played out to a feverish, toe-tapping klezmer score.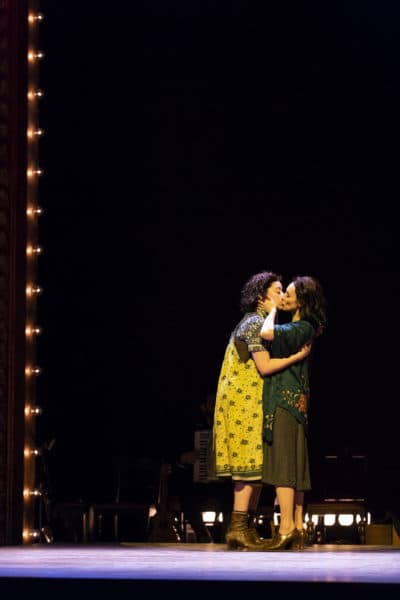 "Indecent" does not so much tell its story as exhume it from what Suzan-Lori Parks dubbed The Great Hole of History. As the audience enters the theater, the players, in dun-toned period dress, are lined up in chairs across a mostly bare stage adorned only with stacked suitcases and a looming if muted gold proscenium. As a mournful violin kicks in, they rise, ashes cascading from their appendages.
But the somber tone doesn't last long, as ensemble and musicians throw themselves into the choreographic swirl of a rough-hewn yet sweeping production that dances its way through much of the first half of the 20th century, from the hopeful inception of "God of Vengeance" to its embittered author's disavowal of the work in the wake of the Holocaust and his hounding by the House Un-American Activities Committee.
By their own reports, "God of Vengeance" had a profound influence on both Vogel and Taichman when they discovered the manuscript (and in Taichman's case, the obscenity trial transcript), decades apart, in their respective graduate school libraries. Several scenes from the controversial work are incorporated, repeatedly, into "Indecent." And "Little Women" it is not.
The melodrama centers on a tyrannical Jewish patriarch, Yekel (played in early productions by the great Yiddish actor Rudolph Schildkraut), whose family lives above his shop — which happens to be a brothel. To counter his sins, Yekel is determined to marry off his daughter, Rifkele, to a pious young man and has purchased an expensive Torah to hang above their bed. When he discovers that Rifkele has entered into a sensuous if purifying relationship with Manke, one of his whores, he explodes, desecrating not just family harmony but the Torah too.
Not surprisingly, when the 20-something Asch, whose aim is to point a finger at false piety among his own kind, presents the play to an intellectual circle of Jews in his native Warsaw, his mentor advises him to burn it. Years later he wishes he had — but not before the play has enjoyed success on the Yiddish stages of Europe, Russia and New York's Bowery Theatre and then met its Waterloo on Broadway — where, ironically and to the cast's consternation, the delicate lesbian love scene was largely expunged.
The way in which "God of Vengeance" and "Indecent," a conjuration of the earlier play's journey as well as its historical context, have been threaded together is a complicated business, joyful, ominous and hauntingly rendered in Taichman's production (with musical supervision by Lisa Gutkin and vigorous folk choreography by David Dorfman). Vogel, who won the 1998 Pulitzer for "How I Learned to Drive," has written more imaginative scripts but none so heartfelt as this brimming valentine to lesbian love and the Yiddish stage.
The remounting, a co-production of the Huntington and Los Angeles' Center Theatre Group, reflects Brechtian influences, including the introduction of scenes by title placards projected in both English and Yiddish. (There is also a large-scale projection of the trial verdict condemning the work as "indecent, obscene and immoral" and demanding that American Drama "be purified of Eastern exoticism, its sexual pollution, and its corruptive attitude toward the family.")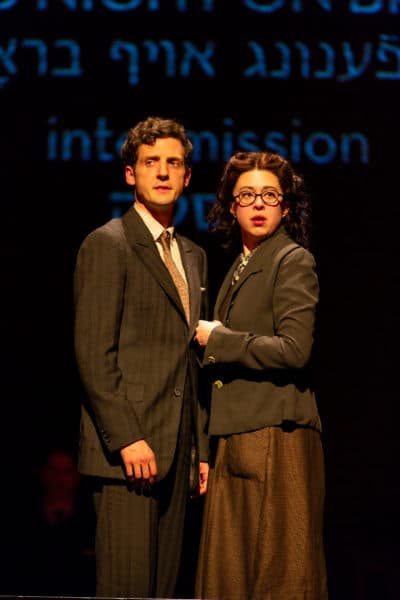 Yet the production is far from distancing, its raucous and elegiac elements adding up to a multifaceted, deeply affecting theatrical experience. The nearly non-stop eddy of song and dance is punctuated by the grim depiction of "impossibly long lines," whether at Ellis Island or leading to the concentration camps. And the production's ending, a cleansing soak in pouring rain and burgeoning love, is so beautiful you don't know whether to cry, cheer or pick up a placard yourself.
Some of the show's considerable emotional heft is due to the volatile, versatile cast, several of whom have been with the show from its Yale Repertory Theatre debut through stints at La Jolla Playhouse and Off Broadway's Vineyard Theatre to its Broadway incarnation. Then there is the play's ambulatory heart, stage manager Lemml, a former tailor who fervently declares that "God of Vengeance" changed his life and then guides us through a whirlwind journey that ultimately leads him (along with Asch) to fury and despair.
Seven actors, along with three fiddling, tootling klezmer musicians, make up the able, period-perfect ensemble. In addition to singing and dancing their ways from the cabarets of Europe to the stages of the Catskills, these troupers are deployed in multiple roles arranged in the script by type, including "Ingénue," "Middle" and "Elder."
Richard Topol captures the initial earnestness, the immigrant euphoria and then the anguish of Lemml, whose calling flames before turning to cinders. Joby Earle plays the young Asch as a somewhat naïve firebrand, his zealotry ultimately sapped by the mounting carnage of the first half of the 20th century. And Harry Groener roars both charisma and Old Testament ire into roles ranging from Yekel, his Torah raised like a cudgel, to Schildkraut, here part matinee idol, part Papa Bear. Steven Rattazzi and Mimi Lieber also excel in various, harder-baked roles.
But at the center of the piece, embodying the love stories tucked into the tiered "Indecent," are Elizabeth A. Davis and Adina Verson. The two play both thespian lovers temporarily severed by the rigors of showbiz assimilation and the yearning Manke, too long used by men, and more awkward Rifkele, longing to shed her pinafore. The tentative, tactile communication of the latter two women, expressed in a near-holy mix of sensuousness and sanctity, suggests that Judaism is not the play's only persecuted religion.
---
The Huntington's production of "Indecent" continues at the Huntington Avenue Theatre through May 25.