Boston Ballet Debut — 'ELA, Rhapsody in Blue' — Explores Gendered Violence And Female Triumph
In the large, historic building where the Boston Ballet rehearses, choreographer Paulo Arrais, 31, watches quietly as three dancers pirouette with masterful precision. Abruptly, they crouch and begin taking low, powerful strides across the floor. Their narrow arms stretch wide, creating syncopated, serpentine loops. One of the dancers stumbles out of the challenging sequence, chuckling and giving Arrais an imploring look.
He jumps in to demonstrate, exaggerating the movement through his shoulders. Then, shrugging, he advises her, "Move your body in a way that's natural. Do what works for you."
Be natural. Relax. Use your intuition. These are not typical instructions in most professional ballet rehearsals. But Arrais cannot give these notes enough as he weaves together the steps for his upcoming "ELA, Rhapsody in Blue" — an exploration of gendered violence and female triumph. By asking ballerinas to accent their stylized steps with pedestrian ones, Arrais hopes to build his narrative through choreography that integrates the emotional authenticity of modern dance with the rigorous techniques of classical ballet. Set to Gershwin's "Rhapsody in Blue," the production was commissioned as part of a larger mixed repertory series at the Boston Ballet entitled "Rhapsody" that will run at the Boston Opera House from May 16 until June 9.
The ballet will open with the female protagonist — played by Boston Ballet Principal Dancer Kathleen Breen Combes — dancing alongside a group of 15 male dancers, who Arrais says are "an extension of her energy." Sometimes, they dance around her playfully. Other times, they become her human throne, lifting her over their heads where she strikes regal poses.
The group falls away when she meets her husband, who seduces her before turning violent. The toxic power dynamic dissipates when she becomes pregnant and the abuser departs. She reclaims her power through motherhood, and the piece ends with her dancing a joyful duet with her son who can live without suffering his father's abusive behavior.
Arrais traces this ballet's origins back to his childhood in Brazil where gendered violence touched the lives of many women around him, including that of his aunt. She and his grandmother took care of him when he moved to Rio de Janeiro as a teenager to pursue ballet more seriously. At the time, he remembered admiring their ability to lead almost normal lives despite the traumatic events.
However, when he began going to therapy for the first time in 2014, he gained new insights into the abuse's ramifications for his family. While he still admired their resilience, he was also concerned that normalizing the scarring events might have unforeseen consequences for future generations. Five years later, inspired by the #MeToo movement, he decided to try choreographing a ballet that riffed off his aunt's story and those of other survivors.
In this ballet, Arrais wanted to subvert problematic choreographic choices of the past. Specifically, ballet has a disturbing tradition of uncritically choreographing gang rape and gendered violence. While creating graphic scenes for his ballet, Arrais remembered watching Boston Ballet's 2012 production of "Fancy Free." During a scene that was intended to be comedic, sailors aggressively chased after and attempted to capture their love interest. Though virtuosically executed by the dancers, the 1944 choreography was unsettling for Arrais, who recognized it as affirming of rape culture.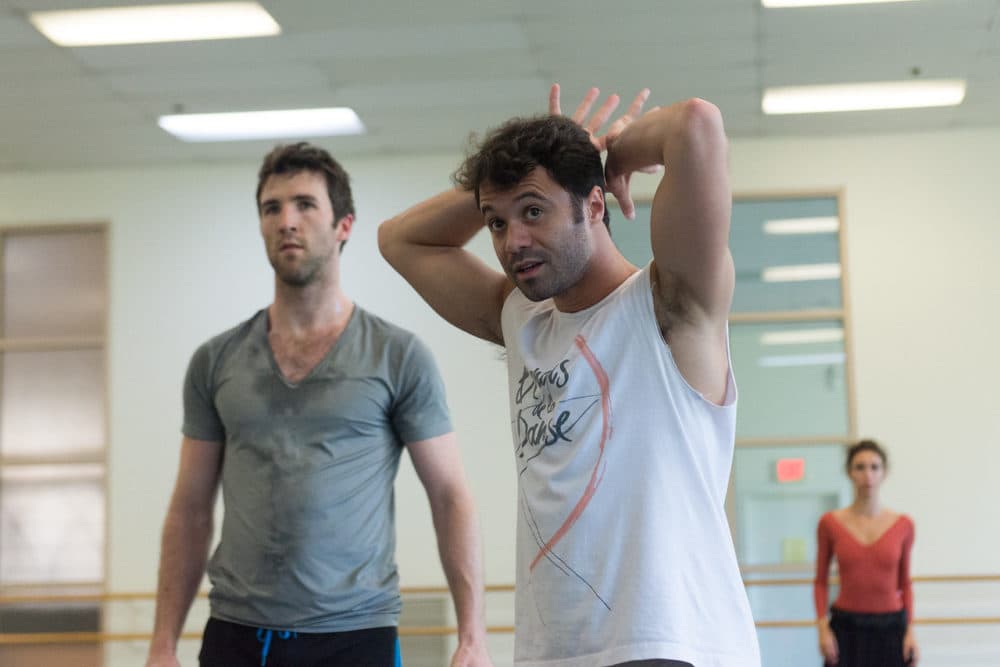 With this experience in mind, Arrais began choreographing "ELA, Rhapsody in Blue," determined to include subjects and styles that challenged and expanded the canon.
The first step was to rethink rehearsals. Unlike his predecessors, Arrais sees his dancers as collaborators. As a student at the Paris Opera Ballet School and the prestigious Royal Ballet School in London, he both mastered techniques and became critical of choreographers' communication. Dancers, he noticed, were "being trained out of being natural" by traditionalists who prioritized their form over their ability to feel. Form is important, he tells me, but their lived experience is integral to manifesting the emotions at the center of the story.
"You can create an army of incredible, technical dancers by being authoritative," Arrais says, "but how can you nurture artistry and sensibility being that authoritative facilitator? You need to create a safe space for someone to create emotions or to open up those intense feelings."
In "ELA, Rhapsody in Blue," Arrais believes the magic of his work happens when real experiences — belonging to his aunt, her children, the women behind the #MeToo movement, and his dancers — meet utopian visions of social transformation. And by manifesting these fantasies as dance, Arrais says, he hopes that his work "feeds the real."
---
The Boston Ballet's "ELA, Rhapsody in Blue" is at the Boston Opera House from May 16 to June 9.