Back On The Screen, 'Between The Lines' Explores The Waning Days Of A Boston Alt-Weekly
This article is more than 4 years old.
"We really shook things up, but we didn't change anything," sighs a prematurely world-weary journalist played by John Heard in director Joan Micklin Silver's "Between the Lines." This freewheeling ensemble comedy about the waning days of a Boston alt-weekly newspaper was first released in 1977 and has been out of circulation (at least legally) for years, becoming something of a local legend in its absence. Screenwriter Fred Barron drew heavily on his days at the late, lamented Boston Phoenix and the Real Paper in creating the fictional Back Bay Mainline, which a Copley Square hawker (the inimitable Michael J. Pollard) describes as "All the news behind the news… and some hippie smut."
A spiffy new 2K restoration screens this weekend at the Brattle Theatre, and seen 42 years later, "Between the Lines" is a time capsule that may feel depressingly contemporary for media professionals. What passes for a plot finds a millionaire mogul aiming to buy out the scrappy little paper, commodifying the Mainline's counterculture cachet while relieving the newsroom of its more troublesome muckrakers. But the movie's best joke is that there's not much idealism left here to be corrupted, with everyone seeming to agree that the paper's glory days are long in the rearview. This deceptively breezy film is really a sneaky generational portrait of young radicals running out of steam in their 30s.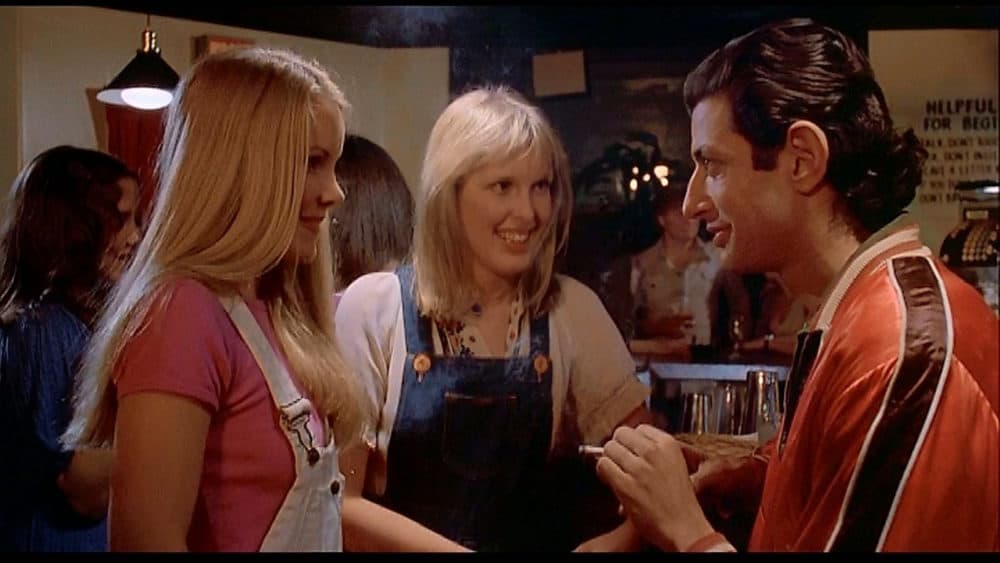 Heard's firebrand Harry was once the paper's chief crusader, but these days he cranks out tawdry lifestyle pieces interviewing strippers. Star reporter Michael (Stephen Collins) barely comes into the office at all, staying home to work on his novel about "the death of the counterculture" while his girlfriend Laura (Gwen Welles) works two jobs to cover the bills. Pretty much every guy in the movie pontificates at some point about his plans to write a book, while Silver slyly sides with the women who actually get stuff done. (Without making a big deal about it, the movie skewers a certain blind spot a lot of otherwise progressive dudes have when it comes to the women in their lives.)
Jill Eikenberry's saintly Lynn is not just an office manager but also the keeper of the Mainline's hippie flame, deftly coddling these writers and their oversized egos with words of encouragement or just a couple of loose joints. Lindsay Crouse's pragmatic photographer is being pursued again by Harry in an on-again phase of a relationship that's been off-again more than once, and in the background of nearly every scene there's an impossibly young, spectacularly sleazy Jeff Goldblum as the paper's perpetually broke rock critic, scamming free drinks and trying to pick up chicks on the movie's margins.
One of the most knowing sequences finds Goldblum dragging a cub reporter (Bruno Kirby) along with him to sell promotional LPs for weed money. ("I can't smoke records," he explains as the two stroll through Harvard Square.) Barron's screenplay is full of lived-in little details like that, which Silver indulges with a generous, Altmanesque sprawl as these characters fall into and out of bed with each other. It's no accident that the movie's only actual, juicy news story is uncovered by Kirby's earnest young kid from the classifieds department, right under the noses of the veteran reporters who are too caught up in their own narcissism to notice he's scooped them.
As in her excellent romantic comedies "Chilly Scenes of Winter" (which also starred Heard) and "Crossing Delancey," Silver demonstrates a keen ability to be affectionate toward her characters while remaining clear-eyed about their faults. This is a tricky thing to balance, made all the more impressive when you realize these folks are maybe five or six years away from becoming the insufferable yuppie scum of "The Big Chill" (which perhaps not coincidentally also featured Goldblum as a handsy journalist).
"Between the Lines" has a wistful, end-of-an-era vibe that time has only sweetened. Spotting long gone locations like the old Charles MBTA stop and the Combat Zone adds to the movie's nostalgic yearning for days gone by. The soundtrack leans heavily on the backwards-looking, blue-eyed soul of Southside Johnny and the Asbury Jukes, with a record release party attended by the Mainline staff turning into a mini-concert movie within the movie. The film closes with the band's performance of the Steve Van Zandt-penned "I Don't Want to Go Home," a melancholy anthem about a party that has to end even though nobody wants to leave. Having come up during the alt-weekly era at a paper much like the Mainline, I know exactly what they're singing about.
---
"Between the Lines" screens at the Brattle Theatre from Friday, May 17, through Monday, May 20.