With Boston Answering, An Opportunity To Represent A Local Music Scene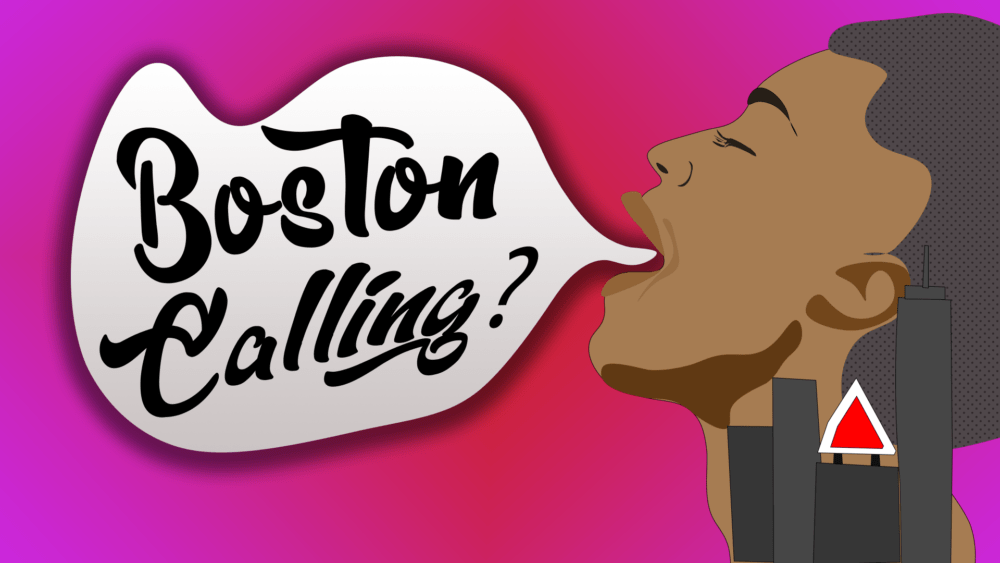 This article is more than 3 years old.
Cliff Notez is a Boston-based musician and artist. He founded the media production and event curation group, HipStory. 
---
I guess I should just be grateful.
I was raised here in a variety of humble homes, park benches and friends couches, from Dorchester to Somerville. I've been making music here since I could speak, but barely anyone knew my name until a couple years ago. Who do I think I am to call out an institution as large as Boston Calling?
Recognizing my identity in this world comes with the realization that I've been made to feel like I do not belong since long before I existed. Especially here, in America, in Boston. Boston Calling, ironically one of the few major music festivals named after its home city, isn't for actual Boston people.
Even as hip-hop dominated national music consumption and had a strong showing at national awards shows and the Boston Music Awards last year, Boston Calling debuted a lineup this spring that not only largely ignored hip-hop as a genre, but also overlooked emerging artists coming out of the scene here. It was a strong reminder that the festival isn't for people like me.
I'm truly grateful for all the new fans I've made in the last year since the release of my debut solo album, "When the Sidewalk Ends" — the people who voted and made it possible for me to win my first Boston Music Award and perform songs about depression and racism to a nearly sold-out House of Blues twice in under a month. But there are still things that eat away at me daily: small things, big things, hidden things, all somewhat interconnected in someway. Some people call this structural racism; maybe this is what the privileged call a chip on one's shoulder, but most days it feels like a boulder.
Seeing hip-hop well represented in the nominees and winners at the Boston Music Awards in 2018 truly felt like a victory for the city that I knew. It came after decades of not being included in countless spaces in the city — through clearly racist hate crimes and busing, or later through institutional policies, intense gentrification and subconscious racist thinking. We now have our trophies that signify that we're making progress, but are we?
Boston Calling's goal isn't to support Boston's creative scene; the festival is in business to book nationally touring acts. But for the Boston music scene to really thrive, artists need more support on main stages and exposure to bigger audiences. So what does progress look like? Boston rappers Michael Christmas and Cousin Stizz have both performed at the festival, and last year I had the privilege of being starstruck by my good friends, STL GLD, rocking the Boston Calling stage. It made the festival real to me. I never fathomed that that festival could be a goal for my career until I saw it was possible. Hearing their stories about meeting the other stars and being taken seriously as hip-hop artists made it that much more tangible. I had never seen that shade of happy on a face that looked like mine, that came from a place like where I did; they were grateful, it gave me hope.

It's exhausting to balance dealing with life, making art and challenging messed up systems. And it's a lot easier to get used to living with a chip on my shoulder. But I have the wild idea that my voice matters — that I can, and should, speak up. That things can be different. We have incredible talent here in Boston. So with HipStory, we're programming Boston Answering — a night at the Strand Theater that amplifies Boston artists during the weekend of Boston Calling.
I haven't been privileged to know any of the Boston Calling administrative team personally, and this statement isn't an about any one person. In my music, none of my work speaking on racism, oppression, diversity and inclusion is about specific people. Lack of representation in larger, more elite places is by design of a structure, that people in power at this very moment could have zero clue about.
It's all there, I'm just here to remind you. I'm just the kid who's been on both sides of the fences. I wasn't born marginalized, I was born me. This world and the structure I was raised in made me this way and it doesn't change my belief in the power of the communities of people that share similar identities to me. Especially us hip-hop artists, this community was built on the knowledge of self and community. Whether it's me, or any other hip-hop artist from my city, we are going to continue to challenge these systems and learn about our true value in a world that may not value us in the same way. That's one thing I know I'm grateful for.