With 'I Am A Man,' Castle Of Our Skins Rewrites The Narrative Of Black Masculinity
Fed up with low wages and poor working conditions, more than a thousand black sanitation workers flooded the streets of Memphis on Feb. 12, 1968. The men, pushed to the breaking point by the death of their colleagues, Echol Cole and Robert Walker, who were "crushed by a malfunctioning truck," went on strike. They protested with bold signage that decried "I AM A MAN."
That declaration demanding dignity and equality is at the center of Castle of Our Skins' (COOS) latest project, "I AM A MAN 2019," premiering June 2. Through music, film, history and more, "I AM A MAN 2019" examines that historical moment through the lens of contemporary concerns of black masculinity and humanity.
The week-long celebration of men fighting for equality, past and present, includes a free screening of Raoul Peck's James Baldwin documentary "I Am Not Your Negro," community sing events, poetry workshops and community conversations. Seattle Symphony's acclaimed cellist Seth Parker Woods will perform on June 6, and a final concert on June 8 will include music by Blind Tom (a piano genius enslaved his entire life), Grammy-nominated queer vocalist Julius Eastman and COOS' guest composer-in-residence and Fulbright scholar Brian Raphael Nabors.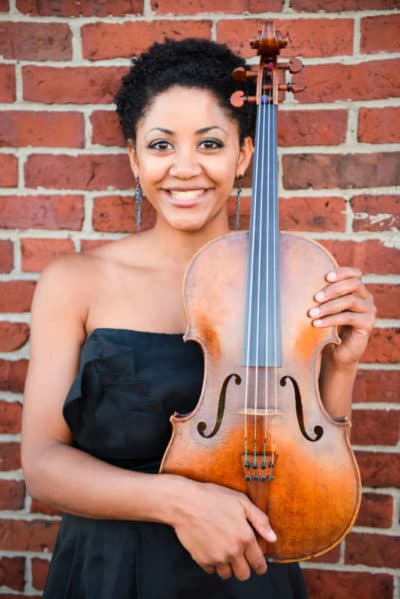 COOS got its start about six years ago. Violist and teacher Ashleigh Gordon and performer and composer Anthony Green were having a hard time naming black composers. So, they decided to take action. Since then, they have compiled an impressive list of composers and ensembles of color, and have shared it with the community through the concert and educational series.
Green said that while doing that research, "I personally started to come into myself as a composer, as a person and as a man."
"I AM A MAN 2019" is a complementary piece to last year's "Ain't I A Woman?" event that highlighted black feminism. As the artistic lead on this project, Green's job "is to come up with a representation of what black men have done, are doing and will do," he explained. Some of which Green posted on COOS' blog.
Fifty-one years have passed since those history-making workers carried their compelling signs. Much has changed since then; the passage of Affirmative Action laws, the Voting Rights Act and Fair Housing policies work to balance the scales, but the pursuit of equality, especially for black and brown bodies presses on. But what does it mean to be a man now? Has the passage of time allowed for different definitions?
At one of the workshops, attendees will have the chance to answer that question and work together to create a poem from the responses given. The poem will be performed at the final concert.
Despite the aforementioned gains, last year's APA GUIDELINES suggest boys and men buying into traditional stereotypes of masculinity face significant physical and mental health challenges, and that race and gender can exacerbate outcomes.
These obstacles make unpacking issues around black masculinity crucial. In doing so, "We can take charge of the narrative, right?" Gordon said. "Who writes the history [and] who creates the leading stories is important. And if it can be done from our perspective, let's do so. We have this obligation, I feel, and we have this platform."
Green references black composers creating work hundreds of years ago, and shared the name of Vicente Lucitano, one of the oldest known music theorists of color from the 1500s. But somewhere in the midst of racism, or other isms, they've put black bodies at the bottom of the list, Green said. Somehow, we've lost sight of that.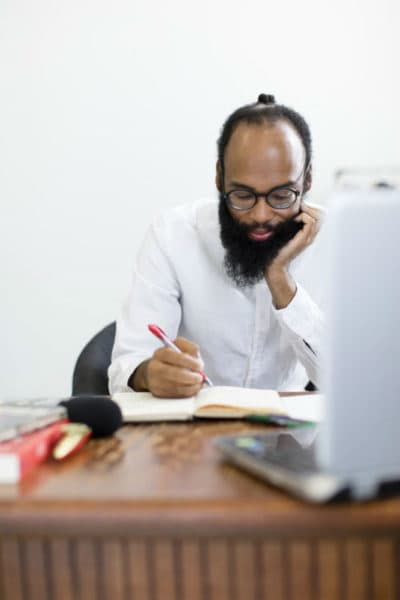 "I AM A MAN 2019," and all of COOS' work, reclaims that musical legacy. And both Gordon and Green are eager to see how audiences will react to this latest venture.
The art world is taking notice. Recently, COOS received a grant from Black Art Futures Fund and they were chosen as the next music ensemble in residence at Boston Center for the Arts. Gordon was recognized one of our ARTery 25, a cohort of millennials of color impacting Boston's arts and culture scene, for her work founding the organization. Currently, Green is a fellow at Universität der Künste, Berlin, working on a project centered around Harriet Jacobs' autobiography, "Incidents in the Life of a Slave Girl."
Efforts to diversify classical music exist here and abroad with orchestras of color like Sphinx in Detroit and Chineke! in Europe (which Gordon has performed with). But Gordon said there's nothing like COOS in Boston. "This is coming out of a void, out of a need that has not been met … so as celebratory as it is, it also has a sense of urgency," Gordon explained.
The two, who work feverishly to impart that message are eager to see audience reactions to this latest venture.
The team has "a passion for hot-off-the-press unique sounds," Gordon admitted. So, "the music is complicated, and maybe requires a second listening, which I think is apropos for black men," she said. Green loves interacting with the audience and learning about what the performances evoked in them.
"Every human being is a universe within themselves," he said, and he hopes through this work, COOS makes a difference. Maybe, "they'll sing these songs to other people," Green said. "That would be amazing."
---
Castle of Our Skins' "I AM A MAN 2019" runs June 2-8 at Hibernian Hall and the DeWitt Center in Roxbury as part of Madison Square Park Development's Sol*Arts in Residence Program.