Ocean Vuong's Debut Novel 'On Earth We Are Briefly Gorgeous' Contemplates Family, Love And Beauty
"I'm not telling you a story so much as a shipwreck — the pieces floating, lit up, finally legible," poet and UMass Amherst professor Ocean Vuong writes midway through "On Earth We Are Briefly Gorgeous," his dazzling, wrenching prose poem of a debut novel.
The "you" that the narrator, Little Dog, is addressing in the form of two long letters is his mother, a fierce, brutalized, and sometimes brutalizing immigrant from Vietnam. Separated from her abusive husband soon after the family moves from Saigon to Hartford, Connecticut, Rose works long hours to support her son and her mother, Lan. With hands deformed by three decades of work in factories and nail salons, a liver poisoned by the noxious solvents she applies to the uncalloused fingers and feet of others, and a mind plagued by the epigenetic legacy of war, she is not easy to embrace.
But then nothing in Rose's life is easy — not the scorn she faces in Vietnam for looking too white or in the U.S. for her inability to speak English, not her humiliation as she tries to communicate her desire to buy an oxtail in the local grocery store by enacting an animal's wagging haunch, not her unflinching vigor as she massages a salon patron's amputated and phantom limb, not the beatings she endures nor those she inflicts. But despite her exhaustion and rage and at times deranged thinking, she creates a home, buys her son a bright pink bicycle (as that's the only one she can afford), and plies him with glasses of cold milk, "hoping the whiteness vanishing into me would make more of a yellow boy." And when, at age 17, Little Dog anxiously reveals his homosexuality to her, Rose assures him, "You don't have to go anywhere."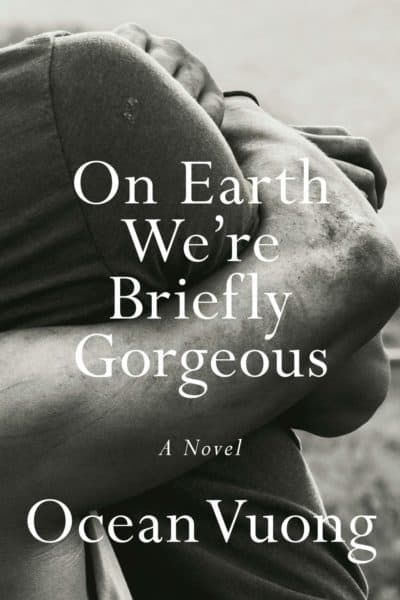 Little Dog's first, and life-changing, affair with Trevor is the second strand running through this loosely braided narrative. Poor, wild, living with his alcoholic father, and addicted to Oxycontin and eventually heroin, Trevor is an unlikely lover for a sensitive boy. But if he didn't already exist, one suspects that Vuong would have created him, if only to both reveal and defy the stereotype of the working poor in drug-fueled, left-behind cities like Hartford, where "fathers were phantoms, dipping in and out of shadows and their children's lives, like my own father. Where grandmothers, abuelas, abas, nanas, babas and bà ngoạis were kings, crowned with nothing but salvaged and improvised pride and the stubborn testament of their tongues as they waited on creaking knees and bloated feet outside social services for heat and oil assistance smelling of drugstore perfume and peppermint hard candies, their brown oversized Goodwill coats dusted with fresh snow as they huddled, steaming down the winter block — their sons and daughters at work or in jail or overdosed or just gone…"
In this passage and so many others like it, we see the power and purifying rage of Vuong's prose. While this book could be called a coming-of-age novel, it is less a plot-driven tale than an impressionistic collage: the confusion, fear and camaraderie of American soldiers and the Vietnamese villagers they both terrorize and love; the greasy stench of a dying city and the shocking beauty of the mist rising over the tobacco fields and river banks on its outskirts; the pain, shock and joy of first sexual encounters; the life and death of Little Dog's loving, resourceful, and sometimes delusional grandmother, Lan; a litany of cultural artifacts from the summer of 2003 and a curious history of Tiger Woods and his father.
But as its title suggests, at its heart this novel is a rumination about beauty, about where and why and how we find it. It's an illustration of how we cannot see depth without both light and shadow.
"They will tell you that to be political is to be merely angry, and therefore artless, depthless, 'raw,' and empty …" Vuong writes, explaining to his mother some of the bitter lessons he's learned about being a writer. "They will tell you that great writing 'breaks free' from the political, thereby 'transcending' the barriers of difference, uniting people toward universal truths. They'll say this is achieved through craft above all. Let's see how it's made, they'll say — as if how something is assembled is alien to the impulse that created it. As if the first chair was hammered into existence without considering the human form."
Vuong's consideration of the human form — his examination of corporeal and spiritual beauty — is both anguished and redemptive. Hopscotching through time, punctuated by sections of brief, only loosely related questions and observations about language, loss, and the body — the book demands to be read slowly, with unwavering attention and commitment. And if its poetic language tends to become a bit monochromatic, if its scope is at times involuted, that's a small price to pay for the insights it offers.
---
Ocean Vuong will be reading from "On Earth We Are Briefly Gorgeous" on June 23 at The Harvard Bookstore and July 22 at Brookline Booksmith.