N.H. Officials Identify 3 Of 4 Victims In Bear Brook Case
New Hampshire law enforcement authorities on Thursday announced they have confirmed the identities of three victims in one of the state's most notorious cold cases.
A woman named Marlyse Elizabeth Honeychurch and her two daughters, Marie Elizabeth Vaughn and Sarah Lynn McWaters, have been identified as victims in the case commonly referred to as the Bear Brook murders. Their bodies were found discarded in two barrels near Bear Brook State Park in Allenstown. The first barrel was discovered in 1985, the second in 2000.
A fourth victim in the case, a female child, remains unidentified.
The mystery baffled investigators until 2017, when a new forensic technique known as genetic genealogy identified the likely killer: a career criminal and serial killer named Terry Peder Rasmussen.
It marked the first time genetic genealogy had ever been used to identify a criminal suspect. Rasmussen died in prison in 2010 while serving a sentence for another murder.
Despite that discovery, the names of the victims had remained a mystery — a remarkably unusual scenario for a murder investigation. The lack of answers left many who had followed the case concerned that the mystery which helped usher in a powerful new forensic technique would itself go unsolved. It also cast a shadow over residents of Allenstown, some of whom have been holding annual vigils for the victims for years.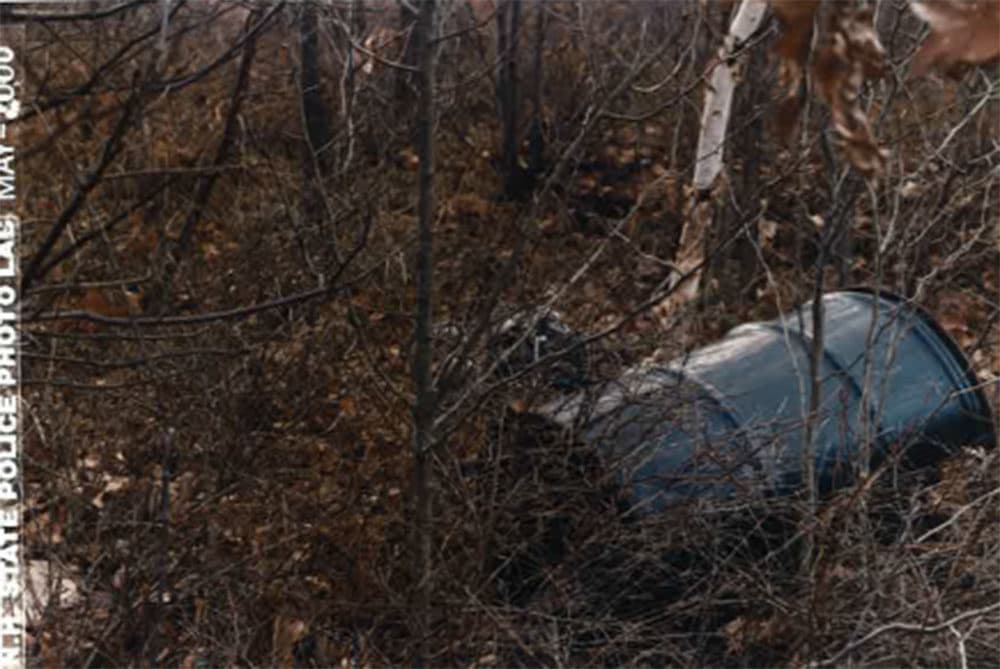 Susan Morrell, the state's Senior Assistant Attorney General, said the near resolution of this decades-long mystery is the result of efforts from a variety of professionals and volunteers across the country.
"They never stopped trying to identify the four victims in these barrels and they worked together to bring the answers to the victims' families today," Morrell said.
Police say Honeychurch was last seen in southern California in November 1978. She brought Rasmussen to Thanksgiving dinner at her mother's home. After what's described as a small dispute in the family, Honeychurch left the gathering with Rasmussen and her two daughters. That was the last time her family saw her.
Authorities say Rasmussen likely arrived in New Hampshire in the late 1970s and left in 1981. He's believed to have lived in Manchester, and went by the name Bob Evans during that period.
A Search Through The 'In-Between'
The identities were first discovered last fall by two people outside law enforcement: amateur investigator Becky Heath and genetic genealogist Barbara Rae-Venter. Heath and Rae-Venter each discovered the identities independently within just a few weeks of each other.
New Hampshire state police confirmed their discoveries with additional DNA testing and investigative work over the last several months.
The unidentified fourth victim is not biologically related to the other victims, according to investigators. Authorities previously identified Rasmussen as her biological father.
Heath, who lives in Connecticut, says she spent countless hours scouring the internet for clues about the Bear Brook victims after first becoming aware of the case about 10 years ago.
"I got a little crazy with it," says Heath. "I would go to work and I'd come home and I would just research and research and research."
Heath's research consisted largely of reading internet forums where people search for long lost relatives and other missing loved ones. Her hope was that a distant relative of the Bear Brook victims had been using such a forum to look for them.
Heath says the search was made difficult by the fact that the online information is not always accurate or up-to-date, unlike official missing person reports.
"It's like the in-between," Heath says. In the fall of 2017, Heath first came across the name Sarah McWaters in an online post written by someone who said she was her half-sister.
Replies to that post written by others who believed they may also be related to McWaters suggested that she was one of a family of three people who had not been heard from since the late 1970s.
Heath was able to match the birthdates of each member of the missing family to the estimated age ranges for the three related Bear Brook victims: the adult, the oldest child and the youngest child.
Heath shared her suspicions with a group of fellow amateur investigators, but the tip was not submitted to law enforcement.
"I don't know why I didn't pursue it more," says Heath. "I didn't really get feedback from anyone so I didn't pursue it more."
According to Heath, her interest in the post about the three missing people was reignited in October 2018 when she began listening to "Bear Brook," a podcast produced by New Hampshire Public Radio that chronicles the investigation into the unsolved murders.
"I was like, you know what? Listening to this podcast makes me think it is this person — these girls," says Heath. "It fits, it just fits."
Heath then contacted some of the family members who posted in the online thread.
Through online messages, one of the family members told Heath they remembered Honeychurch had been with a man with the last name Rasmussen when they last saw her.
"I was like, there is no way, there is no way that's a coincidence," says Heath, "this is huge."
Heath submitted the tip to law enforcement on Oct. 12, 2018.
Cutting Edge DNA Technology
At the same time Heath was turning to internet forums for signs of the Bear Brook victims, Rae-Venter was using the victims' DNA to find their identities.
Rae-Venter already had a history of using the emerging science of genetic genealogy to crack open the Bear Brook case. In 2016 she identified a woman who was kidnapped and then abandoned by Rasmussen as a child in the 1980s.
Then, in 2017, Rae-Venter identified Rasmussen himself, finally peeling back more than a half-dozen false identities to reveal his actual name.
Rae-Venter went on to use the same techniques to identify the suspected Golden State Killer and has since worked on many other cases around the country.
For months, Rae-Venter had been attempting to use genetic genealogy to identify the Bear Brook victims. But unlike with her other uses of the technique, the DNA from the Bear Brook victims was highly degraded — a result of the bodies being exposed to the elements for years.
Attempts to gather DNA from the victims' bones revealed that bacterial DNA had infiltrated the bones as decomposition set in.
Forensic scientists had been able to retrieve mitochondrial DNA from the victims' hair, but to employ the type of genetic genealogy that Rae-Venter hoped to use, she needed autosomal DNA, which is found inside the cell nucleus.
Until recently, it was thought that retrieving autosomal DNA from hair samples that do not still have a living root attached was impossible. Cell nuclei, along with the autosomal DNA they carry, break down as cells become part of the hair strand.
But in recent months, a forensic lab in California has been pioneering a new method that painstakingly reassembles the broken bits of autosomal DNA that can be found in rootless hair.
After months of failed attempts and fine tuning, this new technique was finally able to give Rae-Venter a DNA sample that could be used in genetic genealogy.
Heavy Hearts
At Thursday's press conference, members of the victims' families sat in the front row. They were flanked by victim advocates and members of law enforcement.
The family is asking for privacy, however they provided a statement which was read by Associate Attorney General Jeff Strelzin: "This day comes with heavy hearts. Marlyse, Marie and Sarah were so loved by our families and they are greatly missed. We take solace in finally having the answers we have longed for."
Officials say investigations continue into the identity of the fourth victim, who they identify as the "middle child." They say she was born between 1975 and 1976 in California, Texas or Arizona. That child is the biological daughter of Rasmussen.
Authorities haven't confirmed who her mother is, but fear she may also be a victim.
This story was first published by New Hampshire Public Radio. NHPR has a podcast on the case, called "Bear Brook."
This article was originally published on June 06, 2019.