Darrell Jones' Murder Retrial Begins — With Some Surprising Elements
Play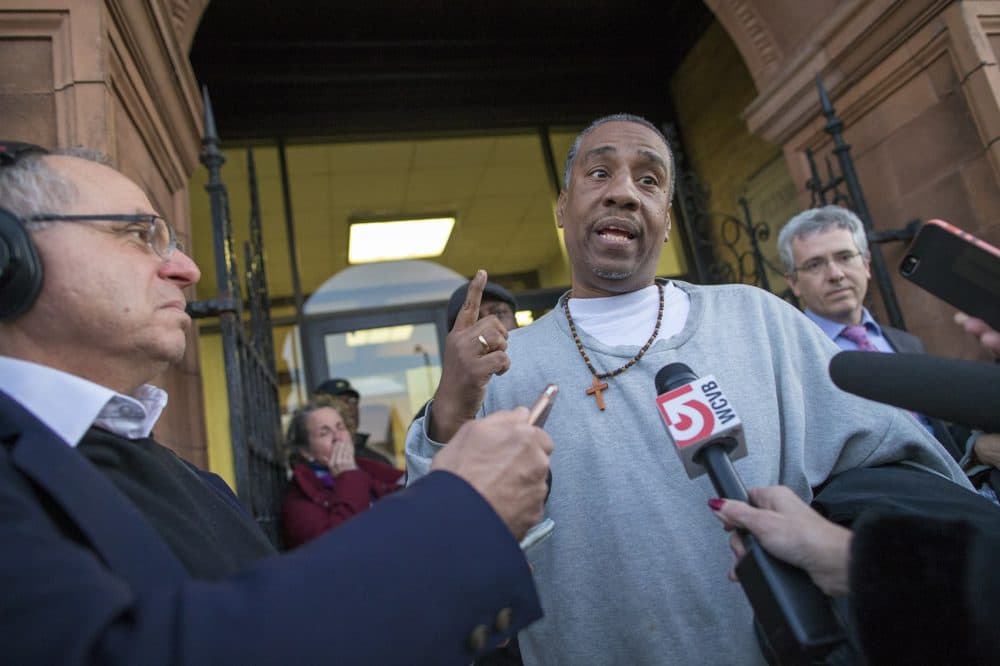 This article is more than 3 years old.
A retrial begins Friday for a man who spent three decades in prison for a murder he says he did not commit.
Darrell Jones was convicted in the 1985 Brockton murder, but a judge overturned the conviction in 2017 after finding a key piece of evidence was doctored, and after a WBUR investigation into the case uncovered racial bias among jurors.
And just before the retrial was set to begin, Jones' lawyers on Thursday disclosed they've obtained what they say could be critical evidence.
Jones accuses prosecutors of deliberately withholding evidence.
"Not only has it been through this whole time of withholding stuff on me, but now you're withholding it all the way to the day of this trial," Jones said outside court in Plymouth on Thursday.
Prosecutors say they are at a loss to explain why the material — which apparently was in a state police barracks, and contains photos from the 1985 autopsy of victim Guillermo Rodriguez — just surfaced.
Judge C.J. Moriarity said this evidence discovery is "disconcerting."
Also in the retrial: The judge is allowing prosecutors to use transcripts of witnesses from the original trial, rather than new live testimony. Prosecutors say key witnesses have died and a few others are unwilling to testify again.
Northeastern University law professor Stephanie Hartung says the judge's decision is surprising.
"The defense counsel are really hamstrung," she said. "They cannot cross-examine a person who is not there in the witness chair."
She added: "It's hard to fathom what a new trial means, how it's a meaningful remedy to a wrongful conviction, if the prosecutor is allowed to just replay the trial that resulted in a conviction the first time around."
Seventeen jurors have been chosen for the retrial; just two are people of color.
Correction: An earlier version of this story said the evidence box contained autopsy photos and the medical examiner's report. The report was produced by prosecutors separately. We regret the error.
This article was originally published on June 07, 2019.
This segment aired on June 7, 2019.